CONWAY, S.C. -- Antonio was "surprised." Dai was "shocked." Michael said it was "crazy." When the three men and four others walked into the recreation center in this small city near Myrtle Beach last week, they found blue folders awaiting them. Inside were photos taken with hidden cameras during undercover drug investigations spanning several months last year. They had been caught selling drugs.
Though they were met by police officers and prosecutors, these seven Conway residents weren't lured into a trap to be arrested. They came to be offered a second chance.
Conway has about 16,000 residents and many had complained that open drug sales made them feel unsafe. It's the third city in South Carolina where U.S. Attorney Bill Nettles, the top federal prosecutor in the state, has teamed up with local officials to look beyond incarceration with an innovative solution to clean up neighborhoods.
For more than a year, federal and state authorities in Horry County have been investigating drug networks in Conway. Earlier this month, 10 targets were rounded up. Five were indicted on federal charges, and five others face state charges.
But seven others -- those who showed up for last week's "call-in" -- have a shot to stay out of prison and turn their lives around, with the support of law enforcement and community organizations. If they choose to participate, they'll be given educational opportunities and job-training instead of a prison cell. If people accepted into the program agree to work toward GEDs, jobs and crime-free living, they aren't arrested. If they slip up, authorities can reach into the blue folders and slap them with the charges they ducked.
Based on how the program has worked in other cities, not everyone will succeed.
The program, known officially as a Drug Market Intervention Initiative, had already successfully begun in North Charleston and another city when it caught the attention of officials in Conway, who asked Nettles to bring it to their part of the state. The initiative also was noticed by Attorney General Eric Holder, who scheduled a trip to South Carolina after reading about the program's launch in Conway in The Huffington Post last year.
Inside the recreation center last week, the seven suspected dealers were greeted by a crowd that included members of the community. Some were accompanied by their mothers. All were warned of the consequences of failure. Large mugshots of the 10 people who were arrested hung in the front of the room.
"You ever heard like, 'Let's not make this a federal case?' People doing federal time? I'm the guy that gives them federal time. That's what I do. I give people federal time," Nettles told the seven.
"Here's the problem: The man that the president of the United States of America has asked to keep South Carolina straight -- I know who each one of you are. Okay?" Nettles said. "And what you are holding in that blue [folder] right there is but a sliver of the evidence that we have that you have been engaged in selling drugs. So let that sink in for a second."
Horry County Police Chief Saundra Rhodes, who lives in Conway, said it was important for the community to rally around the seven people who were getting a chance to avoid prison.
"This is not going to be easy for these people sitting up here. Understand that they've made mistakes, but we're going to have to support them and not just condemn them for what they've done," Rhodes told the audience.
"I think with the current climate between law enforcement and the communities that we're having throughout this country, it is exceptional to me that everyone is sitting in here tonight supporting law enforcement and supporting these men and women here tonight," said Rhodes, who is the first African-American and first female to serve as Horry County police chief.
Conway Police Chief Reggie Gosnell put Capt. Tammy Carter and Cpl. Cassandra Spain in charge of overseeing the program, which has been branded C-STAND, for Conway -– Starting Toward A New Direction. Both are longtime cops well-versed in community policing.
"If we can get anyone through the program, it's going to be a success, because it's such a novel idea," Gosnell said in an interview. "We think we've got the right people in place to hopefully make a difference in their lives."
"In today's policing, you have to get involved in the community, know the people, understand that they can make a change," said Carter. "But you've got to have the community helping you, because we as police and law enforcement cannot do it by ourselves."
In interviews after the meeting, several participants said they were surprised and thankful the authorities took this approach. The Huffington Post has chosen to use only their first names because they have not been charged with crimes.
"It was crazy. But, you do what you're doing, and this is what happened when you do it. It's a lesson learned. All money ain't good money," said Michael, who plans to use the program to get his GED.
"To be honest with you, it's a good chance. It's a good opportunity. So I feel like if you're going to throw it away, I feel like everybody who came came for a reason. If you don't go through it, it's a waste of time. I feel like I'd be wasting everybody else's time," Michael said.
"God was with me, because they could have easily just taken everything, and I could have been locked up right now, you know what I'm saying?" Michael said. "It's a blessing, and I'm happy for it. I'm really happy for it."
Michael's mother, Carol, said she was grateful that the program would offer her son an opportunity to avoid prison.
"This is the first time I've heard of it. I think it's a nice program. He's not, I can't call him a kid, well he's my kid, but he's not a bad person. This is a good thing to give him a second chance," said Carol, who helps out with a police basketball league in Conway and knows Spain, who runs the basketball program. "He really don't have too much on his record or anything."
Two other participants, Antonio and Dai, said they appreciate the program and plan to take advantage of it.
"They gave us a second chance, that's all that matters," said Dai. "I didn't know the community cared that much."
"We could have been locked up and not been here right now. It's a good thing," said Antonio. "I thought I was getting locked up, but they gave us a second chance."
Antonio's mother, Margo, had just gotten out of the hospital when the police came to her home to talk to her son. She thought the police had come to arrest her son.
"I am so glad that they got this for him. I never heard of it," Margo said. She sat behind Antonio, often in tears, as she listened to the possible outcomes for her son. One speaker was Lee Bellamy, who had spent years in prison -- some on death row -- before the South Carolina Supreme Court overturned his conviction in 1987. Bellamy, who has been working with law enforcement in recent years to make an impact on the lives of young men, donned chains to speak to the group.
"You are the lucky ones," Bellamy said. "How many of you get to look your mother in the eye and just say, 'I love you'? You don't get that in prison. I'm gonna tell you what you get. You get to do what that officer says, when he says it, and how they say it. It don't make no difference how right you are or how wrong you are. The officer is always right."
"It's either this or jail," Margo said after the meeting. "I just want him to get through this. I'm praying for him to get through it. It made me feel as though I failed as a parent, because you're not hard on your kids, but I'm just hoping that this is something to help him out."
"I feel lucky," said Antonio. "I feel real lucky."
Before You Go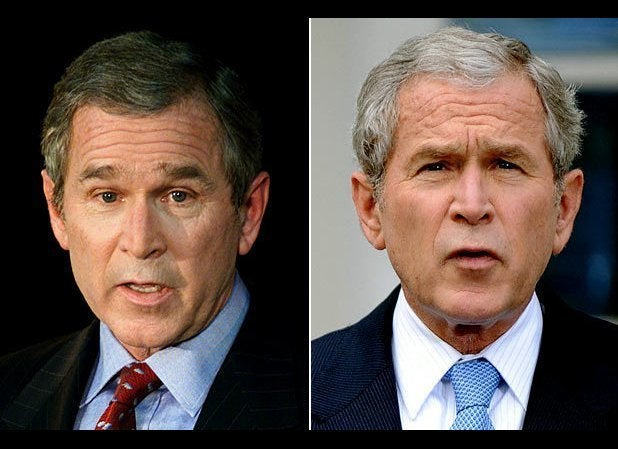 Aging in Office
Popular in the Community