WASHINGTON ― Deputy Attorney General Rod Rosenstein has appointed former FBI Director Robert Mueller to serve as special prosecutor overseeing the investigation into Russian influence in the 2016 presidential election.
In a statement, Rosenstein stressed that his decision "is not a finding that crimes have been committed or that any prosecution is warranted." But he said he'd determined "based upon the unique circumstances, the public interest requires me to place this investigation under the authority of a person who exercises a degree of independence from the normal chain of command."
In an order dated May 17, Rosenstein wrote that Mueller will conduct an investigation into "any links and/or coordination between the Russian government and individuals associated with the campaign of President Donald Trump," along with "any matters that arose or may arise directly from the investigation."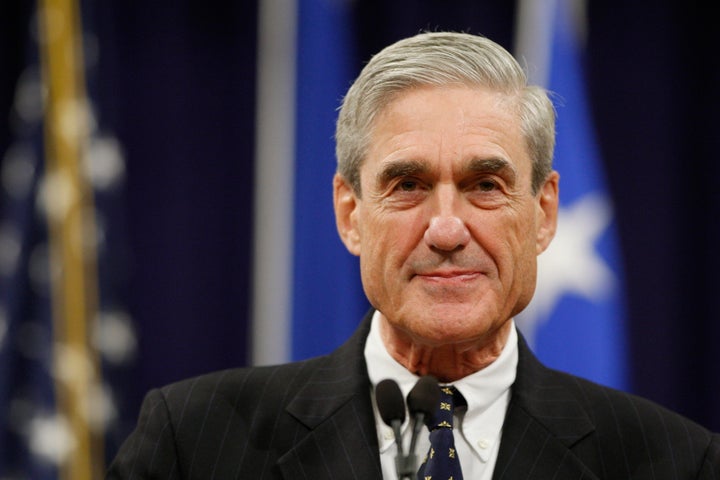 "As I have stated many times, a thorough investigation will confirm what we already know ― there was no collusion between my campaign and any foreign entity," Trump said in a statement Wednesday. "I look forward to this matter concluding quickly. In the meantime, I will never stop fighting for the people and the issues that matter most to the future of our country."
As special counsel ― also known as a special prosecutor (the first is the technical term, though the latter was used until laws about the role expired)― Mueller will have all the authority of a U.S. attorney to conduct his investigation. He will also be able to choose members of his team and request a budget from the Justice Department. 
If he chooses, Mueller could keep the FBI agents currently working on the Russia investigation. It's not clear where Mueller will be working from, but the Justice Department said Mueller would step down from his job at the law firm WilmerHale.
Rosenstein said it was necessary to appoint Mueller so the American people will have "full confidence" in the outcome of the investigation.
"Our nation is grounded on the rule of law, and the public must be assured that the government officials administer the law fairly," Rosenstein said. "Special Counsel Mueller will have all the appropriate resources to conduct a thorough and complete investigation, and I am confident that he will follow the facts, apply the law, and reach a just result." 
Mueller said in a statement Wednesday: "I accept this responsibility and will discharge it to the best of my ability."
Lawmakers from across the aisle largely applauded the DOJ's decision as a step in the right direction and welcomed Mueller's appointment.
"A special counsel is very much needed in this situation and Deputy Attorney General Rosenstein has done the right thing," said Senate Minority Leader Chuck Schumer (D-N.Y.). 
"Mueller is a great selection. Impeccable credentials. Should be widely accepted," Rep. Jason Chaffetz (R-Utah) said in a tweet. 
Sen. Chuck Grassley (R-Iowa), chairman of the Senate judiciary committee, said he has "a great deal of confidence" in Rosenstein and respects his decision. "Mueller has a strong reputation for independence, and comes with the right credentials for this job," he added in a statement. "At the end of the day, we need a public accounting of what went on to restore faith in government." 
While House Speaker Paul Ryan (R-Wis.) and Senate Majority Leader Mitch McConnell (R-Ky.) said in the previous week they believed the appointment of a special prosecutor was unnecessary, both GOP leaders on Wednesday expressed their support for the DOJ's decision.
"My priority has been to ensure thorough and independent investigations are allowed to follow the facts wherever they may lead," Ryan said.
Our nation is grounded on the rule of law, and the public must be assured that the government officials administer the law fairly.

Deputy Attorney General Rod Rosenstein
The past week's events are only the latest to fuel questions into whether Trump's campaign colluded with Russia that have lingered since his November victory.
Reports of contact between national security adviser Michael Flynn and Russian ambassador Sergey Kislyak first broke in January, shortly before Trump's inauguration. Flynn and White House officials repeatedly stated that his conversations with Kislyak did not address U.S. sanctions against Russia, which Obama had imposed the previous month as retaliation for hacking the Democratic National Committee over the summer.
By February, Flynn retracted his denials and said he was unsure whether he discussed the sanctions during his conversations with Kislyak. He resigned days later.
The following month, Comey announced that the FBI was investigating whether members of Trump's campaign had colluded with Russia. Flynn said later that month he was willing to testify in front of the House and Senate intelligence committees carrying out their own investigations in exchange for immunity.
This Monday, the Washington Post published reports that Trump had disclosed "highly classified information" during a meeting with Russian officials, sparking swift criticism from both sides of the aisle. 
The following day, a bombshell New York Times report said Trump had asked Comey, who had been leading the probe into Russia's possible influence in the election, to end the FBI's investigation of Flynn. 
REAL LIFE. REAL NEWS. REAL VOICES.
Help us tell more of the stories that matter from voices that too often remain unheard.