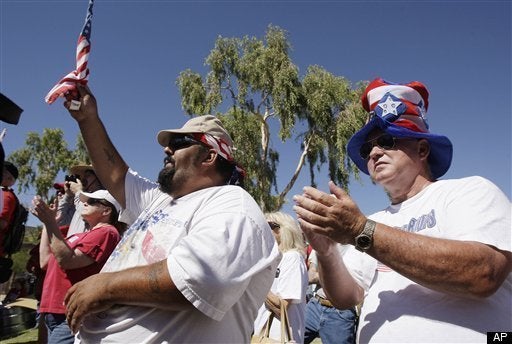 High-ranking officials at the Department of Justice argued on Tuesday that the suit they filed challenging the legality of Arizona's new immigration law was a necessary step in order to avoid a "patchwork" of policies across the country.
"This is about who in our constitutional system has the authority to formulate immigration policy," said a senior DoJ official on a conference call with reporters Tuesday afternoon. "And as the Supreme Court has explained, and we believe the constitution makes clear, constitutional and federal law do not permit the development of a patchwork of [immigration laws] throughout this country."
The argument may be persuasive politically. It also could have grounding legally. But it ignores in some respects the fact that a patchwork system is already in place. Throughout the past few years, a wide range of states, cities and municipalities have passed various forms of policies that govern immigration within their jurisdictions. None may be as draconian as the one passed by Arizona Gov. Jan Brewer. But many have been criticized as such.
In November 2007, for instance, Oklahoma passed a law that prohibited undocumented immigrants from using state services and made providing transportation or assistance to undocumented immigrants a crime. In 2006, meanwhile the city of Charlotte, North Carolina, began implementing its own set of harsh immigration laws, placing illegal immigrants directly into deportation proceedings even if they have been charged with mere traffic infractions. Likewise, in 2008 Tennessee Gov. Phil Bredesen, bowing to political pressures, passed legislation that required local jailers to determine the immigration status of prisoners.
These measures -- it could be argued -- all threaten to a certain extent the capacity to implement a uniform immigration policy that doesn't drain law enforcement resources, impact foreign relations, or impede on the federal government's purview in this area (all reasons cited by DoJ officials in support of the Arizona lawsuit). But they weren't challenged under preemption when they were passed. And none of these states or cities appear likely to be threatened with similar lawsuits going forward.
"We are concerned about a patchwork of laws that would interfere with the federal governments priorities and the federal government's authority in setting immigration policy," said the senior Department official, when asked by The Huffington Post if DoJ will be looking at other state laws. "We will look at cases as they come to us, one at a time."
Although not stated explicitly, the DoJ's lawsuit appears to have two objectives. The micro target is to strike down (or at least hold off) the Arizona statute by deeming unconstitutional. The macro campaign is to clear the field of competing or impeding immigration statutes so that the federal government can take action. "We want to avoid a patchwork of laws and this lawsuit is about Arizona," said the official. "I don't think the two are inconsistent or in conflict with each other."
But the latter objective is based on the theory that Congress will actually act. And while the administration has been able to move the ball forward in pushing back against Arizona's law, it has been confronted with inertia in moving the legislative branch.
"Certainly, this administration has committed itself to comprehensive immigration reform and that is something which the Attorney General [Eric Holder], Secretary [Janet] Napolitano, and the President said repeatedly is necessary in order to really fix our immigration problem," said the senior Department official. "That doesn't change the issue that is presented by this lawsuit and that issue is whether or not the state of Arizona can set its own immigration policy, when that policy conflicts with the federal government's own authority to set immigration law."
Calling all HuffPost superfans!
Sign up for membership to become a founding member and help shape HuffPost's next chapter