WASHINGTON -- The Department of Justice plans to try to take the president's deportation relief programs to the Supreme Court, it announced Tuesday, one day after an appeals court maintained a hold on the policies moving forward.
The department didn't say, however, when it would file an appeal with the Supreme Court -- and timing is critical if it wants the court to review the issue before President Barack Obama leaves office.
The programs, Deferred Action for Parents of Americans and Lawful Permanent Residents, or DAPA, and an expansion of Deferred Action for Childhood Arrivals, or DACA, would allow millions of undocumented immigrants with longstanding ties to the U.S. to remain in the country and work legally.
"The Department of Justice remains committed to taking steps that will resolve the immigration litigation as quickly as possible in order to allow [the Department of Homeland Security] to bring greater accountability to our immigration system by prioritizing the removal of the worst offenders, not people who have long ties to the United States and who are raising American children," DOJ spokesman Patrick Rodenbush said in a statement.
"The Department disagrees with the Fifth Circuit's adverse ruling and intends to seek further review from the Supreme Court of the United States," he continued.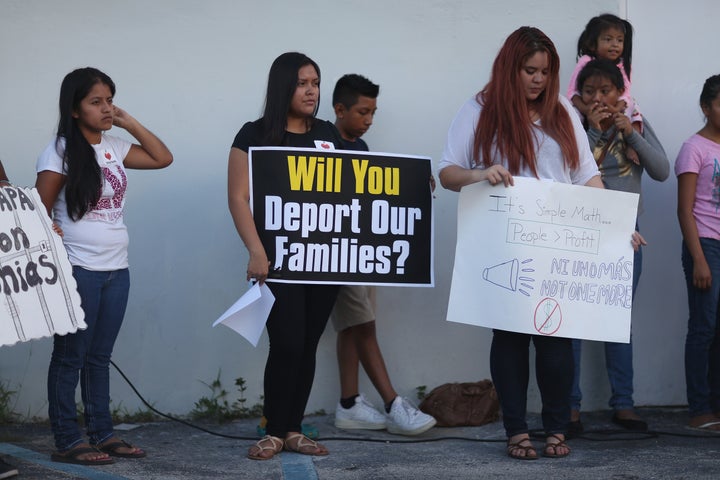 The U.S. Court of Appeals for the 5th Circuit agreed on Monday to keep two of Obama's 2014 executive actions on immigration from moving forward while considering a lawsuit from 26 states that contend DAPA and the expansion of DACA are unconstitutional.
Nearly a year has passed since Obama announced the executive actions, which also include other policies that could prevent certain undocumented immigrants from being deported by prioritizing criminals and others for deportation. Still, they cannot work and lack official protections from deportation.
In her dissent, appeals court Judge Carolyn Dineen King said the court had moved too slowly with its decision and potentially hindering the administration's chances to appeal to the Supreme Court.
"I have a firm and definite conviction that a mistake has been made," she wrote. "That mistake has been exacerbated by the extended delay that has occurred in deciding this 'expedited' appeal. There is no justification for that delay."
The Obama administration and immigrant rights groups have said they are confident the Supreme Court would rule in their favor and that DAPA and DACA are constitutional.
White House Press Secretary Josh Earnest reiterated that point during a press briefing Wednesday.
"We're confident in the power of the legal arguments," he said. "And that's I think why you've seen the Department of Justice make such a quick decision to move this on up the line to the Supreme Court."
In the meantime, Earnest said, the administration would continue to prioritize serious criminals, recent border-crossers and national security threats for deportation.
This article has been updated to include a statement from Josh Earnest.
Popular in the Community