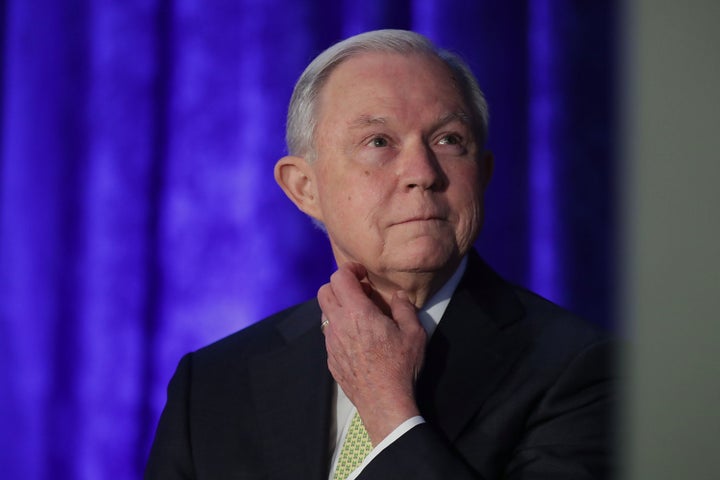 The Department of Justice continues to back away from a significant battle over voting rights, telling a judge in a Wednesday filing that Texas lawmakers had fixed the state's discriminatory voter ID law by enacting a few tweaks.
A federal judge ruled in April that SB 14, a voter verification measure Texas passed in 2011, intentionally discriminated against black and Latino voters. Fearing that the state's elections could be put under federal oversight, lawmakers made small changes to the law in June: They extended the expiration date for some acceptable forms of ID and said voters could confirm their identity with certain documents if they would also sign a sworn affidavit stating they had a "reasonable impediment" blocking them from getting a photo ID.
Plaintiffs in the ongoing lawsuit say the new legislation, SB 5, does not go far enough to eliminate discrimination. But the Department of Justice ― which sided with the plaintiffs in the case under the Obama administration and switched positions to side with Texas in February ― said the changes were adequate and that SB 5 "eradicates any discriminatory effect or intent."
Gerry Hebert, a former DOJ lawyer who is among those representing the plaintiffs in the case, accused the department of siding with "racists."
A big issue in the 2011 Texas measure was that it required voters to have identification that black and Hispanic voters were much less likely to have. Critics of the measure pointed to the fact that people could vote if they had a concealed handgun license but not a student ID card. About 600,000 of the state's 15 million voters lacked an acceptable form of ID, according to ProPublica.
Amid ongoing litigation, Texas reached an agreement with the DOJ last year to soften its voter ID law with changes similar to those that were made permanent in the legislation passed in June. Despite those changes, however, there was still significant confusion among voters and poll workers during the 2016 election. The Texas Civil Rights Project logged over 4,000 election incidents reported to a hotline or to volunteers, 8 percent of which dealt with confusion over voter ID requirements.
SB 5 fails to eliminate either SB 14's racially discriminatory origins or results and, therefore, SB 5 must fall with SB 14.

Lawyers for the plaintiffs
DOJ lawyers said in their filing that they were convinced of Texas' commitment to educate voters partly because it had allocated $4 million to the effort over two years ― an increase from the $2.5 million allotted under the 2011 law. But that $4 million figure is misleading because it will be spread out over a longer period of time, noted ProPublica's Jessica Huseman, who has written about Texas' failure to educate voters about the law.
Lawyers for the plaintiffs wrote in their filing that SB 5 failed to address the underlying discrimination in SB 14, and they asked the court to block its photo ID requirements. The plaintiffs argued SB 5 actually "escalates" the discrimination in the original law because the new legislation imposes a prison sentence of up to two years for someone who makes a false statement on an affidavit and doesn't have acceptable ID.
"SB 5 fails to eliminate either SB 14′s racially discriminatory origins or results and, therefore, SB 5 must fall with SB 14. Not only does SB 5 fail to repeal SB 14 in its entirety, but also it fails specifically to remove or meaningfully modify any of the offending voter provisions of SB 14, which this court must enjoin," lawyers for the plaintiffs wrote.
BEFORE YOU GO
PHOTO GALLERY
Jeff Sessions Speaks Before Senate Intelligence Committee