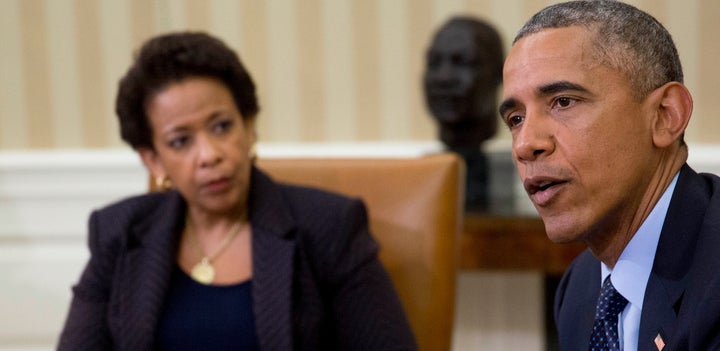 WASHINGTON -- The Department of Justice is finally drawing the curtain on what may be its defining project of the Obama era: the refusal to prosecute Wall Street crime.
Only one investment banker has been jailed over securities infractions tied to the financial crisis. Zero Wall Street executives were put behind bars. More than 1,000 bankers were convicted of crimes after the much smaller savings and loan crisis of the late 1980s and early 1990s.
On Thursday, DOJ announced that the white-collar crime free-for-all was over.
"Crime is crime," Deputy Attorney General Sally Yates said in a speech at New York University School of Law, according to prepared remarks. "And it is our obligation at the Justice Department to ensure that we are holding lawbreakers accountable regardless of whether they commit their crimes on the street corner or in the board room."
Because the statute of limitations has expired for most securities crimes committed ahead of the 2008 financial crisis, DOJ's course correction still won't hit the bankers and executives whose activity fueled the worst recession since the Great Depression.
"One of the biggest mistakes our government made after the financial crisis was not prosecuting the people responsible for the greed, recklessness and illegal behavior that crashed our economy and ruined the lives of millions of Americans," Sen. Bernie Sanders (I-Vt.) told HuffPost in a statement. "It is not acceptable that many young people have criminal records for smoking marijuana, while the CEOs of banks whose illegal behavior helped destroy our economy do not."
Failing to prosecute Wall Street crime isn't just a matter of fairness. Weakening or eliminating individual accountability for financial wrongdoing encourages bankers and traders to take bigger risks, particularly when the upside to an illegal maneuver could be millions of dollars in profits.
"Better late than never, but what an insult to the American people," said Dennis Kelleher, referring to the DOJ memo. Kelleher is president and CEO of Better Markets, a financial reform watchdog.
"With DOJ, words mean nothing," Kelleher warned. "Based on their past dereliction of duty, no one should believe anything DOJ says until they see actual, concrete and repeated prosecution of supervisors and executives at Wall Street's biggest, wealthiest and most politically connected too-big-to-fail banks."
Americans for Financial Reform also remains skeptical.
"The real evidence of change will be future enforcement actions that include much greater accountability for individuals," the bank watchdog group said in a statement.
The new memo and Yates' accompanying speech effectively serve as an acknowledgement of DOJ's past hands-off attitude toward criminal banking, which has been an open secret in Washington for years. In March 2013, then-Attorney General Eric Holder even told Congress that some banks really were too big to jail.
"When we are hit with indications that if you do prosecute, if you do bring a criminal charge, it will have a negative impact on the national economy, perhaps world economy, that is a function of the fact that some of these institutions have become too large," Holder said before the Senate Judiciary Committee. "It has an inhibiting impact on our ability to bring resolutions that I think would be more appropriate."
Though Holder quickly walked back those comments, DOJ's record reflected his original statement.
For years after the financial crisis, apologists for big banks insisted that expansive deregulation dating back to the Clinton administration meant that a lot of bad behavior was not actually illegal. Those excuses were never very compelling. Predatory lending is illegal, and it's illegal for investment bankers to lie about the quality of the mortgage securities they sell. Insiders and experts have long said that such practices were common during the boom years of the early 2000s.
But as a fresh set of banking scandals set in after the crisis, the notion that banks weren't being prosecuted because they weren't breaking the law fell apart. Banks inked settlement after settlement on a wide variety of serious charges. JPMorgan Chase settled charges that it illegally foreclosed on active-duty members of the military, manipulated energy markets and cheated borrowers with forged documents in foreclosure.
As public pressure for justice intensified, banks began pleading guilty to felonies. Credit Suisse pleaded guilty in a tax evasion case. JPMorgan, Citigroup, Barclays and Royal Bank of Scotland pleaded guilty to manipulating interest rates.
Yet these tougher actions were still aimed at the amorphous legal entity of the bank itself. Actual individuals who orchestrated and participated in the schemes did not face prosecution.
Going easy on bankers didn't create career problems for those at DOJ. Botching a very high-profile case in 2012 did little to impede the prospects of its prosecutor. Loretta Lynch, who was then U.S. attorney for the Eastern District of New York, opted not to press criminal charges against the world's second-largest bank, HSBC, even as she demanded a $1.9 billion payment under a "deferred prosecution agreement" -- effectively a settlement. HSBC had been accused of fudging on its anti-money laundering efforts to allow funds to flow to terrorists, drug traffickers and rogue regimes.
During the investigation, the French government had turned over reams of documentation suggesting that HSBC had also been facilitating widespread tax evasion -- a scandal that finally made headlines in 2015. Lynch never went after the tax case.
She was confirmed as U.S. attorney general in April, making her the country's top law enforcement official.
The story has been updated with comment from Americans for Financial Reform.
Popular in the Community