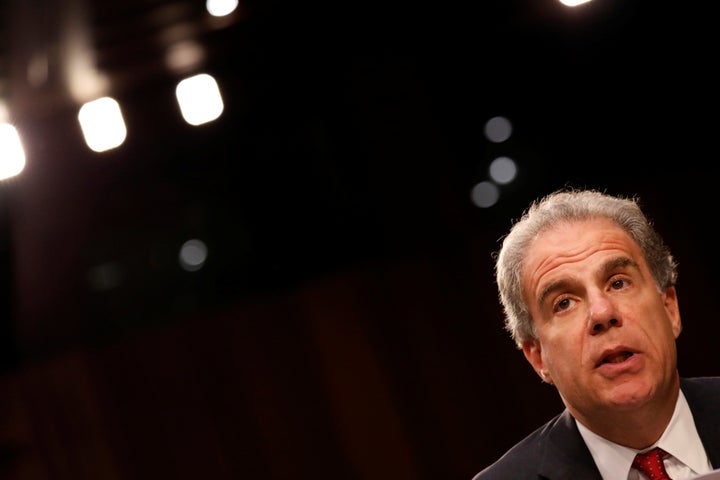 WASHINGTON ― The Justice Department's watchdog ― currently overseeing a politically sensitive investigation into how DOJ and the FBI acted in the lead up to the 2016 election ― told Congress this week that the Trump administration's budget request would "substantially inhibit" his office's work.
In a little noticed message included in a congressional budget submission, Justice Department Inspector General Michael Horowitz wrote that President Donald Trump's budget request would "essentially keep the OIG's budget flat in FY 2018 and FY 2019 even as budgets for other Department law enforcement components such as the Federal Bureau of Investigation (FBI) are recommended for increases."
Horowitz's office is currently wrapping up a long-awaited investigation that will examine the actions of former FBI director James Comey and other Justice Department officials in the lead up to the 2016 election. Former Democratic presidential candidate Hillary Clinton has blamed Comey's actions on her electoral college loss, while Trump has convinced many of his supporters that the FBI was actually biased against him.
Horowitz said that under the Trump budget, he'd be forced to reduce his office's staffing levels by 4 percent. The Trump administration asked for a $95.886 million budget for the Office of the Inspector General for fiscal year 2019. Horowitz wrote that his office needs a $100.106 million budget for that year, noting that there's a request pending before Congress for $97.380 million for the 2018 fiscal year. 
"Funding at $100.106 million represents a modest increase from our FY 2018 budget request of $97.380 million, and will allow the OIG to maintain its current services into FY 2019, have budget parity with other DOJ law enforcement components, hire five additional lawyers and one non-lawyer to handle the substantial increase in FBI and other whistleblower retaliation matters that we are investigating, and permit us to sustain our efforts to curb waste, fraud, and abuse in DOJ programs," Horowitz wrote.
Horowitz's office conducts audits and investigations for the Justice Department, which has more than 100,000 employees. Horowitz said that his office recovered nearly $28 million in the 2017 fiscal year and identified another $27 million in potential cost savings.
"We appreciate the support we have received both from the Department's leadership and Congress for this important oversight work. However, in order for the OIG to continue to promote more efficient and effective DOJ programs, and to continue to conduct effective oversight of the Department's largest components, the OIG must be adequately funded," Horowitz wrote. "The OIG cannot effectively oversee the Department's largest components if their budgets and staff grow disproportionately to ours."
Horowitz's office recently met with lawmakers, discussing his ongoing probe of  the DOJ's handling of the Clinton email investigation ahead of the 2016 election. The inspector general's investigation turned up text messages exchanged by two FBI employees that were subsequently turned over to Congress and have provided fodder for President Trump and Republicans on Capitol Hill who have used anti-Trump texts to portray the FBI as a law enforcement agency that attempted to stop Trump's election.
Back in November 2017, Horowitz told Congress that he hoped they would release the Clinton email report in March or April 2018. 
A spokeswoman for the Justice Department declined to respond for comment. The Office of the Inspector General declined to comment beyond its report to Congress.
REAL LIFE. REAL NEWS. REAL VOICES.
Help us tell more of the stories that matter from voices that too often remain unheard.