The Justice Department's internal watchdog said Thursday that he has opened investigations examining whether federal officers used excessive force against protesters in Portland, Oregon, as well as how federal authorities handled protests near the White House last month.
Inspector General Michael E. Horowitz said he would work with the Department of Homeland Security's inspector general on an investigation on specific use-of-force incidents by federal agents responding to protests in Portland, which have drawn national scrutiny in recent days.
More broadly, Horowitz said, he would examine the overall federal response both in Portland and in Washington, D.C., since the police killing of George Floyd in late May. Federal agents from a variety of law enforcement components, under the close watch of Attorney General William Barr, deployed chemical munitions against an overwhelmingly peaceful crowd in Washington's Lafayette Square ahead of President Donald Trump's photo-op in front of a church.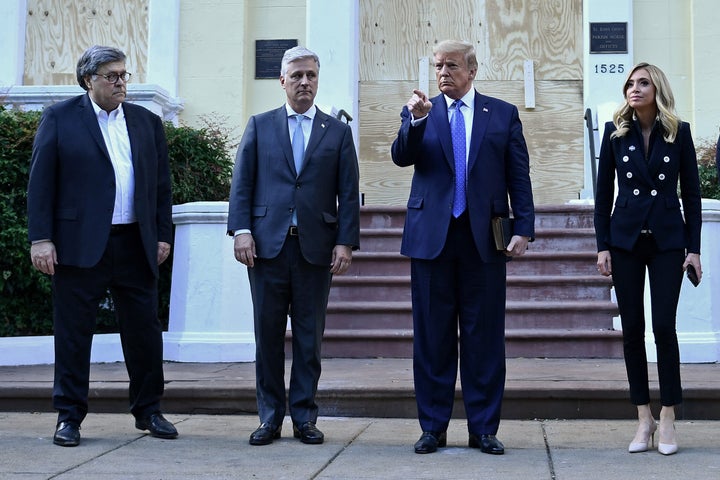 A vast array of unidentified federal agents from various law enforcement components also responded to the unrest in Washington, including federal prison guards with no training on handling crowds outside of a detention scenario.
"The review will include examining the training and instruction that was provided to the DOJ law enforcement personnel; compliance with applicable identification requirements, rules of engagement, and legal authorities; and adherence to DOJ policies regarding the use of less-lethal munitions, chemical agents, and other uses of force," the inspector general's office said in a statement.
In the case of Lafayette Square, the inspector general would coordinate with the the inspector general at the Department of the Interior, which oversees the Park Police officers involved in the aggressive law enforcement response in Lafayette Square.
Reps. Jerrold Nadler (D-N.Y.), Bennie Thompson (D-Miss.) and Carolyn B. Maloney (D-N.Y.) ― who requested investigations into the Trump administration's "violent tactics" against protesters ― said in a statement Thursday that the IG probes were "critically important as the President and his chief enablers, including the Attorney General and Acting Homeland Security Secretary, have announced plans to send federal law enforcement authorities to additional cities in the coming days." They continued:
Many of these federal agents are dressed as soldiers, driving unmarked vehicles and refusing to identify themselves or their agencies. They have occupied the streets of American cities against the express wishes of state and local officials. Nearly everywhere they have deployed, their presence has increased tensions and caused more confrontation between demonstrators and police. And they have done all of this on the flimsiest of legal pretext. Congress will continue to check this reckless Administration, but it is deeply important that these independent inspectors general get to the bottom of President Trump's use of force against his own citizens.
Sen. Elizabeth Warren (D-Mass.), another lawmaker who asked the DOJ last month to probe the use of force against protesters outside the White House, said she was encouraged by the news that the watchdog would look into the violent dispersal tactics.
"I asked the Department of Justice Inspector General to investigate the role of Attorney General Barr and DOJ law enforcement in the sickening attacks on protesters at the White House," she said in a statement to HuffPost. "I'm glad that IG Horowitz has agreed to review this ugly propaganda event — and the appalling attacks on protesters in Portland."
Support HuffPost
The Stakes Have Never Been Higher
Popular in the Community