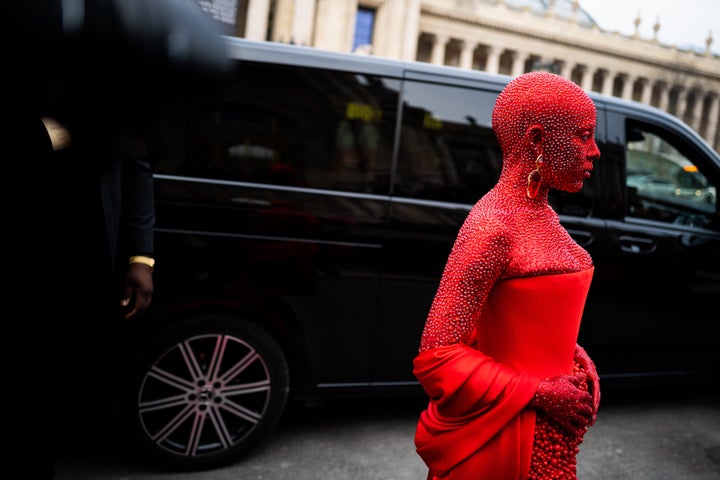 Doja Cat was feeling a little off-color while sporting her striking red crystal look at Paris Fashion Week.
The Grammy-winning rapper recently revealed in an interview with L'Officiel that she was suffering with stomach issues leading up to her appearance, in which she stepped out donning 30,000 hand-placed Swarovski crystals.
Doja said the all-red, sequined viral look was born because she "wanted to do something really major" for the Schiaparelli presentation. She added that she fell "in love" with the sketches of the mind-blowing ensemble that were sent to her before the event.
"I got to Paris, and I did a few shows before Schiaparelli. Super smooth, super easy, fun, loved it. I didn't realize I had to get up at four in the morning [the day of the show] to get there by five or something," she explained, thinking back on the moments before her epic metamorphosis. "So we get there, and I didn't realize till I sat down in the chair that I had gastroenteritis. So I had gotten super ill."
The "Woman" singer said she began to feel what felt like "the twirling of a knife" inside her stomach while getting prepped for the big event in January.
Recalling how the "sweet" glam team helped her get ready, she raved about how supportive they were during the unexpected moment, especially iconic makeup artist Pat McGrath, who "kept on giving me ginger ale and all these different things to help settle my stomach."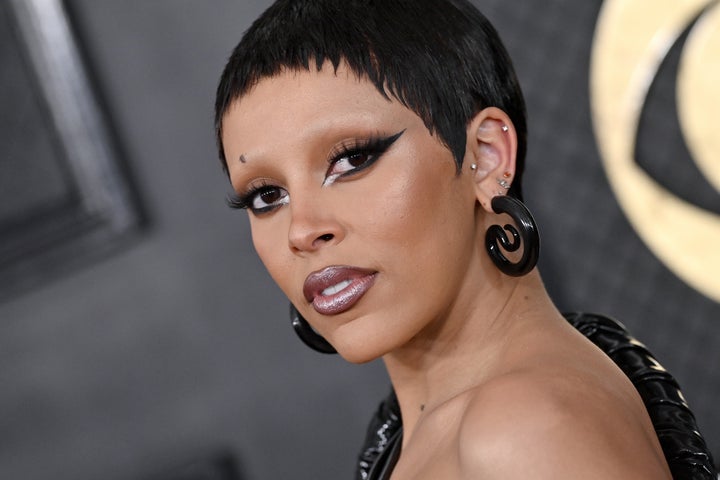 "The whole crew was so sweet. The whole glam team was so understanding and so sensitive and kind. It was great and very professional," Doja continued. "I was trying to joke around and make light of the situation, but as time progressed, it only got worse."
She added, "My stomach felt like there was a blade in it, and it was just spinning 100 miles per hour. I never felt pain worse than that — and on one of the most important days of my life!"
Fighting off the pain, Doja was able to let the team finish dressing her up in the tedious process.
"So I had my arms out, I was sitting down, and I had underwear and a bandeau on," Doja said, explaining how the team worked on her getup. "They started with a layer of red paint, and they just covered me in that and then a layer of glue, and then I think they dusted glitter on top. Then the crystals."
Her impressive fortitude isn't a surprise as she insisted she's "down to sacrifice my comfort" and will "do anything for that fantasy that I have in my head."
When asked if it was worth it, Doja replied "definitely," adding, "I'm very, very proud of it."
Rocking iconic fashion looks at Paris Fashion Week is something the Los Angeles native is familiar with.
Popular in the Community