While all eyes were on Miley Cyrus' feud with the designers, Atlanta-based musician Raury protested D&G while walking the runway for the Italian design house. Near the end of the runway, Raury took off his D&G top ― revealing the phrases "Protest D&G," "Give me freedom," and "I am not your scapegoat" ― and raised a closed fist to the sky.
He posted the powerful photo on Instagram and wrote about the emotional experience in the caption.
"I never felt so alone, so terrified, yet so alive...Found myself in tears when I realized the people understood, and I'm not just screaming in the dark anymore..." Raury wrote. "If ur in this industry remember that there is a god, and god protects the good... so do the work when aligned to. following my heart from this day forth knowing that I am living truth... If it ever means my end so be it."
In an interview with GQ, Raury said he was unaware of Dolce & Gabbana's support of the Trumps ― and their recent "boycott" campaign that makes fun of protesting and people who don't agree with D&G's politics ― until the day before the brand's "Millennial" fashion show this past weekend in Italy.
"Me, as a young man from Stone Mountain, Georgia, the birthplace of the Ku Klux Klan, I really felt this mockery of boycotting," Raury told GQ. "Who knows, if boycotts didn't happen, if Rosa Parks and M.L.K. didn't step up…who knows if I would even exist. Boycotting matters. Boycotting is real. Dolce's entire campaign says it's not real."
Already in Milan, but armed with knowledge about D&G's upsetting campaign and their support of Melania Trump, Raury didn't know whether or not he wanted to walk in the runway show anymore.
"I know that if I walk out there and support or endorse anything that sits next to Trump—or support someone who even makes dinner for Trump or whatever—then that means that I support Trump also," he told GQ. "I don't support Trump. So I'm trapped, and I have to let people know that I don't support Trump and I don't support those who are trying to undermine the voice of the people."
Some of his friends at the show told him not to take a stand, but Raury did it anyway. And he's glad he did.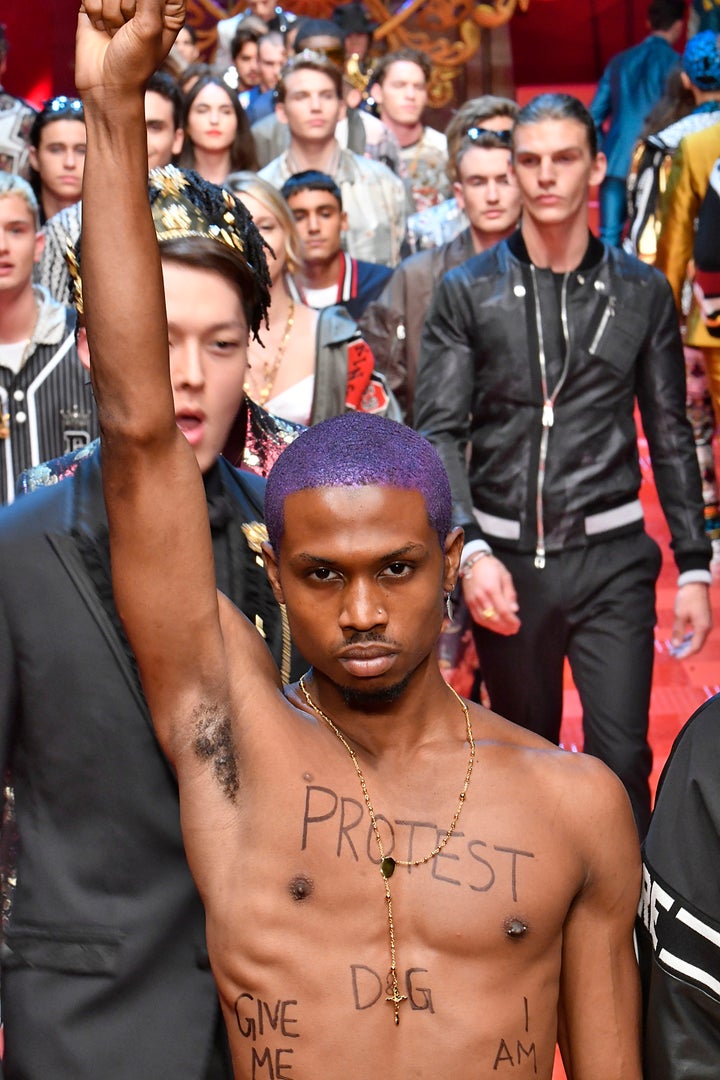 "It was very insulting to know that Dolce & Gabbana was selling all of this millennial, pro-forward shit, but everything that they're doing and saying is a step backwards," the musician told GQ. "They're speaking for the 1950s. They're saying our voice doesn't matter, and they fuck with Melania and Trump."
He added, "I felt like if nothing happened, then they would be right. And that T-shirt would be right. Dolce would think they can talk shit about people boycotting, support the first lady of a president who is very parallel to Hitler, and bring the millennials and put them in that shit and nothing would happen. But it's basic math. One plus two equals three. And this is what will always happen."
Miley Cyrus also called out the brand over the weekend after her brother, Braison, walked in D&G's show. After saying she strongly disagreed with the brand's politics, Stefano Gabbana lashed out at the singer on Instagram.
"Ignorant," the designer said of Cyrus. "For your stupid comment never more work with him."
Sounds like the feeling is mutual.
HuffPost reached out to Raury and representatives for Dolce & Gabbana.