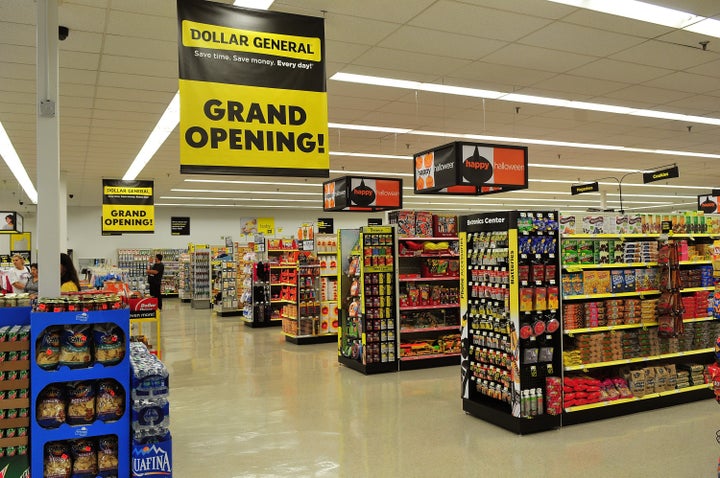 With food prices rising and incomes going nowhere, dollar stores are thriving, luring squeezed customers -- many from the middle class -- with discount ramen noodles, frozen casseroles and other packaged food. But health advocates say cheap food comes at a high cost and some communities are battling to keep the stores from proliferating.
Profits were up at national chains that include Family Dollar and Dollar General in 2011. As Family Dollar reported in its earnings call on Friday, profit jumped 11 percent to $134.9 million in the most recent quarter from the year earlier -- in part thanks to increased sales of "consumables," the food and household products traditionally sold by grocers.These items now make up 70 percent of the company's sales, up from 61 percent five years ago.
This year, Family Dollar plans to expand its food selection, as well as open 450 to 500 new stores, according to executives. Dollar General, the largest national dollar chain, also plans to open 625 new stores in 2012, the company announced last week.
Dollar stores have benefited from an overall surge in food prices by attracting more shoppers, even as margins shrink. In 2011, the Consumer Price Index for take-home groceries rose 4.25 percent to 4.75 percent from the year before, as forecast by the Department of Agriculture. Food price inflation is likely to continue into 2012. Meanwhile, American wages have risen sluggishly over the past decade, stagnating prior to the recession.
Dollar stores see opportunity in the dismal economy. Matthews, N.C.-based Family Dollar plans to add 300 new food items in 2012, including offerings from Kraft, Nature Valley and General Mills, according to communication director Josh Braverman. Except for milk and eggs -- staple foods required to qualify for food stamp programs -- all of its foods are packaged, processed, or frozen.
"Our core customer is still very stressed," Family Dollar chief executive Howard Levine said on the company's earnings call on Friday with analysts and investors. "When you're faced with [the question of] what am I going to have for dinner versus buying a new shirt, our customers pretty quickly figure out what's most important."
The company has recently seen more middle-class families branching into discount shopping, said Mike Bloom, Family Dollar's president and chief operating officer. While the typical customer has a family income of $40,000 or less, "a lot of growth is coming from the middle-income family in the $40,000 to 70,000 range," Bloom said.
"Everyone is trying to stretch dollars even further," Bloom said.
Packaged foods are not unhealthy if part of a well-rounded diet. Yet many recent dollar store openings have been in areas devoid of full-service markets -- so called "food deserts," according to Mari Gallagher, a health policy researcher, consultant, and adjunct professor at Northeastern's Institute on Urban Health Research.
In food deserts, which are almost always low-income neighborhoods, fast-food and convenience stores abound. In Chicago, Detroit and Birmingham, Ala., among other places, Gallagher's research linked diet-related deaths with the proximity to non-traditional or "fringe" food sources that include fast-food outlets, dollar stores and convenience stores.
"As of now, [the correlation between dollar stores and death] is statistically significant, but just barely there," Gallagher said. "But considering that dollar stores are just entering the market in great force, we're concerned that relationship is going to worsen."
Some communities, concerned about health risks as well as economic factors, have begun to fight the spread of dollar stores. The (ironically-named) Mt. Healthy, Ohio, Joshua Tree, Calif., Quailwood, Ariz., Waterbury, Vt., and Taos, N.M., were among the places where residents and community groups opposed new dollar stores in 2011.
In Philadelphia's historic Germantown section, for example, a zoning law was passed as early as 2008 prohibiting new dollar store openings in a historic district already overrun by the retailers. Last spring, controversy erupted over a proposed Dollar Tree, which developers described as a "grocery store" on the zoning application to comply with the ordinance.
When the community found out, "people were outraged," said Bill Thomas, a Germantown resident and chief of staff for state Rep. Rosita Youngblood, a Democrat who opposed the development.
"People picketed the location of the development from April to December," Thomas said. "It was another instance of a developer assuming a community isn't worthy or doesn't want anything more in-depth than unhealthy, prepackaged, sodium-infused food."
Dollar Tree did not respond to a request for comment.
"In this tough economy I don't care what class or what wealth you are," said Pat Burns, the developer of the Germantown Dollar Tree. "You have people who are looking to save money. [Dollar Tree] is a great fit for any shopping center."
While the zoning board ruled that Dollar Tree was not a grocery store, the project was nevertheless given the green light in December by City Council. Dollar Tree will open in March, the 13th dollar store in the neighborhood, according to Thomas.
Dollar store sales figures make it hard to argue against Burns' point that people of all economic backgrounds are looking for deals. Even in Brooklyn, N.Y. -- by no means a food desert -- dollar stores are proliferating.
"Four dollar stores have opened in this neighborhood in the past year. It's the cheapest option around," said Michael Waddy, 43, of Brooklyn, on a recent trip to the Family Dollar on Fulton Street. While Waddy doesn't shop for food at dollar stores, he said many of his friends, especially those who have lost jobs, have become less picky about foods.
Still, when it comes to low-cost food, there are hidden costs, said Gallagher. "Society ends up seeing the cost of it through emergency room visits and diseases that could be prevented or moderated by a better diet," she said.
"Cheap food is not as cheap as we think."

Related
Popular in the Community