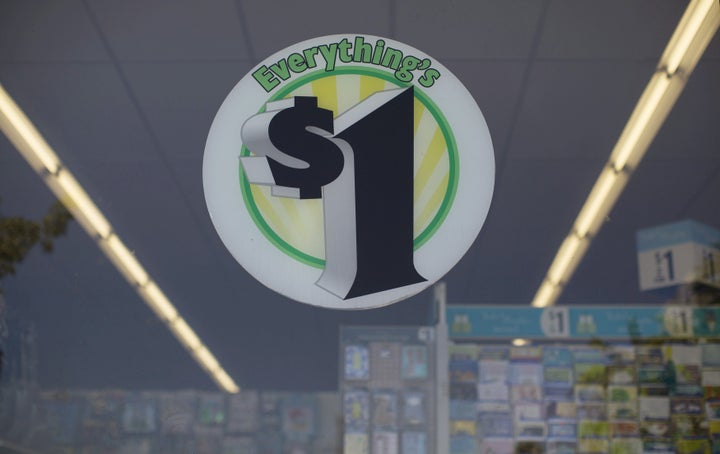 They technically aren't even grocery businesses, but dollar stores are feeding more people than one of the highest-profile supermarket chains in America.
Grocery sales at the two biggest dollar brands, Dollar Tree and Dollar General, approached $24 billion this year, compared with roughly $15 billion at Whole Foods, according to private market data from the research firm Chain Store Guide.
The ILSR is using the numbers to highlight the threat to independent businesses posed by low-end retail monopolies.
"In small towns and urban neighborhoods alike, dollar stores are leading full-service grocery stores to close," the ILSR's Marie Donahue and Stacy Mitchell write in their report. "And their strategy of saturating communities with multiple outlets is making it impossible for new grocers and other local businesses to take root and grow."
Those two dollar brands operate nearly 30,000 stores, most of them very small with food options including basics like milk, bread, frozen vegetables and canned soup (Whole Foods, by contrast, has about 450 stores, with a focus on fresh produce). The stores use their smallness as an advantage over supermarkets that may be located far away from their customers and a chore to navigate.
"Their strategy of saturating communities with multiple outlets is making it impossible for new grocers and other local businesses to take root and grow."
Dollar General and Dollar Tree, which also owns Family Dollar, have thrived in rural and low-income areas at a time of stagnant wages for U.S. workers. At Dollar Tree stores everything costs a dollar, making it easy for cash-strapped customers to grab what they need knowing exactly what their total will be.
"You can have $20 and you can go in Dollar Tree and get everything you need," Alisha Glover, a D.C. resident and frequent dollar store customer, told HuffPost. "If you go in Whole Foods you're going to spend more than you think you're going to spend in there."
There's no fresh produce, but there are plenty of food options. "They have steaks in there, they have french fries," Glover said. "Those are name-brand food products that the Dollar Tree is carrying."
Dollar Tree has added coolers and freezers to most of its stores. Expanded food options are key to Dollar General's growth plans for next year when it plans to open another 900 stores.
"The team has done a fantastic job increasing the average number of cooler doors across the chain, and we are seeing a great return on this investment," Dollar General CEO Todd Vasos told investors this week. The company is adding more cooler space and has begun rolling out a "Better-for-You" line of healthier foods.
Because they are supported by massive distribution networks, dollar stores can sell products for lower prices than locally-owned stores can get from their wholesalers. And the dollar stores' ruthlessly efficient business model doesn't waste much time with the kind of healthy, perishable items that need to be thrown out a lot, such as fresh fruits and vegetables.
Local retail stores in many small towns had already been decimated by two decades of competition from Walmart, even if its supercenters were miles away.
"Today the dollar chains are capitalizing on these conditions, much like an invasive species advancing on a compromised ecosystem," Donahue and Mitchell wrote.
Related
Popular in the Community