ROCK HALL, Md. ― When Dollar General said it would open a store here in 2013, Jeff Carroll warned it would crush the business he'd operated for the previous decade.

His company, Bayside Foods, which he co-owns with his wife, was the biggest employer in this tiny town on Maryland's Eastern Shore, and the only grocery store. But Carroll didn't see how a hometown boy such as himself could compete with a faraway corporation's weirdly low prices on things like bread and milk.

He pleaded with the town planning commission, arguing that Rock Hall's 2011 "comprehensive plan" says local firms are key to the town's success.

"I presented my case and re-read the comprehensive plan several times, and they just totally ignored me," he said. "They went to take a vote, and I stood up and said, 'What about me?'"

So Carroll hired a lawyer to appeal the permit and circulated a petition that garnered more than 600 signatures. And in so doing, Carroll joined the Dollar Store Resistance ― a plucky little movement that barely exists, can't win, but, by God, it tries.

Dollar stores are popping up all over the country, outnumbering McDonald's restaurants and Walmart supercenters combined. The low-cost stores are part of a broader transformation of the American retail landscape, which recently has seen the demise of malls and the rise of Amazon's home delivery service.

And they're a part of an even bigger, longer, sadder trend: the decline of local business. In the 1980s, independent retailers sold half the goods bought in U.S. stores, but by 2012 the independent share of sales had fallen to about a quarter, according to the Institute for Local Self Reliance, a national think tank that advocates for preserving local economic power.

Once or twice every month, someone from a small town reaches out to ILSR for help confronting a dollar store development, said Stacy Mitchell, the group's director. Laws vary by state, and there's usually not much that can be done. But Mitchell said there's a familiar pattern for what happens after the store opens: If the town already has a grocery, that store will lose roughly 30 percent of its business.

"The problem is, an independent grocer, because margins are small, losing that 30 percent often puts them in the red and they don't have any resources to draw on," Mitchell said. "There's only so long a grocery store can hold on losing money."

Dollar stores, by contrast, are owned by giant, profitable corporations with annual sales in the tens of billions.

"A Dollar General ― they can lose money at that new store for a year, two years, until that local grocer closes," Mitchell said.
"We couldn't compete with the grocery part: the toilet paper, the paper good aisle, trash bags, the detergent aisle, snack food, canned vegetables."
A recent Department of Agriculture analysis found that from 2007 to 2015, the overall number of grocery stores in the U.S. increased, but the share of stores that were independent declined from around 46 percent to 43 percent, with independents responsible for only 11 percent of retail food sales. Since they're technically not groceries, dollar stores were excluded from the analysis, meaning it understates the decline of independent food retailers.
Dollar stores are grocery stores. They feed more people than Whole Foods does, Mitchell said, citing private market research. There's usually no fresh produce, but you can get cheap packs of bacon, cans of soup or Velveeta cheese slices without having to drive to a giant facility.
There are two main dollar brands: Dollar General and Dollar Tree, which also owns Family Dollar. While Dollar Tree exclusively sells items that cost only $1, Family Dollar and Dollar General offer more expensive items. They share essentially the same business model. A core part of their strategy is that their stores are cheap to build and easy to shop in because they're small, bright and rarely situated on remote highways.
In their disclosures to investors, both Dollar General and Dollar Tree use the word "compelling" to describe the dollar shopping experience. Because the stores are so small ― typically less than 10,000 square feet ― it's easy for customers to walk in, grab what they need and walk back out.
The key advantage over locally owned competition is that dollar stores have their own distribution networks, just like Amazon and Walmart. Being able to buy on a larger scale means dollar stores can sell products at a far lower price than a smaller retailer can get from its wholesalers. Dollar General operates 15 warehouses around the country and is currently constructing two more. In addition to hiring third-party trucking firms, it has its own fleet of trucks that deliver goods to its nearly 15,000 stores. It opened 1,300 new locations last year and had planned for 900 more this year, mostly in rural towns with fewer than 20,000 residents.
The epicenter of the dollar store resistance might be Chester, Vermont, where residents' fight against dollar stores made The New York Times in 2012. They were able to fend off Dollar General until 2016, citing local regulations designed up uphold the town's "character." Other Vermont towns have made use of a special state law that allows residents to appeal development projects to regional boards. Vermont has been a beacon to other small towns confronting the spread of low-end retail.
"I still get calls from other states, but our laws are so different it's hard to give anybody advice," said Shawn Cunningham, a local activist.
Chester's local grocery store adapted by shifting its inventory and letting go some part-time workers, said proprietor Lonnie Lisai. The store lost about 10 percent of its business.
"We couldn't compete with the grocery part: the toilet paper, the paper good aisle, trash bags, the detergent aisle, snack food, canned vegetables," Lisai said. "However, it did make us a better store by readjusting our marketing strategy by doing more produce, more dairy, more meats and fresh produce."
In Joshua Tree, California, a coalition of local business owners and residents sued San Bernardino County over its approval of a Dollar Store development in 2013. They were ultimately rebuffed by an appeals court in 2016, but Celeste Doyle, owner of an outdoor supply store, said the Dollar General still hasn't materialized. She hopes it stays away.
"They would definitely degrade the community and take away from the panache, the gestalt that makes it less of why most people moved here for," she said.
Sometimes dollar stores are beaten decisively. Earlier this year, the town council in Buhler, Kansas, voted against a Dollar General after seeing a local food market run out of business by a dollar store in nearby Haven. And the City Council in Tulsa, Oklahoma, enacted zoning restrictions to prevent new dollar stores from opening.
The fights can pit different constituencies against each other. Rock Hall Mayor Brian Jones, who was a member of the town council in 2013, said the strongest opposition to the Dollar General came from newer residents who moved to Rock Hall for its marinas and quiet bayfront property.
"They moved here from cities and towns that already had this stuff, and that's the last thing they wanted to see," Jones said. Many longtime residents, on the other hand, are just happy to be able to buy things cheaply.
Rock Hall has a population of about 1,200 with a significant number of households that are second homes for people who live here only part of the year. With vintage homes lining its two biggest roads and a tiny commercial area on Main Street, the town is pleasant but not aggressively quaint. Bayside Foods is on the corner of Main and Rock Hall Avenue.
Jeff Carroll's challenge to Rock Hall's building permit lost in court, and the town's leaders seemingly did share the town activists' antipathy for dollar stores. The Dollar General opened in November 2013 across the avenue from Bayside Foods. It's set back from the road between a chain boating retailer and a Pasta Plus, and it doesn't seem to detract much from Rock Hall's local panache.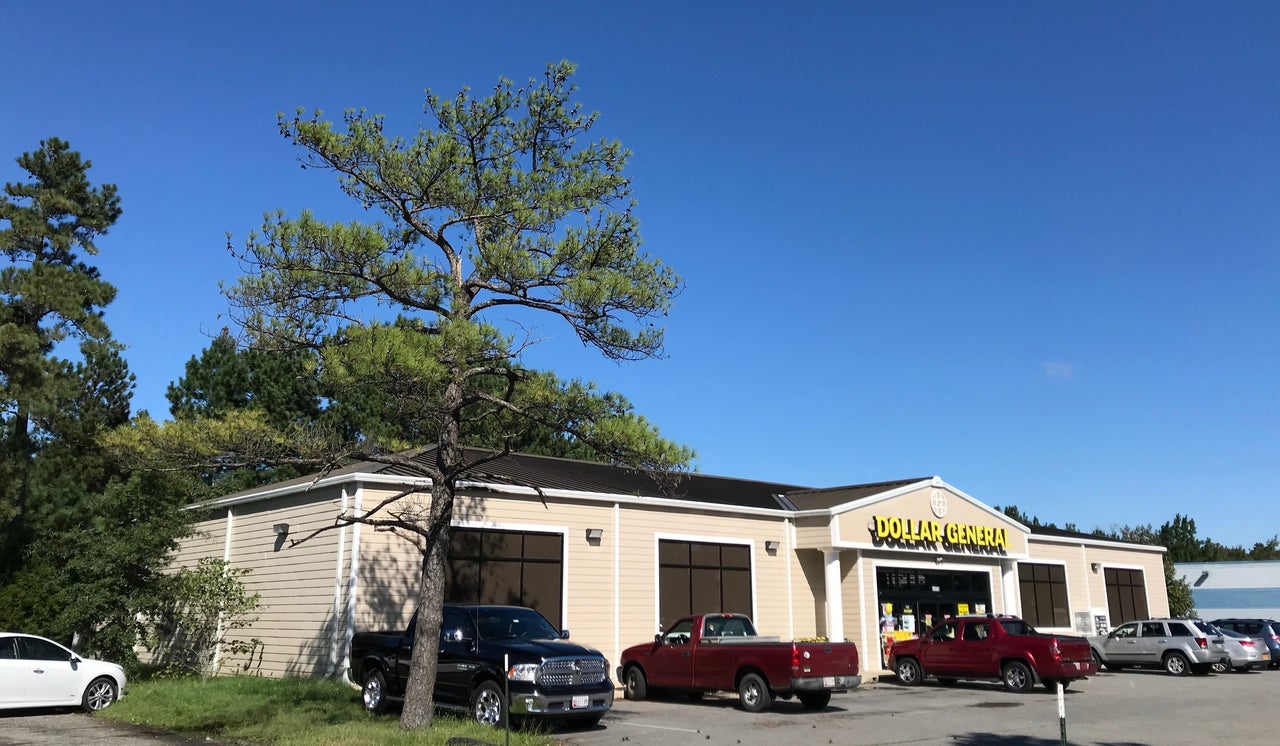 Bayside is still open, but Carroll said he's lost 30 percent of his business and has reduced his staff from 42 to 25. He no longer offers health insurance or retirement benefits for those who remain.
Dollar General declined to specify how many workers it has in Rock Hall but said its stores generally have six to 10 employees.
"When we open a new location, we carefully consider how best to meet the needs of our customers, while being respectful of community concerns," the company said in a statement (attributed to no one in particular). "Dollar General offers everyday low prices, value and convenience on quality products; qualities that customers across America are looking for as they look for ways to stretch their budgets."
On a Friday in October, the Rock Hall Dollar General had cheaper coffee grounds, cheaper milk and far cheaper canned goods than Bayside Foods had to offer. Bayside had competitive prices on bacon and bread, but Carroll said the discounts he offered for those items made them unprofitable.
Bayside had the charm of a local shop, with a butcher, deli and a bakery where people could sit and wait for their orders. The Dollar General had the charm of a prefabricated box store, albeit a small one. What it lacked in food options it made up for with other items, like belts, Budweiser hats and plastic tubs. Several customers said they also shopped at Bayside, especially if they needed something like fresh meat. For that reason, they seemed unconcerned that Bayside might be in an unfair fight.
Carroll is unsure how much longer Rock Hall can support both Dollar General and his local market. The town native said he returned in the early 2000s to be his own boss after having spent a career working for Acme Markets in Pennsylvania.
He is unsure how much longer he wants to keep working ― at 63, he's had both hips replaced and underwent back surgery on Tuesday. Before we had lunch in October, he went home to retrieve a pain pill. When we arrived at Waterman's Crab House, Carroll said, "This is the end of the road," because the road literally ended at the water. He was making a point about how tiny the town is. But it kind of seemed like he was talking about himself.
"It's impossible to compete," he said.
This is part of our five-story series spotlighting the current state of retail in America.
Clarification: An earlier version of this story said Stacy Mitchell used federal consumer spending data rather than private market research to compare grocery sales at dollar stores and Whole Foods.
Popular in the Community