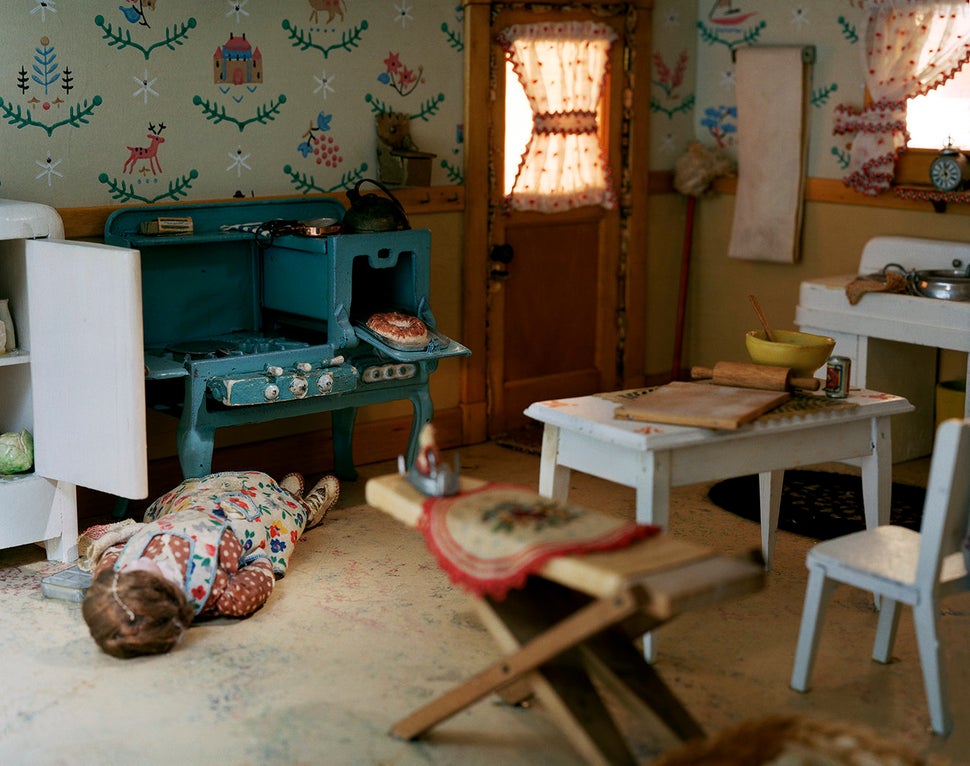 In Frances Glessner Lee's miniature replicas of real-life crime scenes, dolls are stabbed, shot and asphyxiated. A woman lies facedown on the stairs in a nightgown, her body oddly stiff. Another woman is crumpled in her closet, next to a bloody knife and a suitcase. One woman is found tucked in bed, a red lipstick stain on the underside of a pillow the only clue to her demise.
The dollhouses, known as ''The Nutshell Studies of Unexplained Death,'' were put together in minute detail as tools for teaching homicide detectives the nuances of examining a crime scene, the better to "convict the guilty, clear the innocent, and find the truth in a nutshell," in a mantra adopted by Lee. Before she created her striking dioramas in the 1940s and '50s, crime scenes were routinely contaminated by officers who trampled through them without care; evidence was mishandled; murders were thought to be accidents and accidents, murders. Today, even as forensic science has advanced by quantum leaps, her models are still used to teach police how to observe scenes, collect evidence and, critically, to question their initial assumptions about what took place.
The 19 existing nutshells were recently on display at the Renwick Gallery of the Smithsonian American Art Museum, Lee's pedagogical models having aged into a ghoulish sort of art. I saw them on a freakishly warm day in Washington, D.C., amateur sleuths crowded around me. Each model was accompanied by a card explaining basic facts about the case — the solutions are kept secret — and by a flashlight so that viewers could investigate the various clues more closely.
But something else was going on in the exhibit. Look closely at the nutshells: What unites them are the scenes of domestic horror that Lee, considered the "mother of forensic science," portrays in such unsettling detail. Most of the victims are women, found dead inside the comfort of their homes. Dioramas that appear to show domestic bliss are slyly subverted to reveal the dark underside of family life. Unwittingly or not — her private life offers only scattered hints as to her motivation — Lee, with each nutshell, was leaving clues that pointed to the culprit in the larger story of American crime. Many of these scenes of murder are in fact scenes of misogyny in bloody apotheosis.
Peering inside "The Kitchen," I felt as though I'd interrupted a profoundly intimate moment of pain. Lee handmade her dioramas at a scale of 1 inch to 1 foot ― classic for dollhouses ― and they are accurately and overwhelmingly detailed. In "The Kitchen," there's fresh-baked bread cooling in the open oven, potatoes half-peeled in the sink. Outside the window, female undergarments are seen drying on the line. But on the floor, flat on her back, is a deceased woman in an apron, her cheeks blazing red. On further scan of the room, viewers will notice that newspaper has been stuffed under the doors, blocking air passage, leading to the conclusion that she died from carbon monoxide poisoning.
At first glance, it looks like a suicide. But why would this housewife kill herself in the middle of cooking dinner? Maybe, one exhibition viewer theorized on a Post-it note, "she died of sheer misery over her dull repetitive unfulfilled life." But then why is the table near the window askew? Could someone have staged the suicide and escaped out the window?
The only narrative available to investigators (and to viewers of the exhibition) comes from the woman's husband, who reported that he went on an errand for his wife, and when he returned she was dead. Huh. It was this type of case that Lee wanted investigators to examine more closely, instead of accepting the obvious answer and moving right on.
"She was about championing the cases of people who were overlooked. And as a woman, she felt overlooked by the system," said Nora Atkinson, the show's curator. When Lee was building her models, the field of law enforcement was almost entirely male, she explained. "When they came across a scene, they didn't take the cases against women that seriously, just like they didn't take the cases against a drunk or a prostitute that seriously. She focused on people who were on the fringes of society, and women fell into that."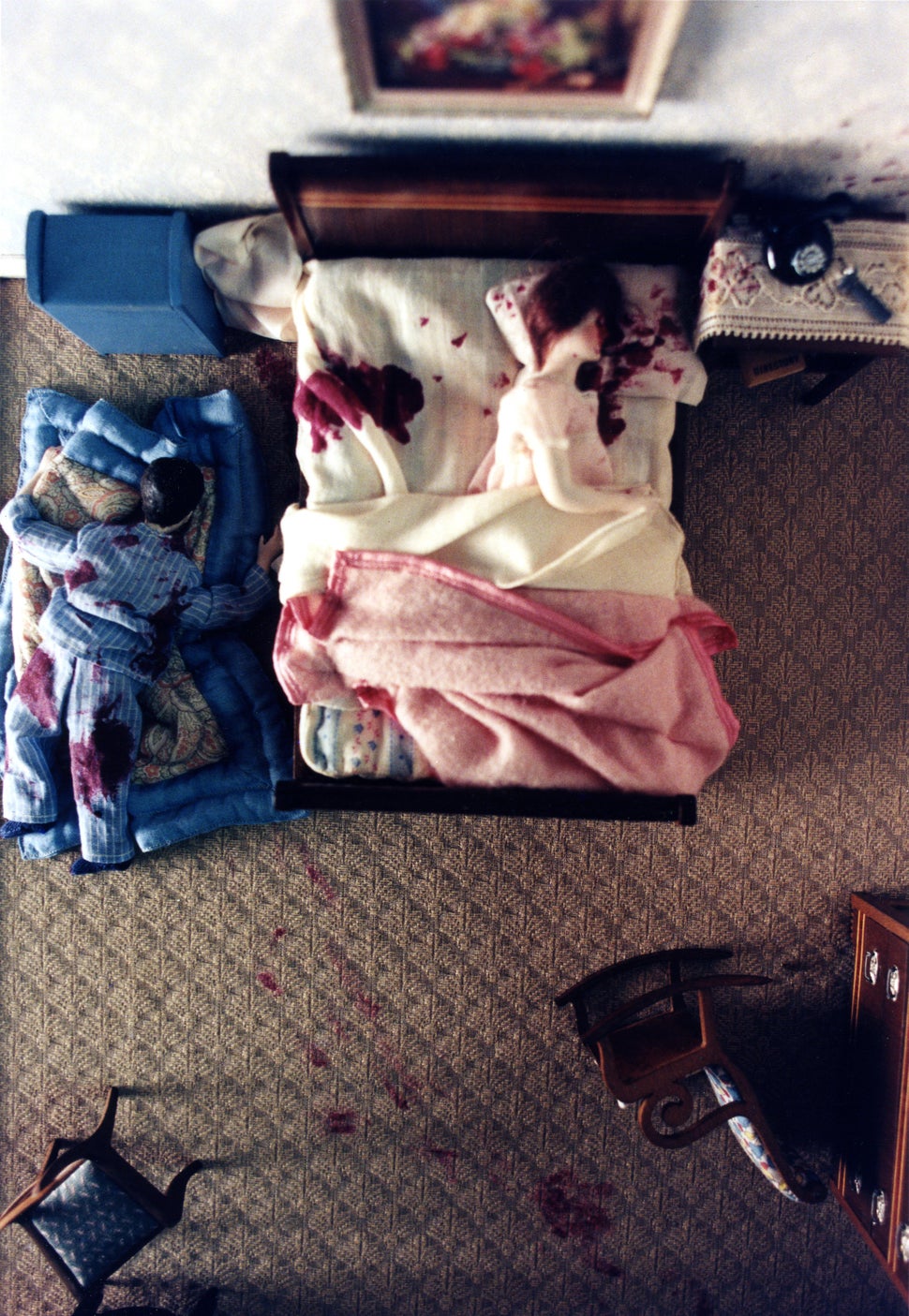 The most gruesome of the nutshells is "Three-Room Dwelling," in which a husband, wife and baby are all shot to death. As the diorama doesn't have a roof, viewers have an aerial view into the house. Even though the victims are dolls, it's a disturbing crime scene. In the kitchen, a gun lies on the floor near a bloody puddle. In another room, a baby is shot in her crib, the pink wallpaper behind her head stained with a constellation of blood spatters. The wife is shot in bed, turned on her side. Her husband is facedown on the floor, his striped blue pajamas soaked with blood.
Atkinson said when she observes crowds discussing "Three-Room Dwelling," men and women have very different theories on the perpetrator. "The women believe that it was the husband who did it, and the men believe that it must have been an intruder," she said. "It's really sort of a psychological experiment watching the conclusions your audience comes to."
For the record, I too am confident the husband did it. Maybe that's because I've covered so many similar cases, and they're sadly predictable. But I wasn't surprised to hear that others were reluctant to reach the same verdict. As someone who writes almost exclusively about male violence against women, I've noticed a deep unwillingness among the public to recognize domestic abuse at the heart of violent American crime.
Most people would be startled to learn that over half of all murders of American women involve domestic violence. New York City's first murder of 2018 was a woman stabbed to death by her husband. And despite how mass shootings are often portrayed in the media, most of them closely resemble "Three-Room Dwelling." They are committed by husbands and boyfriends, take place within the perceived safety of the home and are anything but random.
Private violence also begets more violence: Our prisons are filled with men and women who were exposed to domestic violence and child abuse. "In looking for the genesis of crime in America, all trails lead back to violence in the home," said Casey Gwinn, who runs a camp for kids who grew up with domestic abuse (where, full disclosure, I have volunteered in the past).
That inability to see domestic violence as crucially interwoven with violent crime in the U.S. leads to massive indifference. Funding for services is bleak, "desperately inadequate," in the words of Kim Gandy, the president of the National Network to End Domestic Violence. Among the media, there's an impulse to categorize crimes involving intimate partners as trivial, and to compartmentalize them as private matters that exist wholly separate from Real Crime. I often wonder if it's the word "domestic" that positions it so squarely within the realm of milk and cookies, instead of as part of a continuum, with murder and mass death terrifyingly adjacent.
In one hyperlocal example this week, no reporters showed up to a news conference on domestic violence homicides held by the Minnesota Coalition for Battered Women. Why? Well, the Super Bowl is about to take place in the state, and all eyes are focused on that instead.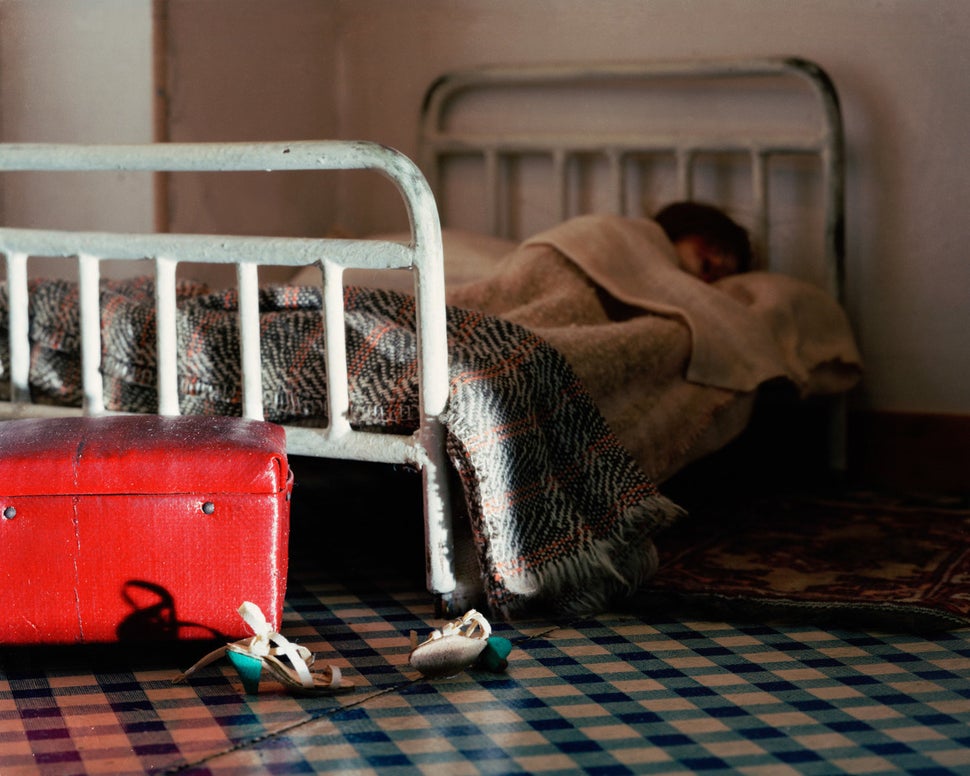 So from where did these dark creations emerge? What inspired Lee to spend so much time replicating trauma? She was born into a wealthy family in the 1870s and was intrigued by murder mysteries from a young age, the stories of Sherlock Holmes in particular. While she was studious and bright, she never had the opportunity to attend college. She married at 19 and had three children, but eventually divorced. Later in life, after her father's and brother's deaths, she began to pursue her true interests: crime and medicine.
In the 1930s, she used her fortune to help establish the Department of Legal Medicine at Harvard, the first of its kind in North America. And she started working with her local New Hampshire police department, becoming the first woman in the country to achieve the rank of police captain. At the age of 65, she began making her dollhouses, which would be her longest-lasting legacy.
The teaching tools were "intended to be an exercise in observing, interpreting, evaluating and reporting," she wrote in an article for the Journal of Criminal Law and Criminology. "One of the essentials in the study of these Nutshells is that the student should approach them with an open mind — far too often the investigator 'has a hunch,' and looks for and finds only the evidence to support it, disregarding any other evidence that may be present."
Little is known about why Lee chose the particular scenes she did, and why she narrowed her lens on the domain of domestic life. The nutshells are all based on real crimes, with some adjustments.
"When she was traveling around with police officers and investigators in the New England area, these were in part a reflection of the scenes that she had access to, and the crimes that were taking place," said Corinne Botz, an artist and author who published a book exploring the nutshells through a feminist lens.
Perhaps Lee felt those cases were not getting the attention they deserved, she said, noting that many of the nutshells are overt stereotypes: the housewife in the kitchen, the old woman in the attic.  
"​Lee picked the cases that interested her​," Botz said. "She is trying to make investigators take a second look, and not make assumptions based on what a neighbor reported or what first meets the eye."
Atkinson thought it was possible Lee was subconsciously exploring her own complicated feelings about family life through the models. "A lot of these domestic environments reflect her own frustration that the home was supposed to be this place of solace and safety," she said. "The home wasn't necessarily a place where she felt safe and warm. It was a little bit of a prison for her."  
Lee hinted at her difficulties in a letter penned in her 70s. "This has been a lonely and rather terrifying life I have lived," she wrote. "Chief amongst the difficulties I have had to meet have been the facts that I never went to school, that I had no letters after my name, and that I was placed in the category of 'rich woman who didn't have enough to do.'"
But her nutshells, and their portrayal of violence against women, have ultimately transformed the way investigators approach crime, said Jeanie Foley, who creates full-size, realistic simulated crime scenes based on true cases to teach students at Boston College School of Nursing. The scenes she builds are similar to Lee's nutshells, but on a much larger scale and with far less detail.
"Today, in the 21st century, the science of forensics plays a crucial part in the solution of crimes," she said. "Lee's models gave women a better opportunity to have a fair investigation. A more open-minded investigation."
Deliberately or not, Lee's nutshells urge us to acknowledge that American crime is born in the home ― and we ignore it at our own peril.
Clarification: A previous version of this story indicated that Lee's father prevented her from attending college. While Lee said her father "believed that 'a lady didn't go to school,'" according to Botz's book, Botz and other experts on Lee's life have not definitively concluded why she did not attend. 
This story has also been updated to include more detailed information about the comments provided by Gwinn.
Calling all HuffPost superfans!
Sign up for membership to become a founding member and help shape HuffPost's next chapter