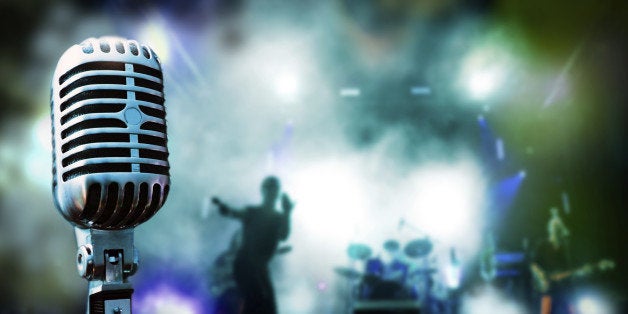 The house lights went down, drawing the eyes of 8,500 people to a stage framed by five long white drapes with soft lights resembling fireflies and sounds of cicadas chirping. Dolly Parton invited us into her world, the Great Smoky Mountains, and we were in for a treat.
Emerging from behind the center white curtain, she wore a white and gold striped rhinestone dress while singing "Hello, Dolly!" and strumming a matching white rhinestone guitar.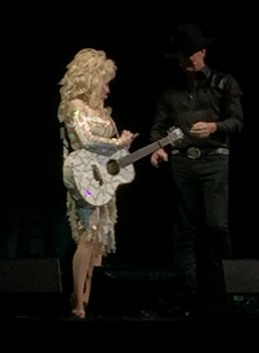 "Some of you may know the songs so sing along," she said. "If you don't, sing anyway, it's your show."
For nearly two and a half hours, Parton entertained the crowd with cheerful stories from her lifetime, songs from her new album (Pure & Simple, available Aug. 19), and sang her beloved hits. She personally played nine different, rhinestone decorated instruments - the guitar, autoharp, dulcimer, banjo, saxophone, violin, penny-whistle, harmonica, and piano.
Losing her guitar pick during "Jolene," Parton's bandmate offered his own with her responding, "I don't want a red one, I want it to match my outfit."
Parton's folksy, family, and faith-focused musical storytelling was delivered in pitch perfect tone. Her conversation with the audience between songs made it easy to see how, at 70, her career in entertainment has spanned more than five decades.
"Thanks so much for being here," she said a few songs into her set. "I need the money, it costs a lot to look this cheap."
She named her tour Pure & Simple for the fact that there were no big video screens, deafening speakers or pyrotechnics (besides Dolly herself). Parton sang 25 songs to an audience that spanned every age demographic, from white haired seniors to a handful of babies accompanied by their parents.
"I ain't crackin his little ear drums am I," she asked a 7-month old's parent in the front row. "He ain't crying, I guess he's really into it, a little cowboy in the making."
Parton fought the sniffles throughout her set, attributing the air conditioning system on the bus and 20 shows in her back pocket as the cause. She needed to grab a few tissues periodically during the show, but the crowd didn't mind, especially when she held up a used tissue joking, "Anyone want to sell this on eBay? Me with a chest cold is like a giraffe with a sore throat."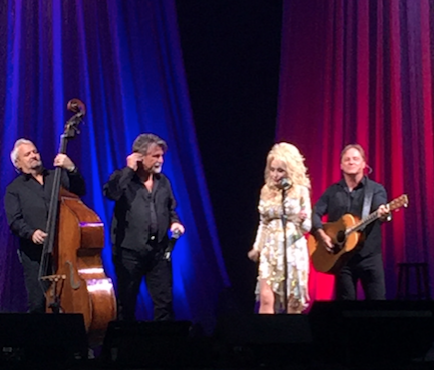 With the concert falling on the same night as the Democratic National Convention, Parton weighed in on the presidential election. The crowd roared its approval when she said, "We don't know who to vote for do we? I'm thinking about running myself. I got the hair for it, it's huge and we can use some more boobs in this race."
Parton certainly shows she can make relationships of all kinds work as she recently celebrated her 50th wedding anniversary with husband Carl Dean in May. When asked how to keep a marriage going for 50 years, she quipped, "it didn't hurt that I've been gone for 47 of those years." To celebrate their anniversary, Parton said that Carl "took us out to dinner, read the menu for both of us, ordered food for both of us, then pulled up and got the Taco Bell for both of us."
The show turned reflective as Parton described her early days and career beginnings in Nashville.
"I graduated on a Friday night and got on the bus the next day to head out for stardom," she said before singing "Tennessee Mountain Home". "I was so homesick, it was a sad time for me walking up and down the streets trying to get something to happen. I'd sit up at night and write songs about home and family to keep me sane. No matter where I am in the world, I can always have the Smokies with me."
After a brief intermission, Parton closed the show with a wig and costume change (red pantsuit with black lining), then sang her hits, "Baby I'm Burning" "Here You Come Again" and "Two Doors Down." Then she brought her band in to sing some stripped down acapella bars from "Do I Ever Cross Your Mind."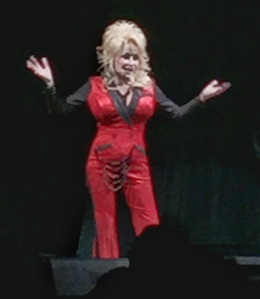 A highlight of the evening was Parton singing a solo, acapella rendition of "Little Sparrow" captivating the audience's attention with her unique, simple and pure voice. The crowd then sang along to "Islands In the Stream" and "9 to 5" before she ended the set with a heartfelt farewell to the audience singing "I Will Always Love You."
Parton responded to in an email interview after the show saying she's happy with the results of all the work she's done over her career and that the effort has been worth it - "ten times over." For the curious reader, Parton says that living or dead, her ideal duet partner would be "hands down: Elvis."
"I've written thousands of songs over the years and plan to write thousands more before I'm done. The songwriter in me has to keep going. It's like breathing for me."
Dolly's one-liners between songs
"Growing up, there were 12 of us kids, one set of twins. Momma was 15 and daddy 17 when they got married. People would say, oh, you must be Catholic. We're not Catholic or Mormon, we're just hillbillies."
"Momma used to say, 'if we had some ham, we'd have ham and eggs, if we had eggs.' In the leaner times, she'd make up stone soup for us and have all us kids pick out the best lookin' stone. She'd choose from the kid who was having a tough time to make them feel special, like they helped feed the family that day."
"Life is all about love, kindness, acceptance, and understanding. We had enough to eat, a bed to sleep in, roof overhead, even if it leaked. Good parents are the greatest gift God can give us."
"Did I ever tell you how I came up with my look? When I was a little kid, there was a woman that walked around town, they'd call a trollop, the painted lady. On Jerry Springer they'd called her a hoe. I thought she was the prettiest thing. Boys would be whistlin and girls hating her guts. I thought she was beautiful. I'd say, 'ain't she pretty?' with folks saying she ain't nothin' but trash. That's what I wanted to be when I grew up, trash."
"'Don't you want to go to heaven?' my grandpa asked. Sure, but do I have to look like hell to get there?"
"I'm a self made woman and I have the doctor bills to prove it."
"I ask God to lift someone, touch someone everyday. I'm a little too good to be bad and too bad to be good. I'm tryin', I am sincere and know that through God, all things are possible."
"As a kid, I'd stick a microphone into the porch with a tin can on top and sing to the chickens, ducks and little kids too small to crawl off."
Setlist
Intro: "Hello Dolly"
1. "Train, Train"
2. "Why'd You Come in Here Lookin' Like That"
3. "Jolene"
4. "Pure & Simple"
5. "Precious Memories"
6. "My Tennessee Mountain Home"
7. "Coat of Many Colors"
8. "Smoky Mountain Memories"
9. "Applejack"
10. "Rocky Top/Yakety Sax"
11. "Banks of the Ohio"
12. Medley ("American Pie" / "If I Had a Hammer" / "Blowin' in the Wind" / "The Night They Drove Old Dixie Down")
13. "The Seeker"
14. "I'll Fly Away"
Act Two:
15. "Baby, I'm Burning"
16. "Outside Your Door"
17. "The Grass Is Blue"
18. "Those Memories of You"
19. "Do I Ever Cross Your Mind"
20. "Little Sparrow"
21. "Here You Come Again"
22."Two Doors Down"
23. "Islands in the Stream"
24. "9 to 5"
Encore:
25. "I Will Always Love You"
Calling all HuffPost superfans!
Sign up for membership to become a founding member and help shape HuffPost's next chapter