 Another celebrity icon is celebrating a long-term marriage anniversary -- Dolly Parton!
Dolly and her handsome reclusive husband, Carl Dean, no doubt will do something very special on May 30th as they celebrate their 46th wedding anniversary. We're guessing it'll be a little more exciting than visiting a Ben & Jerry's ice cream parlor.
I had the pleasure of interviewing Dolly several years ago at Dollywood, her theme park in Tennessee. A few highlights:
Given the huge divorce rate, did you ever consider packing it in or do you have the perfect marriage?
Well, there's no perfect marriage, and, no, I've never thought about packing it in. I just kick his ass and go on the road. (Laughs) Or, he'll kick mine and go to the barn. We never argue or bicker back and forth. I've never wanted to be married to anybody but Carl, and even if he died, I don't think I'd ever marry again. I may date or something, but I think he's probably it for me.
What's your husband's best trait and his most annoying habit?
My husband is a very accepting person of me. That's his best quality. He lets me be me. His worst is, I can't get him out of the house to do enough stuff. (Laughs)
Over the years, the country superstar has shared some "Dollyisms" regarding her marriage. We revisit some of her thoughts on what's kept their marriage going strong, four years shy of a quarter century below. (We even have a great video slide show revealing some vintage pictures of Dolly and Carl -- he hasn't allowed himself to be photographed in years, but you'll see how handsome he was back when they first met.)
"I love to flirt, and I've never met a man I didn't like. Men are my weakness. Short, fat, bald or skinny -- I've had crushes on some very unusual men. But Carl knows I'll always come home and I'm not having sex with these people -- I'm just flirtin' and having fun."
How Carl makes her feel pretty:
"He always makes me feel pretty, even when I'm not. He'll say, 'I like it when you wear your hair up high,' and he even has clothes of mine in his closet that he'll bring out once in a while and say, 'See if you can still get into this.' I love dressing up for him. I think Carl will always see me the way he did when we first met, just as I do him. We'll never be old to each other."
"We're good friends first of all, and we knew each other before I got to be a star, so it's not like one of those where I have to worry that he loves me for some other reason than what we loved each other for [initially]. He's very kind, very understanding, crazy, funny, witty. He's a homebody... I have my freedom. He likes to stay at home and he doesn't want me in his face all the time and I don't want to be in it, so it works good! ... We're very different and they say opposites attract...we respect each other's space and we like each other a lot."
"If we cheat we don't know it, so if we do cheat, it's very good for both us. I don't want to know it, if he's cheating on me. If I'm cheating on him, he wouldn't want to know it. And if we do, if that's what's making it work, then that's fine too."
But then, on Oprah.com, she later qualifies the "open marriage" rumors and past comments being taken out of context:
"That just means we let each other be who we are and how we are. But I'd kill him if I knew he was with somebody. We love people. He knows I'm a flirt and a tease, but it's harmless. I've never met the man that would take his place."
'Early on in my career, I'd won [Song of the Year] in 1966, and I asked him to go with me. ... He was so uncomfortable. He said: 'Now I want you to do everything you want to do. I want you to enjoy every minute of your life. But don't you ever ask me to go to another one of these things. Because I am not going. He's proud of me. He's just basically shy about things like that. He doesn't like crowds. And I respect his privacy. I respect the fact that he loves to be out of the limelight. That's one of the reasons I think we've lasted so long.'"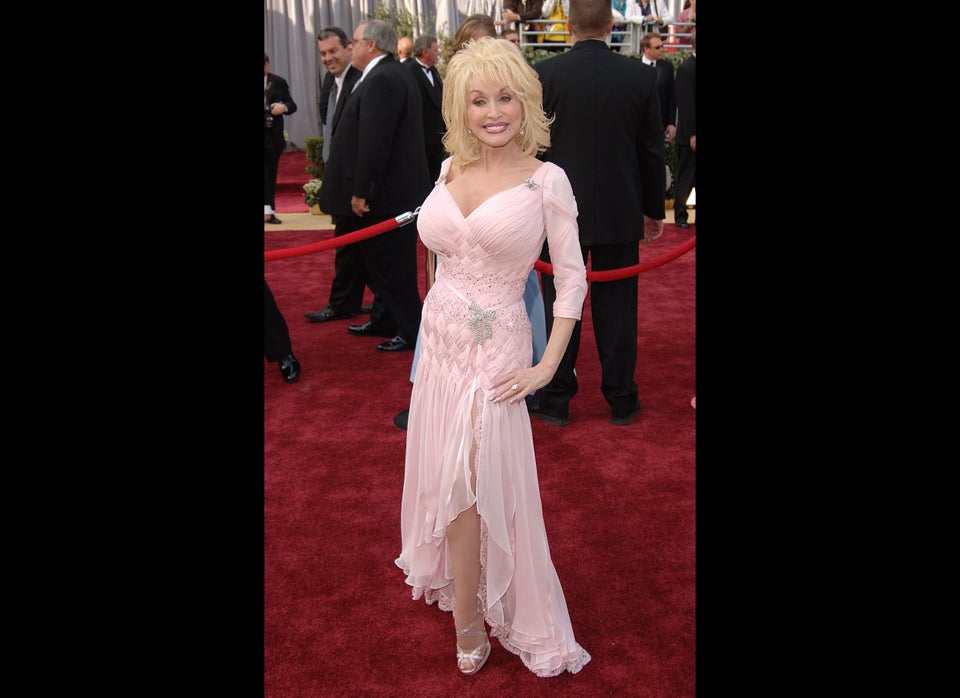 Dolly Parton
Related
Popular in the Community