When it comes to operatic staying power, look no further than star mezzo soprano Dolora Zajick. Critics have dubbed her "a powerhouse" because her voice is big, rich, and luscious throughout all the vocal registers and she's also a singer who can act. In fact, I was blown away two years ago when I heard her sing a riveting Adalgisa in Washington National Opera's Norma. And now she's returned to D.C. for a role debut as Madame de Croissy, the ailing prioress, in Poulenc's Dialogues of the Carmelites, set during the Reign of Terror.
At age 62, Dolora Zajick remains the most sought-after dramatic mezzo in the world, but when I spoke with her by phone last week, she was frank, funny, and down to earth as she described Francesca Zambello's new English-language production which opens this weekend. Zajick is booked most of the year, but when she's not performing she's goes home to Reno, Nevada, where she paints, studies bird behavior, and sings the Divine Office with the Carmelite Sisters of Reno--a bit of serendipity for her current engagement.
Zajick's calling card is her portrayal of Verdi seconda donnas. After graduating from San Francisco Opera's prestigious Merola Program in 1983, she essayed a few small roles before making her 1986 San Francisco debut as the anguished Azucena in Il Trovatore. She made her Met debut in the same role two years later, eliciting praise from the New York Times: "Her assumption of Azucena was distinguished by certain details of craftsmanship that have long been rare in Verdian mezzo parts. She commanded the range of the role easily, from the strong chest notes at the bottom to the high C, which is usually left out but which Miss Zajick hit square on with no apparent effort." As her career evolved she won acclaim for Amneris in Aida, Eboli in Don Carlo, Ulrica in Un Ballo in Maschera, which she'll do at the Met in April, and Azucena, which she'll reprise at the Met this September.
Below is a shortened version of our freewheeling conversation: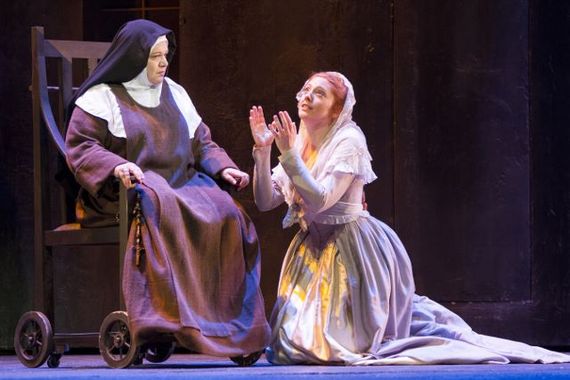 Dolora Zajick (left) as Madame de Croissy with Layla Claire as Blanche de la Force in Dialogues of the Carmelites. Photo by Scott Suchman for WNO.
As a child in Oregon, you wanted to be a pianist. Yet you went to the University of Nevada as a pre-med student and somehow wound up as an opera singer. How did this happen?

I was taking a chemistry class and I'd just done a rehearsal and I realized that's where I'd rather be. Actually, I had a strange trajectory because I started voice lessons when I was almost 22 and I was cast in a role [Kate in The Pirates of Penzance] at Nevada Opera the same year. That led to another, and it was a sink or swim situation and I had to deliver, so I was already singing small roles from the beginning. At 24 I learned the role of Azucena and was covering it for Nevada Opera, and I knew at that point that I was a Verdi mezzo. There was no doubt in my mind and no doubt in Ted Puffer's mind--he was my first teacher. It was just a matter of pursuing it. And even though I didn't have much training I had a lot of innate musicality and I was smart enough that I could close the gap--and voila, here I am.
Was Ted Puffer your only teacher?
At the point I entered my career, he was responsible for about seventy percent of why I was there. But then when I went to Manhattan School of Music I worked with Helen Vanni for three years. She also had a significant influence and immediately recognized I was a Verdi mezzo.
So it was Verdi, Verdi, Verdi?
Oh, it was instantaneous. And I was so lucky that I hit all the right ears at the same time. For instance when I auditioned at San Francisco for Terry McEwen, who had recorded Simionato and Barbieri with London records, he knew what a Verdi mezzo was supposed to sound like. So I was lucky that I happened to be in the right place at the right time in terms people who understood what I was. A lot of my colleagues weren't so fortunate. A lot of mezzos were convinced they were sopranos and that's why I ended up with so little competition.
How important was the Merola Program in your development?
Extremely important for several reasons. I got a lot of stage experience and language coaching, and I was basically groomed to sing Azucena. It was a surprise because they cast me in a mainstage production with stars. They gave me a contract while I was in my last months as an Adler Fellow. I was very ready and prepared, and I worked on it with my voice teacher, Ted Puffer. That's when I went back to him because Helen Vanni had moved to Santa Fe. [Laughs] Ted Puffer was in Nevada, of course, and we weren't supposed to leave town, but I'd sneak away on Sunday on the Richard Lee Bus Tours. For $28 you could get a round-trip gambling package. They gave you a roll of nickels and a food voucher...I'd get up at four in the morning--it was only a four-hour drive from San Francisco to Reno. So I'd get there and use the nickels to augment my meals. I'd have my lesson early and then take a Richard Lee bus back.
You're making a Washington role debut in Poulenc's Dialogues of the Carmelites. How is your character evolving and what are the special challenges?
It's an interesting experiment because Madame de Croissy, the prioress, is really more of an acting role. I get mostly singing roles, and this time I thought it was time to try my hand at something totally new. And I want to sink my teeth into the drama. The plot is based on a real event when seventeen nuns were executed in Compiegne, France, during the Reign of Terror. In the opera, Madame de Croissy dies fearing death, and it's a way to externalize what all the nuns are feeling since each one will face her martyrdom. Poor Madame de Croissy, in reality, was guillotined with the rest of them, but her story was changed for dramatic purposes.
The whole cast recently went to the Carmelite Monastery in Towson [near Baltimore] and we asked the nuns questions. I'm associated with the Carmelite Monastery in Reno, and they don't socialize a lot except with each other, so I had already met some of the Baltimore Carmelites. I knew them because I composed a one-act opera scene, Roads to Zion, for St. Teresa of Avila's 500th anniversary. [Last August Zajick premiered the principal role in her composition at a three-day celebration of St. Teresa in San Jose, California.]
How did you become involved with the Carmelites in Reno?
I once joked with my hairdresser in Reno saying, 'Don't give me a Carmelite haircut, because they just chop their hair off.' And he got incensed and said, 'I do a Carmelite's haircut,' and he later introduced his nun-client to me, and she invited me to come sing the Office with them. And so now when I'm in Reno I go there to sing. They're an amazing bunch of women.
Francesca Zambello is directing your new production. What does she bring to it?
I think it's really important to her that all the singers get that feeling of community that nuns have, and how their communal strength allowed them to do what they did. And how they bonded as a group. It's an incredible story of people who sacrificed their lives for something they believed in...I think it's an opera that's close to [Zambello's] heart, and I think she wants to send a message: not about a particular belief system, but this is what amazing people are capable of. The interesting thing is that Robespierre was turning into a Lenin figure. And the death of the nuns had a significant role in helping people realize that the French Revolution was out of control and something had to be done.
You founded the Institute for Young Dramatic Voices in 2006. You are the president of the board and the general director, and the program runs for three weeks each summer at the University of Nevada, your alma mater. What are your hopes for the program?
I want to keep the program as it is and slowly increase it as more funding comes in and we find more singers. Since we specialize in 'freaks of nature,' we only have 30 singers and maybe half of them will make it. We take a chance on certain types of singers that others won't take a chance on...We have a wide range of levels of development and a narrow range of voice type. We have a program for high school kids and college kids, and emerging singers, and young professionals who've already made a debut, and even for rank beginners between the ages of 18 and 23 who've had no exposure to classical music but who have innate abilities. Most of those don't work out, but it's worth it to find the one or two who do.
What motivated you to establish this program?
There are more people on this planet than ever before, but we have fewer dramatic voices. Why is that? I wanted to address this issue so Verdi and Wagner can continue to be performed the way they should be. So we specialize in Verdi and Wagnerian voices and also unusual voices for difficult-to-cast roles...You have to give back to the art form if you want it to survive, and we're very grateful to the teachers and coaches who believe in the program and basically donate half their time.
You enjoy many pursuits beyond singing. Can you tell me about your interest in avian cognition and how it began?
My gardener began leaving peanuts for the birds, and because of that I met a scrub jay who ate out of my hand. I had a plate with some fake peanuts on it, and he used to eye it through the window. One day I left the door open and he came into the house and was trying to get the peanut off the plate, so he pulled the plate down and it broke, and he flew off with the fake peanuts. Then I left real peanuts on the porch and he flew inside and we made friends. His name was Mort and he stayed around for eight years. Even if I left for three days or three months, he'd come in and fly around excitedly and land on my shoulder when I returned. But then one day he didn't come around anymore. Through Mort, I learned a lot and it took me on the most amazing journey. I started taking notes, and I contacted the foremost specialist in avian cognition, Nicky Clayton, at the University of Cambridge. My experience led me to become interested in the evolution of speaking and singing in humans. I'd like to write about it.
You've had one of the most successful careers of any opera singer in the last thirty years. To what do you attribute your longevity?
I think it's been a combination of common sense and genes. I never sang too much, or too many performances back to back. I sang what was right for me, and if I forayed into other territory it was with knowledge. I never deluded myself that I was a soprano, but I knew I could get away with a few soprano roles a few times. Mainly I accepted who I was and worked with the deck I was handed.
Washington National Opera's Dialogues of the Carmelites runs from February 21 through March 10 at the Kennedy Center in Washington, D.C. For tickets, visit www.kennedy-center.org
Calling all HuffPost superfans!
Sign up for membership to become a founding member and help shape HuffPost's next chapter