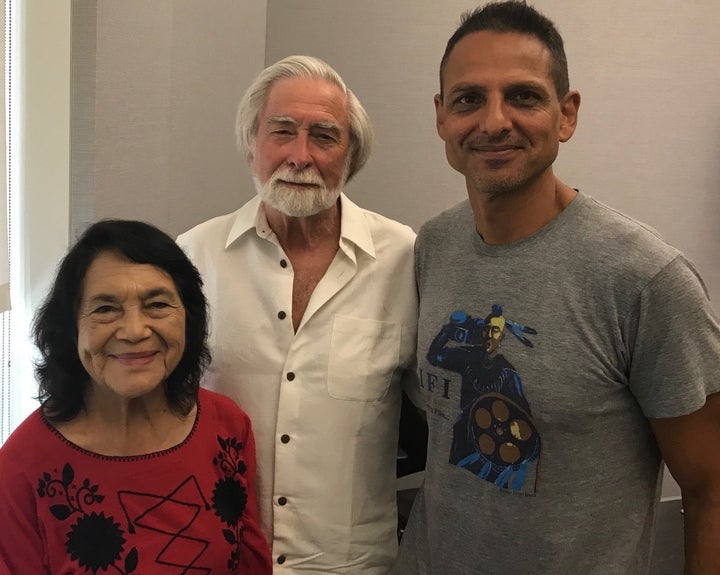 Nonviolent forms of activism are in the spotlight in the wake of neo-Nazi demonstrations around the country. Dolores Huerta, a longtime activist and co-founder of the United Farm Workers (UFW) with the late Cesar Chavez, knows a thing or two about peaceful activism.
"People have to understand that nonviolence has a strong, spiritual power," she tells Robert Scheer in this week's episode of KCRW's "Scheer Intelligence."
"You can't see it, but it's there. And it does influence, and it's very, very effective."
At the beginning of the interview, Huerta describes her ancestry and upbringing and shares memories of early days in the UFW. Scheer also brings up "Dolores," a new documentary about her life, which he says shows "you can have a life as an activist, as an organizer, and win and survive."
The two discuss current activism in the United States. Huerta explains how women have been, and will continue to be, crucial for the civil rights movement: "We need women's intuition, we need women's voices."
Huerta emphasizes that peaceful demonstration isn't the only way to effect widespread change, urging today's activists to become involved in politics and government.
"We've got to make policy changes. We've got to get on those boards, those school boards, the city councils, and we've got to come back to voting," she tells Scheer. "The ultimate way that you can change things is by voting. And also a call-out to nonviolence … we've got to have that political power."
Listen to the full podcast and find past editions of "Scheer Intelligence" at KCRW.com.
Related
Popular in the Community