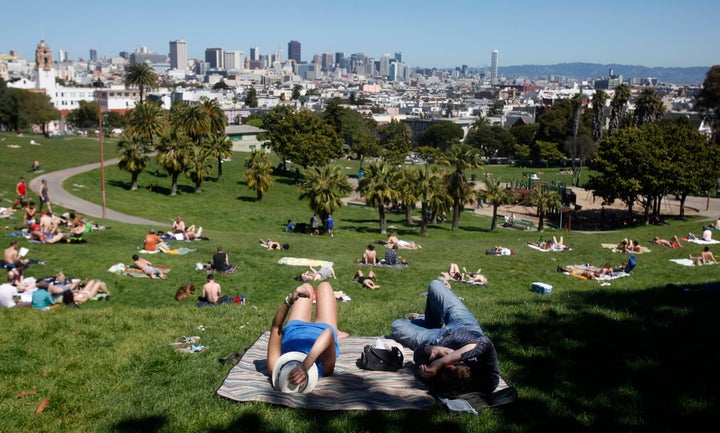 Before long, it sounds like Dolores Park is going to be looking like Danville.
The renovation project may as well be called Total Park Overhaul. According to Montgomery, the planned changes are extensive enough to completely change the function -- and spirit -- of Dolores Park.
Among the additions: 20-foot concrete routes for service vehicles, 14-foot concrete walking paths, a soccer field, bright plastic playgrounds, a central promenade with gardens, office and administration space, designated picnic areas and food truck parking. We imagine that means private vendors with picnic baskets will no longer be allowed? Have we really had our last Obamacolada?
Montgomery even quoted a committee member saying that the Recreation and Parks Department has come up with all sorts of "crazy bat shit."
The scope of the playground renovation project will include the demolition of the existing children's play area and adjacent asphalt picnic area; construction of a new highly customized children's play area; a new storm water collection system irrigation and lighting within the play area…Notable features include a play mound providing a wide range of play activities, a sand play area, multiple slides and swings including a 40' super-slide, and two boats for different age groups.
So in other words…complete overhaul.
As Montgomery asked in his post," Whatever happened to just fixing the irrigation and bathrooms and calling the project a success?"
While the changes are indeed innovative, we have a feeling the beloved bohemian days of Dolores Park might be over: organizers are calling suburbia or bust.
Guess the rest of us will have to find a new place to play. Because love it or hate it, we're not in Dolores anymore.
Check out our slideshow of the plans courtesy of Uptown Almanac:
Popular in the Community