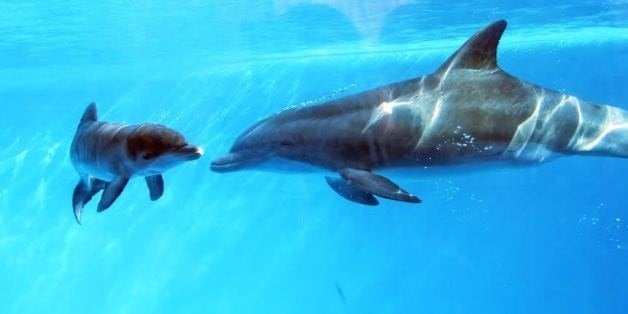 A pregnant bottlenose dolphin found to be communicating with her unborn calf at a wildlife amusement park has caught the attention of marine researchers studying the importance of keeping oceans quiet.
Bella, a 9-year-old staff favorite dolphin at Six Flags Discovery Kingdom in Vallejo, Calif., gave birth to her first calf last week but caught her caretakers' notice during her third trimester when she began making her "baby whistle" alone in the tank. The sound, unique to individual dolphins, is used to announce their presence to others or communicate with their young.
"We all noticed it right away; Bella was alone in the pool, floating peacefully, making her baby whistle, and it caught our attention because we all know each and every sound every one of the dolphins make," head dolphin trainer Dianne Cameron said.
Bella continued using her baby whistle on her calf after delivery, confirming the likelihood that she was communicating with her calf in utero -- something the Six Flags staff members say they've never encountered before.
Holley Muraco, the park's marine mammal reproductive physiologist in charge of all births, told The Huffington Post that Bella's friendly nature provided a new glimpse into pregnant dolphin behavior.
"Bella was doing it at the surface of the water," she said, noting how comfortable she is with humans. "Potentially this is taking place more often than we're aware of, more often under water."
Muraco said that in the future, they will use hydrophones in the tanks to record other late-term pregnant dolphins.
Bella's pre-delivery baby whistle caught the attention of researchers at the Marine Mammal Behavior and Cognition Laboratory at the University of Southern Mississippi, one of the top dolphin research centers in the U.S. The lab immediately put together a plan to observe and record all data on Bella.
Muraco believes the pre-birth baby whistle may be an important way for mothers to teach their calves how to recognize them in a group as soon as they're born -- furthering the case for keeping oceans quiet and unaffected by noise from shipping and fishing.
"We are going to have to accept that animals are trying to survive in everything we're trying to do," Muraco said, noting that the species often live as "urban dolphins" residing in marinas. "Humans have to live their lives, but maybe we can be a little more mindful of certain areas as were researching. We're learning more and more that there are predictable places these animals are frequenting, which places they go during the pregnancy."
She hopes research sparked by Bella's baby whistle may lead to ocean quieting in important areas for pregnant dolphins -- something that can be achieved by slowing boats in high-traffic areas.