Tourists who visit Hollywood are often disappointed when they discover that the celebrities they love aren't exactly walking up and down the street.
That's not the case in Clearwater Beach, Fla., where visitors are guaranteed to see at least one celebrity: Winter the dolphin, the star and subject of the upcoming movie, "Dolphin Tale," which stars Morgan Freeman, Ashley Judd and Harry Connick Jr.
Winter, who turns six in October, lost her tail at three months old when she was caught in a blue crab trap off the coast of Florida and the blood supply to her tail was cut off by the rope.
Initially, it was thought she'd have to learn to swim without a tail, which doctors feared could cause scoliosis, as that would require her to move her back side-to-side instead of the normal up-and-down method.
"Without a tail, she swims side-to-side and that overproduces some muscles while underusing others," Kelly Martin, one of Winter's five trainers told HuffPost Weird News.
However, Kevin Carroll, vice president of prosthetics at Hanger Prosthetics and Orthotics, who had previously designed prosthetics for dogs, an ostrich and a duck, volunteered to help Winter by designing a special tail prosthetic for her.
This was more than five years ago, and since then, Winter's fame has spread far and wide and has helped the aquarium's attendance.
"Five years ago, we had 7,000 guests in the month of July," said Krista Rosado, director of marketing at Clearwater Marine Aquarium. "We had 35,000 visitors this July."
Rosado said she expects even more people will visit after "Dolphin Tale" opens nationally Sept. 23. The aquarium is trying to piggyback on the waves of publicity generated by the release by letting visitors know they can see a real-life star of a Hollywood movie seven days a week.
And, in the off-chance Winter is unable to perform, Rosado said fans can see the next best thing: her prosthetic tail.
"Winter wears her tail about an hour a day, but people walk around it so you can get up close to it," she told HuffPost Weird News. "There are about 15 versions of it."
The aquarium will also be the site of a special premiere showing on Sept. 21 that will possibly reunite Winter with some of her human castmates.
"We don't know who is going to show," Rosado admitted. "We know Ashley Judd probably won't be there as she's in Prague."
Rosado said she expects the film will impact the aquarium's bottom line, but admits making it affected Winter in other ways.
"Although she is a dolphin who has spent the majority of her life with humans, we had to acclimate her to the filmmaking process by holding up fake cameras around her in the pool starting months before [shooting began]," Rosado said. "Otherwise, her face would have been right up in the camera lens just out of curiosity."
Winter has a chance to make a big splash as a film star in the movie, but Martin, who helps train her, doesn't think success will go to her head.
"So far, she hasn't gotten too big for her britches," Martin told HuffPost Weird News.
But while Martin insists that Winter doesn't engage in the selfish antics of other young starlets, she admits that Winter can have her moods.
"We do watch carefully to see how she's feeling," Martin said. "For instance, if she is not showing up to the platform, we know she's not in the mood to perform."
It goes both ways, though.
Martin started working with Winter right after filming finished and said they had to go through a getting-to-know-you period.
"It's important to establish space for both of us," Martin said. "If she is going to come up on the platform, we both have to feel safe and comfortable."
Since "Dolphin Tale" previews have run before practically every family film for the last six months, there's a buzz attached to the film. Martin said she is aware that Winter's growing popularity will have an effect on her and the aquarium.
"Things are definitely going to change," she said. "But we're excited about this. This will allow people to learn how intelligent dolphins are and also let them know about our effect on them."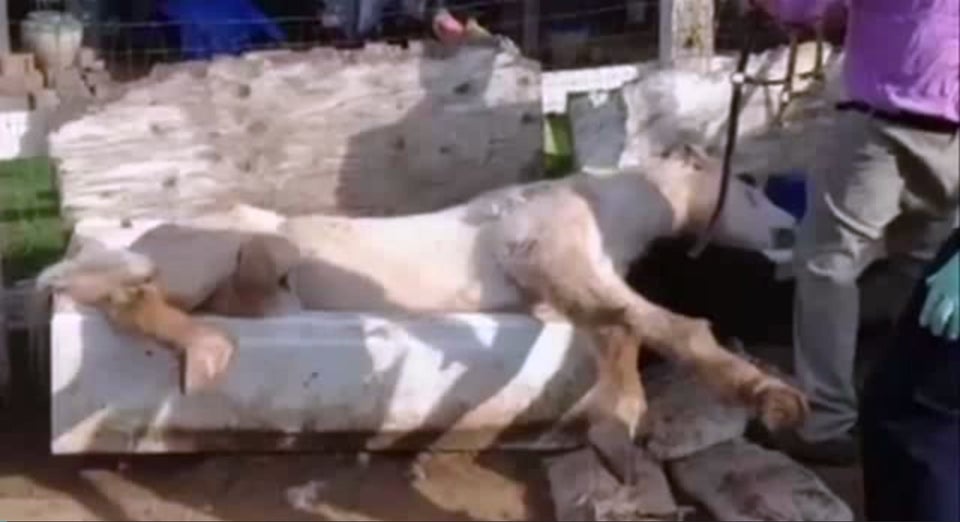 Animals In The News
Popular in the Community