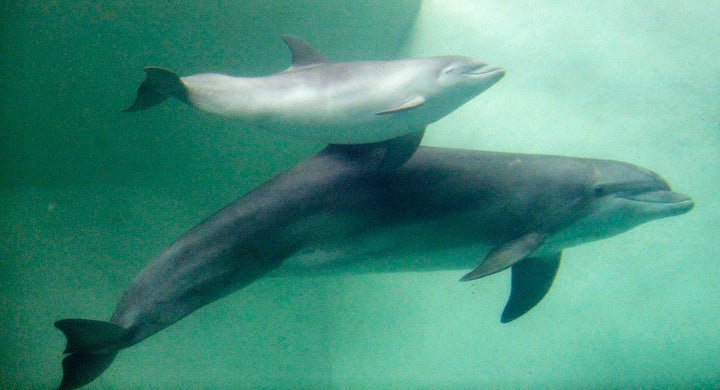 In a recent discovery, a climbing number of porpoise carcasses have been washing up on Bay Area shores this year due to a surprising perpetrator: territorial dolphins. And according to SFGate, the attacks might not be solely territorial. They might also be sexual.
In a release by the Gulf of the Farallones National Marine Sanctuary, researchers reported that bottlenose dolphins are likely behind an unusually high number of porpoise slayings. "Porpicide" -- the intentional killing of porpoises by dolphins -- is not unusual, but it is new to the California coast. And the incidents have been alarmingly brutal.
"Necropsies showed multiple fractures from blunt-force trauma," stated the report. "Some porpoises had tooth marks." The organization is determining whether an Unusual Mortality Event should be declared.
SFGate first reported on the recent spike in porpicide this summer when five porpoise carcasses washed up on San Francisco beaches in August alone. In the article, scientists with Golden Gate Cetacean Research pointed to a group of young, sexually frustrated dolphins who were probably protecting their territory.
"In some of the incidents [...] there has been activity focused on the genital area of the porpoise," Jefferson told SFGate. This activity included bite marks and scrapes. "These bottlenose dolphins, we call them 'porpitrators,' were either known males or suspected males and mostly younger males."
And according to the Examiner, the attacks have continued. A spokeswoman for the Farallones Sanctuary told the Examiner that these dolphins are new to Northern California waters, and researchers are just starting to see the consequences of their arrival.
We take this moment to remind readers that the wild is just that: wild. (Seriously, we couldn't make this stuff up.) For additional evidence, just check out the video below of a recent porpoise attack in Monterey Bay. (Things get brutal around the 1:10 mark.)
Related
Popular in the Community