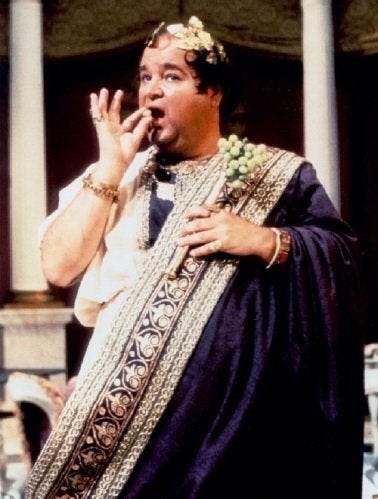 Dom DeLuise, a comedy great, died Monday night after a long illness. He is survived by sons Michael, Peter and David, and dozens of hilarious films. His most memorable performances were often in the hands of writer-director-actor Mel Brooks who cast him in "The Twelve Chairs," "Blazing Saddles," "Silent Movie," "History of the World Part I," "Spaceballs," and "Robin Hood: Men in Tights." Here are some of his most memorable film roles from an expansive career...
BLAZING SADDLES (1974) DeLuise played Buddy Bizarre, a musical director whose set is interrupted by the fight between the townsfolk and Lamarr's army of thugs. It's one of the few times you see him dancing, which is (obviously) hilarious.
CANNONBALL RUN (1981) DeLuise played Victor Prinzim, a mild-mannered mechanic with a crazed alter-ego named "Captain Chaos." We meet Victor about 4 minutes into this clip when he explains to Burt Reynolds that "Hamsters are a big responsibility."
ROBIN HOOD MEN IN TIGHTS (1993) DeLuise played Don Giovanni, a godfather-esque character from New Jersey hired to assassinate Robin Hood. His send-up of Marlon Brando is priceless, as is his intentional thickness.
SPACEBALLS (1987) DeLuise played "Pizza the Hut," an edible villain in this "Star Wars" spoof. This performance haunted me as a child.
HISTORY OF THE WORLD PART I (1981) DeLuise played Emperor Nero as a flatulent buffoon, jaded by wealth and women, in this historical farce. Eventually he orders Mel Brooks's character killed for mocking him in a comedy routine.
FATSO (1980) DeLuise played Dominick DiNapoli, a man who loves to eat but gets scared into dieting when an overweight cousin dies. He ends up falling for a lady who takes his mind off his love of food, but in this scene we see what happens when he's challenged over bread.
REAL LIFE. REAL NEWS. REAL VOICES.
Help us tell more of the stories that matter from voices that too often remain unheard.