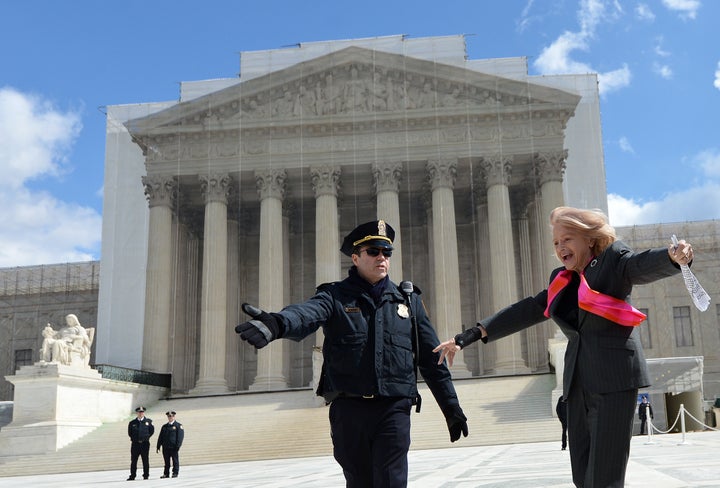 After her partner gave birth to triplets in 1998, Chris Crespo began paying closer attention to the employee benefits offered by her company, major accounting firm Ernst & Young.
"I wanted to make sure that there was coverage for my children," said Crespo, an accountant who lives in Western Pennsylvania with her partner of nearly 30 years. "And I began looking more at the long-term questions of how I could support the family."
In 2002, Crespo and others in the company's LGBT community succeeded in persuading the firm to offer benefits to employees in long-term domestic partnerships. But those benefits came with a cost. Whereas married employees don't pay taxes on their benefits, unmarried domestic partners do, sometimes to the tune of several thousand dollars a year. And because the federal government and states like Pennsylvania don't recognize the legitimacy of same-sex marriages, Crespo and many others were essentially penalized for being gay.
Now, as lawyers present their arguments in the second of two historic cases on gay marriage before the Supreme Court, Ernst & Young finds itself among a wide range of private companies with a financial stake in the verdict, partly because of its recent decision to reimburse employees who are forced to shoulder that added tax burden.
This practice, known as "grossing up," is increasingly common, but it may soon be obviated by the court. If gay employees win the right to marry in states like Pennsylvania, and if the federal government recognizes the legitimacy of those unions, people like Crespo will no longer have to pay taxes on their benefits -- and Ernst & Young and dozens of other companies would save money that they might have otherwise spent on offsetting government tax penalties.
Although Ernst & Young declined to say exactly how much they'd save, Justin Nelson, president of the National Gay and Lesbian Chamber of Commerce, a group that advocates for the interest of the LGBT business community, argued that the costs of grossing up are significant.
"It is a cost to corporate America, a cost to big businesses, and a cost to small businesses," he said.
As of last year, 38 national companies had adopted a gross-up policy, according to the Human Rights Campaign Corporate Equality Index, a tool that tracks corporate positions on LGBT issues. These companies include professional services firms like Accenture and Boston Consulting Group, law firms like Skadden, Arps, Slate, Meagher & Flom LLP and technology companies like Google and Facebook.
Many of these companies signed onto an amicus brief last month arguing that American businesses would profit if the Supreme Court strikes down the Defense of Marriage Act, or DOMA, a federal law that defines marriage as the union of a man and a woman. The brief contends that DOMA forces companies to adopt policies that discriminate against same-sex couples, making it difficult for those firms to recruit top talent.
To illustrate the point, the brief invited readers to consider the theoretical scenario of an ace MIT engineering student contemplating a move to Silicon Valley: "She expects that she and her significant other will soon marry and start a family. So, they may choose to stay in Massachusetts or New York, even if they are not able to find a position there fully utilizing her unique talents. Even worse for American business, she and her significant other could choose to move to Spain, Sweden, Portugal, the Netherlands, Denmark, or Belgium -- all countries that recognize marriage of same-sex couples."

Although grossing-up is a growing practice, some companies are reluctant to adopt the policy before the Supreme Court has issued its verdict. Brian Moulton, legal director of the Human Rights Campaign, said some employers are afraid of getting sued by straight employees or by anti-gay activists.
"Some employers are thinking of maybe doing this as the right thing to do, but then they see all these complications, they hold back," he said.
Companies may also be reluctant to take on the financial burden of educating employees about the new policy, changing administrative procedures, or providing the benefit itself.
If the Supreme Court upholds DOMA, advocates say, companies may be more willing to make those investments. "Should the court decide in the negative with regards to marriage equality, I think there's going to be an even higher demand on companies grossing-up to retain and recruit the best talent there is," Nelson said.
When Ernst & Young introduced its gross-up policy back in January 2012, the firm seemed eager to portray itself as the most gay-friendly company in its class. A press statement at the time noted that the company was the first of the "Big Four" professional services firms to receive a 100 percent rating for corporate equality from the Human Rights Campaign and the first to provide the gross-up tax offset to its personnel. Karyn Twaronite, an officer with the firm, argued that the decision reinforced the company's "long-standing pledge to foster a work environment that is inclusive for all of our people and signals our ongoing efforts to remain a leader in providing equitable benefits."
Like many other advocates and business leaders, Moulton suggested that the costs associated with such policies pale in comparison to the costs of losing out in the competition for talented gay employees.
"The companies are doing it because it's best for their employees, but also because it impacts their bottom line," he said.
If the Supreme Court strikes down DOMA, companies that have already adopted those policies will likely lose a competitive edge. But Moulton suggested that they could benefit in other ways. "The ones that are doing the right thing will now see less of a tax hit and also less of an administrative burden," he said.
Before You Go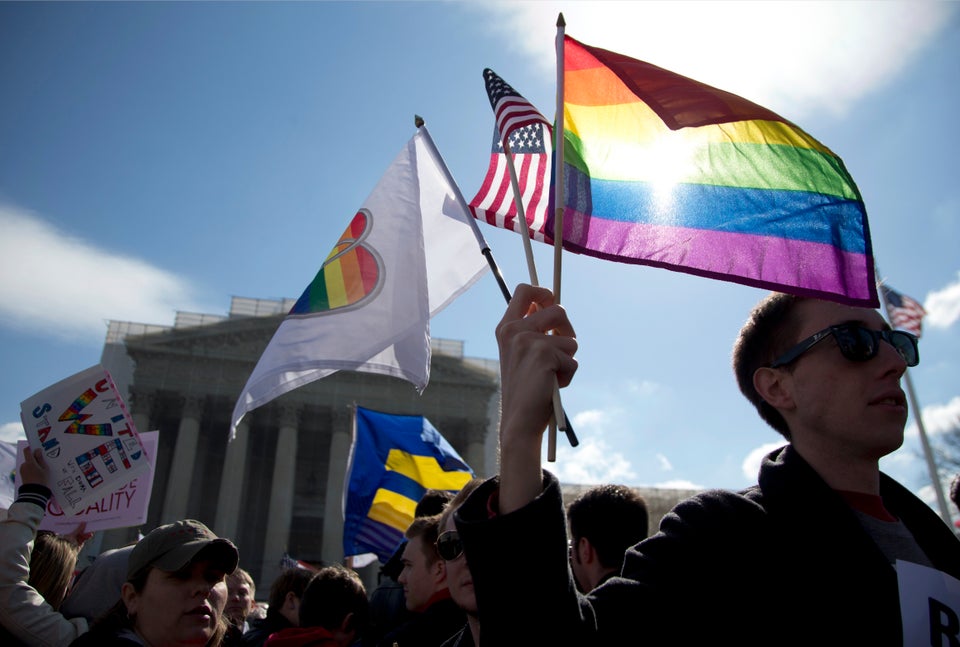 Supreme Court Proposition 8 Case
Popular in the Community