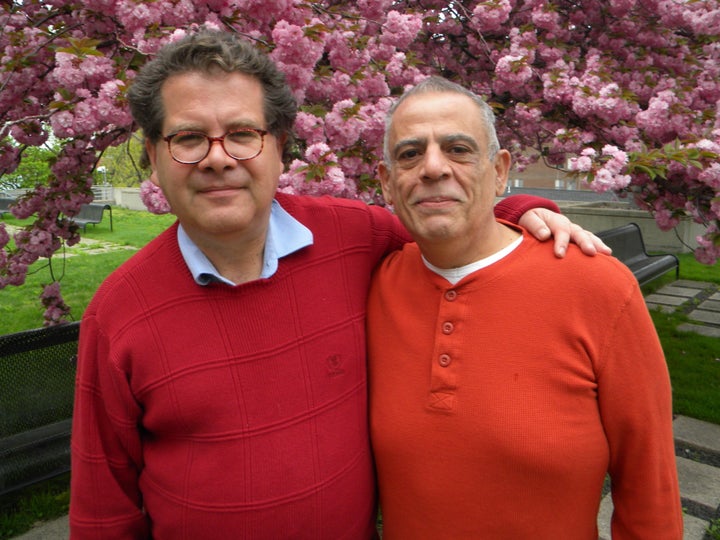 WASHINGTON -- Five same-sex couples that are unable to obtain green cards for a foreign-born partner filed a lawsuit on Monday against the Defense of Marriage Act, which prohibits gay couples from petitioning for legal status for their partners.
Whether or not they are legally married, Americans in same-sex relationships have no legal options to help their partners become legal residents of the United States. For Santiago Ortiz, who was born in the U.S., and his husband Pablo Garcia, born in Venezuela, this means being unable to leave the country or receive full rights because Garcia cannot obtain a green card.
"We really believe that we are family. I really want to be with Pablo," Ortiz said. "We're being denied our rights, because we are a family."
Ortiz and Garcia have been together for more than two decades and married for nearly a year. They are confident that the Defense of Marriage Act will be repealed eventually, particularly after seeing society evolve on gay rights -- 20 years ago, they had to keep their relationship under wraps, but now they are able to be open, Ortiz said.
But Garcia, who first entered the country on a tourist visa and then stayed, can't get a green card despite his marriage to Ortiz, even though a partner in a heterosexual marriage would be able to do so. The couple applied for a green card but expect the application to be rejected, as others have been under the law.
They join five other couples in similar circumstances on the lawsuit, which was filed on their behalf by advocacy organization Immigration Equality and the law firm of Paul, Weiss, Rifkind, Wharton & Garrison LLP.
"Solely because of DOMA and its unconstitutional discrimination against same-sex couples, these Plaintiffs are being denied the immigration rights afforded to other similarly situated binational couples," the lawsuit states.
One of the other couples named in the suit, Kelli Ryan and Lucy Truman, was denied a green card on March 27, despite a push by Sen. Richard Blumenthal (D-Conn.) and Immigration Equality. Truman, who was born in the United Kingdom, is in the country on a visa but could be forced to leave if she lost her job.
Tim Smulian, a 65-year-old South African who is married to 71-year-old American citizen Edwin Blesch, was granted a year of relief beginning in February, meaning he will not immediately be required to leave the country for six months out of every year. Still, he cannot receive a green card because of the Defense of Marriage Act. Smulian and Blesch are also named in the suit.
Victoria Neilson, legal director for Immigration Equality, said Monday that the lawsuit is the final option in pushing for fair treatment of same-sex couples under immigration law. The group already asked the administration to change its policies and to, at the very least, suspend green card applications rather than rejecting them until challenges to the Defense of Marriage Act are resolved.
"We have recently gotten a definitive no from the administration on that request, so we sort of feel like we're at the end of the line on advocacy," she said. "Our next step is to take it to the courts."
Popular in the Community