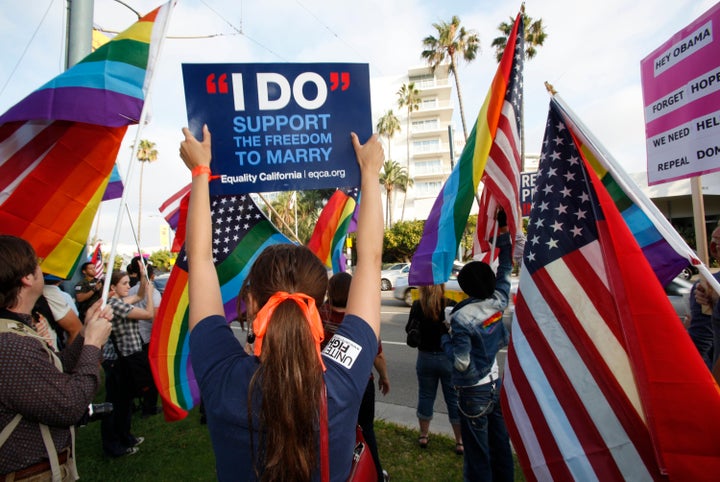 WASHINGTON -- The law firm King & Spalding stunned many observers Monday by abruptly withdrawing from representing the federal Defense of Marriage Act (DOMA) -- barely a week after coming under fire for signing on to defend the law on behalf of House Republicans. But the real shockwaves may have taken place within the firm, where, according to one insider, employees were at each other's throats over its decision to take on the case.
A source at the firm described the "mayhem" that ensued after employees learned King & Spalding agreed to defend DOMA.
"Management was divided, people were threatening to quit," the source said. In addition, it was unclear if members of the firm's Diversity Committee had been consulted ahead of time about taking on the case.
In King & Spalding's statement on why it was filing a motion to withdraw from the case, chairman Robert D. Hays said the "process used for vetting this engagement was inadequate," but he did not elaborate. Paul Clement, the partner at the firm who took on the case, has since resigned and taken DOMA with him to a new firm.
Les Zuke, a spokesman for King & Spalding, declined to comment further. "There is nothing I can add to your reporting beyond what is in that statement," he said.
The ripple effects of the firm taking on the case have extended beyond King & Spalding's Washington, D.C. offices. Pam Rymin, a litigation paralegal with another firm in Atlanta, made headlines last week for publicly complaining to King & Spalding's Atlanta leg, saying the gay community may be incensed enough to start holding rallies in protest of doing business with the company.
"They are a large presence in the city and there is a large gay population here," Rymin told The Georgia Voice. "They need to be held more accountable."
LGBT rights organizations also exerted a significant amount of pressure on sensitive areas for the firm: its clients and recruits.
The Human Rights Campaign, for example, reached out to King & Spalding's clients and groups to which the firm had made charitable donations. It also targeted law schools and students who would be potential recruits for King & Spalding to make them aware of the DOMA case.
"[We wanted to] expose the hypocrisy of King & Spalding taking on this engagement while at the same time they were espousing to prospective clients and recruits that they were leaders in LGBT equality," said HRC spokesman Fred Sainz. "So we thought it was important to draw attention to that hypocrisy because you can't claim that you're good for LGBT people and at the same time, effectively be declaring war on gay and lesbian families."
A source in the LGBT community familiar with the advocacy efforts told The Huffington Post that several King & Spalding clients expressed concern over the DOMA case and had reached out to the firm for more information. Brian Beutler at Talking Points Memo also reported that top King & Spalding client Coca-Cola directly intervened, pressing the firm to separate itself from the case.
Particularly troublesome for companies, according to the source, was that many of them have contracts with King & Spalding that provide protections against non-discrimination for sexual orientation. The contract with the House General Counsel, however, did not include sexual orientation or gender identity protections.
One LGBT organization looked into filing a lawsuit against King & Spalding, arguing that the clause in the contract prohibiting the firm's employees from engaging in any advocacy to "alter or amend" DOMA broke certain states' laws.
The Stonewall Bar Association of Georgia also urged King & Spalding to terminate its representation of the DOMA case, saying in a statement that its vice president/president-elect Robert Lewis contacted the firm's chairman and diversity committee chairman. The group's president, Brian Basinger, also an associate at King & Spalding, did not return repeated requests for comment to The Huffington Post.
In the meantime, a spokesman for Clement's new and significantly smaller firm, Bancroft PLLC, said their seven-member team of attorneys is more than prepared to defend DOMA.
"You have Viet Dinh, Paul Clement and Chris Bartolomucci, three of the most successful Supreme Court litigators," said Mark Corallo, who heads up the media relations firm Corallo Comstock. "That's an awful lot of legal fire power …. They are perfectly capable of handling [DOMA] and much more."
Corallo, who has been friends with Dinh and Clement for more than 20 years, said it is "certainly a great benefit" to Bancroft to take on Clement. He touted Clement's commitment to defending his cases, regardless of the subject matter.
"Paul made it clear" when he left King & Spalding, said Corallo, that "when a lawyer takes a case, they should stay with it to the end. Period."
Bancroft wasted no time mounting a public relations offense in support of their newest hire. They created a Twitter account Monday and, as of Tuesday evening, had sent out 11 tweets boasting about Clement coming on as a partner.
"'Paul wins the biggest cases and Bancroft solves the most complex problems. This is a no brainer.'-- Viet Dinh, Bancroft Founder," reads one of the firm's first tweets.
Calling all HuffPost superfans!
Sign up for membership to become a founding member and help shape HuffPost's next chapter