WASHINGTON -- Judy Rickard rose early in California on Wednesday, opened SCOTUSblog and waited, with her wife, Karin Bogliolo, at her side. Rickard had faithfully tuned in to the Supreme Court rulings every day, hoping they would decide on the Defense of Marriage Act that has kept her, a U.S. citizen, from applying for a spousal visa for Bogliolo, a British national.
On Wednesday, the decision finally came: DOMA is unconstitutional, the Court ruled in a 5-4 vote. Rickard said she was in tears.
"Does that mean it's over?" Bogliolo asked.
Rickard, who is 65, and Bogliolo, who is 72, have been together for eight years, legal domestic partners for five and legally married for two. They're one of an estimated 28,500 binational same-sex couples who have been excluded from immigration benefits because of DOMA, which disallowed the federal government from recognizing their marriages. Wednesday's Supreme Court ruling doesn't entirely fix the problem -- couples must be married rather than partners, and must travel to a state that allows same-sex marriage if they don't live in one -- but it's still a major victory for LGBT rights.
The ruling already helped one binational same-sex couple: an immigration judge halted the deportation of a man married to a U.S. citizen on Wednesday, according to reports.
Some of those binational couples have lived apart for months or even years because the foreign-born spouse can't legally remain in the country. Others must worry about whether they will lose their job and work visa, then be separated. Still others stay in the U.S. without legal status and risk deportation to be with their spouse. Some Americans just leave the country entirely when their partner cannot stay.
"Any American would agree that being forced to choose between your homeland and your loved one is a heartbreaking choice," American Immigration Lawyers Association President Laura Lichter said in a statement.
The ruling takes some pressure off Congress, where many Democratic lawmakers say they would like to see immigration reform deal with same-sex binational couples, but not at the expense of getting a bill passed. Republican senators have said that an amendment from Sen. Patrick Leahy (D-Vt.) to allow married same-sex couples to receive immigration benefits is a "poison pill," and it almost certainly won't be in the comprehensive "gang of eight" bill expected to pass the Senate later this week.
Leahy said on the Senate floor after the ruling Wednesday that he would no longer seek a floor vote on his amendment, given the Supreme Court decision.
"With the Supreme Court's decision today, it appears that the anti-discrimination principle that I have long advocated will apply to our immigration laws and binational couples and their families can now be united under the law," Leahy said.
The binational couples and the organizations that advocate for them were overjoyed by the Supreme Court's ruling. Rickard and Bogliolo already have a pending application for a spousal green card, and hope it will be approved soon.
"We have our lives back," said Rickard, who has told their story at the White House. "Nobody else is controlling us anymore."
Others will have to apply for the first time, or reapply after being rejected. Pablo Garcia Gamez, 52, met Santiago Ortiz, a 57-year-old born in New York, in his native Venezuela in 1991, and the two have been together ever since. Garcia Gamez originally was in the United States legally, but stayed when his visa expired to be with Ortiz. They registered as domestic partners in 1993 and married in 2011, but were rejected because of DOMA when they applied for a spousal visa for Garcia Gamez. He has since been granted two years deferred action to remain in the country.
"These 20 years have been hard, mainly because it was like living in the shadows, being invisible, being in some way marginalized," Garcia Gamez said.
Now, they hope to apply again for a green card. Ortiz said they cried after reading the DOMA news and he feels "jubilation." They're celebrating by attending a pride celebration, but also by living their lives, finally recognized by the federal government.
"We're just continuing our life together, which is a celebration in itself," Ortiz said.
Rachel Tiven, the president of advocacy group Immigration Equality, said the organization will push the Obama administration to quickly implement the ruling so same-sex couples can receive green cards. One of the couples she works with called her to say he was taking an application to the post office later Wednesday, and she said she expects others to act quickly as well.
"I was so thrilled and so relieved," she said of the ruling. "What's notable is that the court was willing to do what Congress was not," she added.
Felipe Sousa-Rodriguez, 27, is undocumented and married to 24-year-old Juan Sousa-Rodriguez, a soon-to-be U.S. citizen. Felipe works with getEQUAL, an LGBT rights group, and received a permit from the Obama administration's deferred action policy for Dreamers.
"I'm going to finally be able to plan for our life together in the U.S.," he said in an email after the ruling. "It's impossible to build a family when one needs to renew their work permit every year."
Dreamer-led group United We Dream, which includes the Queer Undocumented Immigrant Project, called it "a huge day not only for the LGBT movement, but also for the immigrant rights' movement."
A coalition of nine groups -- including United We Dream, The National Center for Lesbian Rights, GLAAD, National Gay and Lesbian Task Force and GetEQUAL -- have vowed to continue to push for comprehensive immigration reform even though it won't include a provision for binational couples. The groups view the bill's provisions for asylum of LGBT individuals abroad and protections against solitary confinement, along with legal status for LGBT undocumented individuals, as particularly important.
"So much remains to be done in order for all of America's immigrant families to be able to live with dignity, pursue their dreams and work for a better future and quality of life," the groups said in a joint statement. "As we celebrate the end of DOMA, we also recognize that our fight for equality for all and family unity for all continues."
Before You Go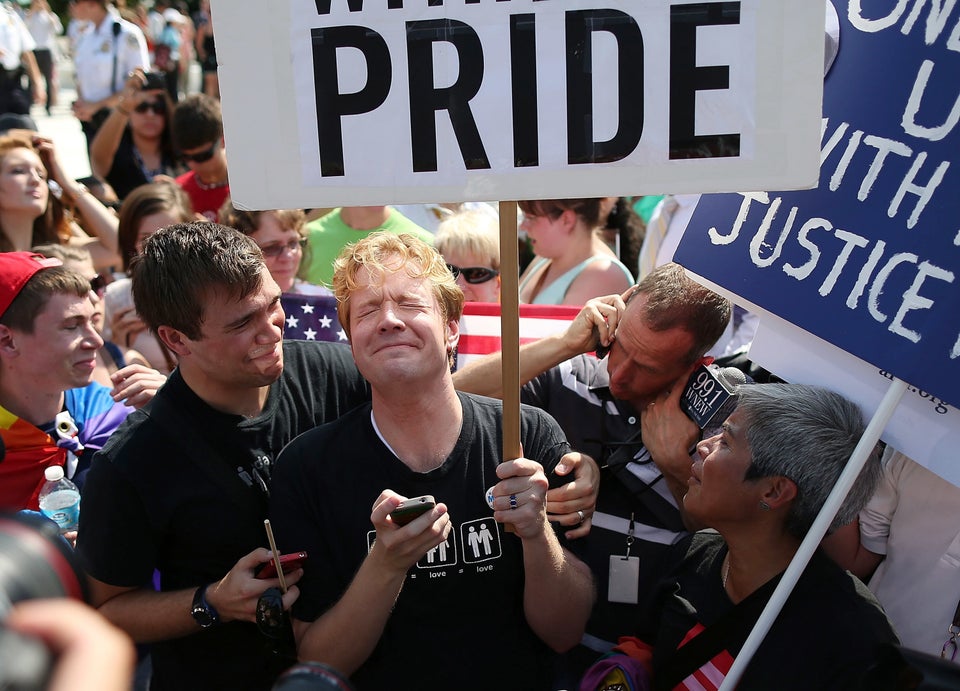 SCOTUS Decisions On Prop 8, Defense Of Marriage Act
Popular in the Community