The country's most widely circulated newspapers including The New York Times, Washington Post, Wall Street Journal, USA Today and Los Angeles Times placed the news front and center on their front pages. The New York Times strayed from its typical front page that usually includes small photographs of the Supreme Court justices. Instead, the paper used a photograph of DOMA plaintiff Edie Windsor, the 84-year-old woman who sued the federal government when she was taxed more than $300,000 on the estate she inherited from her partner Thea Spyer, who died in 2009. The Times was one of the few newspapers to use her photograph on its front page. More newspapers used images of the plaintiffs involved in the Prop. 8 case. Most papers used photographs of gay rights supporters who gathered outside the Supreme Court to celebrate the rulings.
While many major state-wide newspapers also splashed the news across its front pages, some took a different approach. For states that have not legalized same-sex marriage, the DOMA and Prop. 8 rulings will have little impact on state proceedings, and some headlines noted this fact immediately.
Some newspapers led with different news entirely. In the Boston area, some papers led with former Patriots tight end Aaron Hernandez, who was arrested on murder charges on Wednesday. Even the New York Post's cover led with Hernandez. Likewise, some papers in Texas included news of the DOMA and Prop. 8 outcomes on its front pages, but state Sen. Wendy Davis and her filibuster against an abortion bill that became a national sensation led Thursday's coverage.
Take a look at how some of the country's largest newspapers covered the Supreme Court rulings. All photos are courtesy of The Newseum.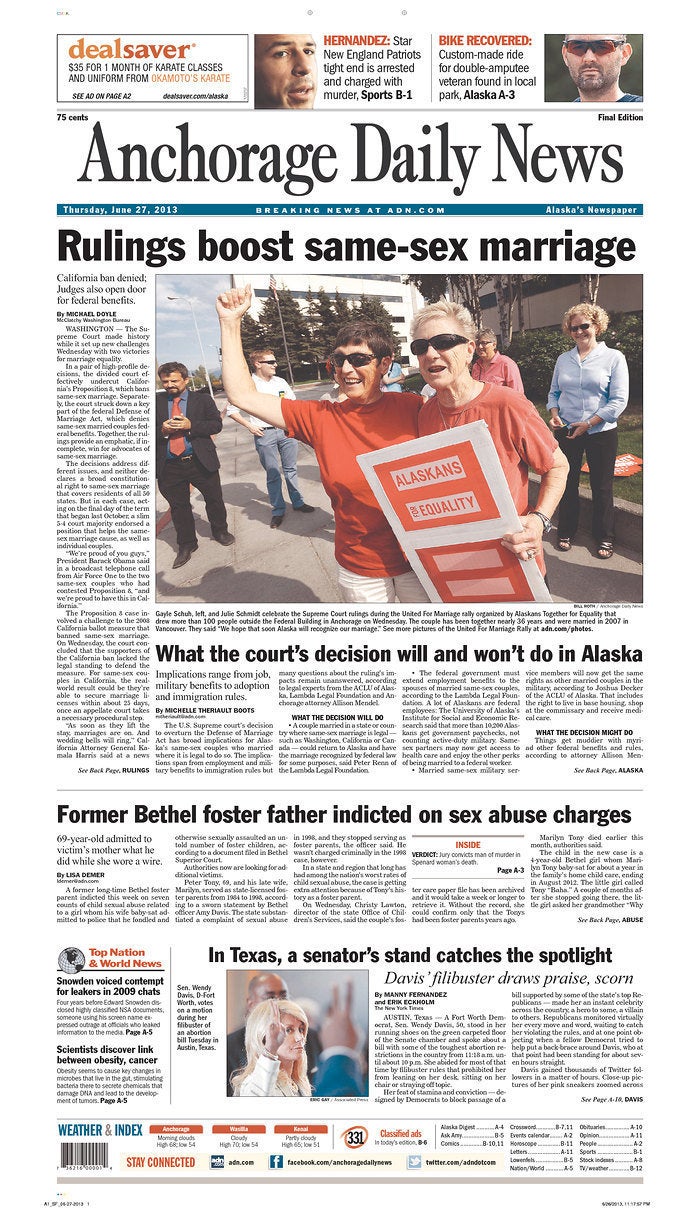 DOMA, Prop. 8 Supreme Court Rulings Front Pages
Related
Popular in the Community