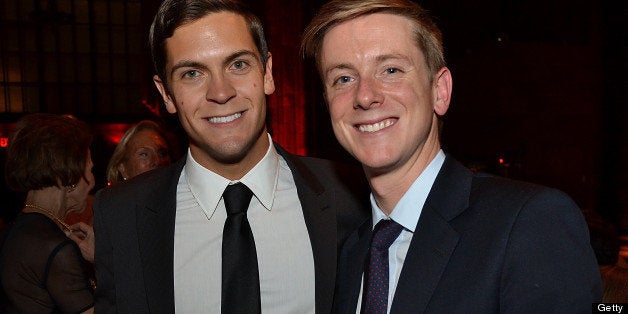 Eldridge's disclosure doesn't include his spouse's assets because the Defense of Marriage Act prevents federal law from recognizing same-sex marriages. DOMA affects federal disclosure laws like the Ethics in Government Act, which requires all candidates for Congress to disclose both their own personal finances and those held by their spouse and dependent children.
Eldridge reported on his first financial disclosure report, filed in May, a minimum net worth of $4.3 million and a maximum net worth of $9.6 million (disclosures are reported in ranges). That's actually about average for a member of the House of Representatives, according to the Center for Responsive Politics.
But Hughes, the owner and publisher of the magazine The New Republic, is reportedly worth $450 million thanks to his role as a co-founder of Facebook.
The exclusion of same-sex spouses from financial disclosure laws is a new problem now that more states allow same-sex marriages. New York is one of 13 states that recognizes same-sex marriages and Eldridge is apparently the only congressional candidate who has encountered the wrinkle in disclosure laws created by DOMA. (Rep. Marc Pocan (D-Wis.), the only married gay member of Congress, wed in Canada and represents a state that does not recognize same-sex marriages.)
The watchdog group Citizens for Responsibility and Ethics in Washington filed a brief in the court challenge to DOMA arguing that the 1996 law undermines federal ethics statutes by limiting the disclosure of a same-sex spouse's assets -- as in Eldridge's case -- and by protecting same-sex couples from anti-nepotism laws.
"Gay people are neither more nor less ethical than straight people. It is impossible to imagine the Congress that so eagerly passed DOMA would have deliberately exempted same-sex couples from ethics laws if members had considered the issue for even a moment," said CREW Executive Director Melanie Sloan, in a statement at the time.
The Supreme Court is expected to announce a decision on DOMA in the coming months. If the court strikes down the law, the financial disclosure form Eldridge will file next year should contain the hundreds of millions of assets controlled by his husband.
Calling all HuffPost superfans!
Sign up for membership to become a founding member and help shape HuffPost's next chapter
BEFORE YOU GO
PHOTO GALLERY
Supreme Court Proposition 8 Case