 WASHINGTON -- Six former Federal Election Commission (FEC) commissioners filed a friend-of-the-court brief with the Supreme Court on Friday in the challenge to the federal Defense of Marriage Act (DOMA), stating that the law creates barriers to free speech for married gay couples under the nation's campaign finance laws.
The brief says that DOMA, when imposed over campaign finance laws, prevents married gay individuals from using the personal funds of a spouse for campaigns and from attending certain political meetings and contributing to political action committees for unions and corporations that employ their spouse. The former commissioners argue that the burdens DOMA creates for gay candidates and donors should lead the Supreme Court to uphold the appeals court decision finding DOMA to be unconstitutional.
"Sexual orientation should never affect any American's First Amendment right to free speech and association," former FEC chairman and Caplin Drysdale lawyer Trevor Potter said in a statement. "Because of DOMA, though, discrimination is embedded in the very rules that shape political involvement. The Brief informs the Court of this fact to aid its deliberations on the constitutionality of DOMA."
Potter was joined in the brief by a bipartisan collection of former FEC commissioners including Arent Fox lawyer Craig Engle, Skadden, Arps lawyer Kenneth Gross, Covington & Burling's Robert Lenhard, Americans for Campaign Finance Reform president Lawrence Noble and Dickstein Shapiro's Scott Thomas.
This is not the first brief filed with the court regarding the ripple effects that DOMA has on the laws that govern political candidates and members of Congress. Previously, the watchdog group Citizens for Responsibility and Ethics in Washington filed a brief noting that DOMA prevents the application of certain important ethics laws from applying to same-sex married couples.
DOMA's effect on political expression stems from the inclusion of certain passages and interpretations of campaign finance law that invoke the family unit. Since DOMA states that a spouse, as interpreted by all federal law, can only be "a person of the opposite sex who is a husband or a wife," campaign finance laws that include provisions mentioning spouses or families only apply to heterosexual marriages.
For instance, campaign finance law allowing a candidate to tap into his or her own personal funds without limit applies as well to a spouse's funds as long as those funds are held jointly and the spouse's signature is not needed to retrieve the funds.
A gay married couple, however, would not be recognized as being married by DOMA. Therefore, a withdrawal from personal funds jointly held by the couple would not be recognized as an unrestricted personal funds contribution under the law, and would instead be treated as a campaign donation -- the amount of which is limited to $2,600 per election or $5,200 per two-year cycle.
The brief states, "DOMA requirement that 'spouse' mean 'only . . . a person of the opposite sex who is a husband or a wife' financially handicaps federal candidates in same-sex marriages, relative to other married candidates. The so-called 'spouse exemptions' under FECA and FEC rules free a candidate in an opposite-sex marriage to utilize for his campaign at least part of any asset owned jointly by the married couple. A candidate in a same-sex marriage is not free to do so because his spouse is not recognized as a 'spouse' under federal law."
The definition of spouse under DOMA also affects the possible activities of donors to PACs and campaigns. This is due to campaign finance provisions that allow husbands and wives to accompany their spouse to a political campaign event held at a company or union hall. These provisions also allow the spouses of executives or employees to contribute money to a corporate or union PAC.
"Consider, for instance, an employer that decides to hold a political meeting at which a federal candidate will appear in order to solicit and gather campaign contributions from the employer's executives and their spouses," the brief explains. "An opposite-sex spouse could attend the meeting to hear the candidate speak and express, in association with others, their collective political and financial support for that candidate. A same-sex spouse could not attend, or even be invited to, this political meeting."
"Similarly, if the employer sponsored a federal political committee to pool voluntary contributions from its executives and their spouses for later distribution to various federal candidates, an opposite-sex spouse could openly communicate with and assist this committee, and have his contributions facilitated by the committee," the brief continues. "A same-sex spouse could not."
In conclusion, the brief argues, the restrictions on political activity created by DOMA impose burdens on a certain class of citizens in their efforts to communicate with and influence the government.
When determining if a law should be found unconstitutional, the brief argues, "a court may consider whether the singled-out group is disadvantaged in attempting to influence the government's political branches."
"Indeed, it is difficult to argue that gays and lesbians are not politically disadvantaged when they are impaired by the very rules that shape political involvement and speech," the brief states.
Before You Go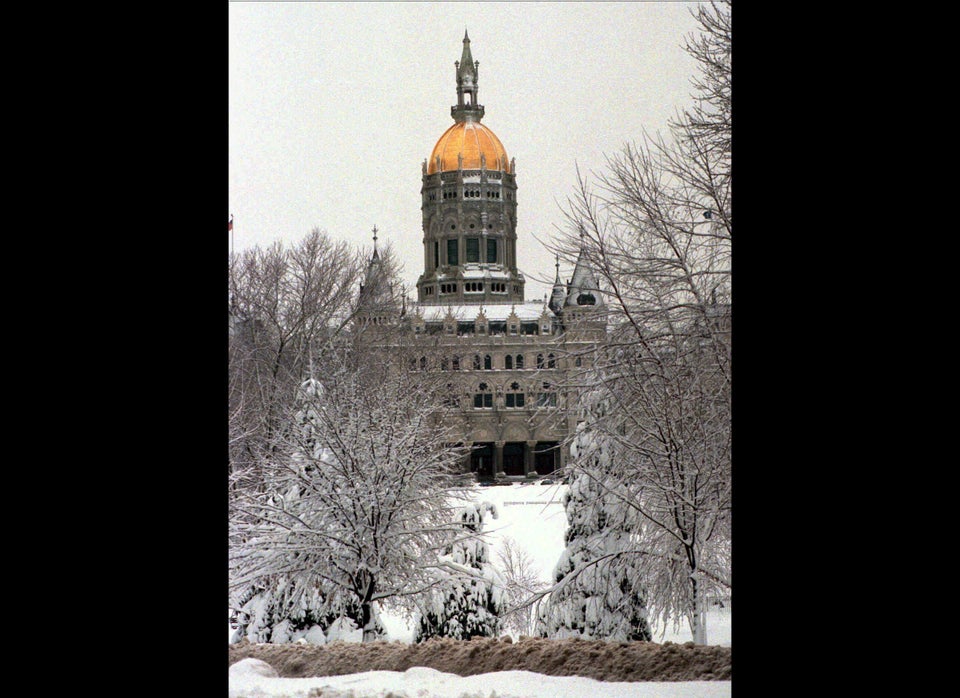 Gay Marriage In The United States
Popular in the Community