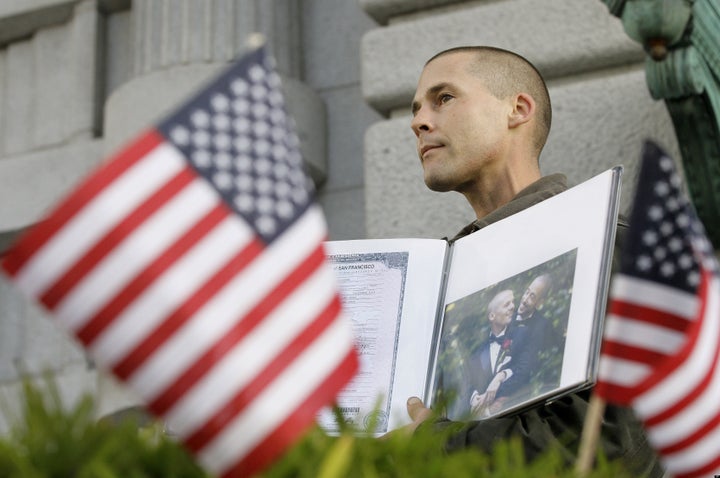 Gay rights groups celebrated President Obama's decision on Wednesday to no longer defend the constitutionality of the 1996 Defense of Marriage Act, which bans federal recognition of same-sex marriages.
It was a major turnaround for Obama, who for two years has tried to have it both ways, declaring his personal opposition to the law while insisting that, as president, he had no choice but to defend and uphold it.
Rea Carey, executive director of the National Gay and Lesbian Task Force, called the decision "a tremendous step toward recognizing our common humanity and ending an egregious injustice against thousands of loving, committed couples who simply want the protections, rights and responsibilities afforded other married couples."
Wednesday's announcement came after months of internal administration debate. The specific occasion for the reversal was the need to respond to two court challenges that were filed in a judicial jurisdiction with no established precedent for evaluating claims of discrimination against gay people.
Previously, the White House had defended DOMA simply based on applicable court precedents. In the two new cases, however, the administration would for the first time have had to state a position on a key underlying issue: whether laws regarding sexual orientation should be subject to a particularly rigorous legal standard applicable to legislation targeting minority groups with a history of discrimination.
After careful consideration, including a review of my recommendation, the President has concluded that given a number of factors, including a documented history of discrimination, classifications based on sexual orientation should be subject to a more heightened standard of scrutiny. The President has also concluded that Section 3 of DOMA, as applied to legally married same-sex couples, fails to meet that standard and is therefore unconstitutional. Given that conclusion, the President has instructed the Department not to defend the statute in such cases. I fully concur with the President's determination.
This time around, Holder also explained, the administration would have had to affirmatively argue on behalf of the law, based on Congressional intent. And Justice Department lawyers apparently concluded they just couldn't do it.
For one thing, Holder wrote, "the legislative record underlying DOMA's passage... contains numerous expressions reflecting moral disapproval of gays and lesbians and their intimate and family relationships--precisely the kind of stereotype-based thinking and animus the Equal Protection Clause is designed to guard against."
"I think this is pretty bold, given where they've been before," said Michael Dorf, a Cornell University law professor. "Given that they were defending it up until know, if that was their inclination, they could have continued to do that."
Dorf also said he didn't completely buy the administration's explanations for the turnaround. "They discovered there was homophobia in 1996!" he said, in mock alarm. "Either you think the law is constitutional or it's not," he said.
"I think the administration is still walking a tightrope, in that I don't hear them saying that there is affirmatively a constitutional right to same-sex marriage," Dorf told HuffPost.
So what really explains Wednesday's announcement? "I assume there was some internal debate in the Justice Department and the people who I would regard on the right side won -- or this was a compromise," Dorf said.
Dorf also said he did not think Obama's decision could be used as a precedent by future presidents who want to abandon laws they don't like. The debate over what presidents should do when they think a law is unconstitutional has been a gray area since the time of Thomas Jefferson, he said -- and this move won't make it any greyer.
The one big fly in the ointment for opponents of DOMA is that despite Wednesday's decision, the law remains on the books, and the Obama administration will continue to enforce it.
"Section 3 of DOMA will continue to remain in effect unless Congress repeals it or there is a final judicial finding that strikes it down, and the President has informed me that the Executive Branch will continue to enforce the law," Holder said in a statement.
An administration official on Wednesday told the Huffington Post that on a practical basis, the government will still be tasked with maintaining the law where it effects federal policy, for instance in the distribution of Social Security benefits to spouses. DOMA defines marriage as between a man and a woman, which means same-sex married couples are denied access to marriage-based federal benefits. Same-sex marriage is legal in five states and Washington D.C., and will likely be legalized in Maryland soon.
At Wednesday's White House briefing, spokesman Jay Carney said the administration will also do what's required "so that other interested parties are able to take up the defense of the Defense of Marriage Act if they so wish -- and in particular, Congress or members of Congress who want to proceed and defend the law in these cases."
Holder asserted that Wednesday's decision was a "rare case," but not the first of its kind. "As you know, the Department has a longstanding practice of defending the constitutionality of duly-enacted statutes if reasonable arguments can be made in their defense, a practice that accords the respect appropriately due to a coequal branch of government," he wrote to Boehner.
"However, the Department in the past has declined to defend statutes despite the availability of professionally responsible arguments, in part because the Department does not consider every plausible argument to be a 'reasonable' one."
The attorney general also suggested that he thinks the law's days are numbered. "Much of the legal landscape has changed in the 15 years since Congress passed DOMA," he wrote. "The Supreme Court has ruled that laws criminalizing homosexual conduct are unconstitutional. Congress has repealed the military's Don't Ask, Don't Tell policy. Several lower courts have ruled DOMA itself to be unconstitutional."
Senate Minority Leader Nancy Pelosi (D-Calif.) called Wednesday's announcement "a victory for civil rights, fairness, and equality for the LGBT community and all Americans."
Michael Steel, a spokesman for House Speaker John Boehner (R-Ohio), wasn't as welcoming. "While Americans want Washington to focus on creating jobs and cutting spending, the President will have to explain why he thinks now is the appropriate time to stir up a controversial issue that sharply divides the nation," he said.
Some conservatives were highly critical. Edward Whelan, president of the Ethics and Public Policy Center, has argued all along that Obama was sabotaging DOMA litigation. On Wednesday, he blogged for the National Review that "it is logically incoherent for the Obama administration to refuse to defend DOMA and to continue to enforce it. The obvious explanation for this incoherence is political: Obama doesn't have the guts to take the political heat for not enforcing DOMA, but he's hoping that his refusal to defend it will lead to court rulings that he can hide behind."
And just this past October, the Justice Department appealed the decision of a federal judge in Massachusetts who struck down the law.
Obama somewhat telegraphed Wednesday's decision in December in an interview with the Advocate, during which he signaled he and his lawyers were reviewing "a range of options" regarding the defense of DOMA.
Obama also said in his Advocate interview that his attitude on marriage equality is "evolving." But Carney said Wednesday's decision didn't reflect any change in Obama's views.
"The President's position on the Defense of Marriage Act has been consistent," Carney said. "He has long opposed it as unnecessary and unfair."
*************************
Popular in the Community