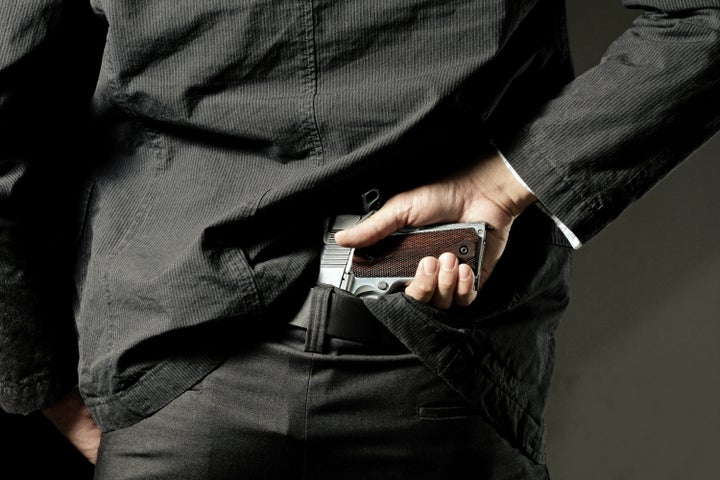 State laws that require people subject to domestic violence restraining orders to hand over their guns could save lives, according to a study published in the Annals of Internal Medicine on Monday.
Under federal law, individuals who are subject to permanent domestic violence restraining orders are banned from owning guns, and more than two dozen states have similar laws. But in many cases, such laws don't explicitly require these people to surrender guns they already own. In practice, that means many abusers hold onto their firearms.
It's a loophole that has been dubbed the "relinquishment gap." According to Everytown for Gun Safety, only 16 states require people under final domestic violence restraining orders to turn in their firearms once they are prohibited from owning them.
Shannon Watts, Founder of Moms Demand Action for Gun Sense in America, said the reason so few states require domestic abusers to relinquish their guns is because the gun lobby opposes it.
"As the body of research demonstrating the life-saving impact of these laws grows, I'm hopeful the list of states that have these laws will keep getting longer," she said.
Investigators from the Boston University School of Public Health examined 25 years of intimate partner homicides in all 50 states to examine the effect of firearm "relinquishment" laws, which specifically mandate that people subject to certain orders surrender their firearms to authorities. The researchers found that intimate partner homicide rates were almost 10 percent lower in states with these laws, compared with states without them, and that firearm-related intimate partner homicides were 14 percent lower.
"We really wanted to know does enforcement make a difference? As it turns out, it does," said Michael Siegel, professor of community health sciences at Boston University School of Public Health, and the study's senior author. "It's logical that a law that relies upon the offender to voluntarily go to law enforcement and hand over their guns may not be that effective. But it was surprising to see the stark difference in the actual death rates."
Guns and domestic violence are known to be a lethal mix. According to the study, more than 1,800 people are killed by their intimate partners in the U.S. each year. About half of those homicides are committed with firearms. The majority of victims are women.
If all 50 states had relinquishment laws in 2015, there would have been 120 fewer intimate partner homicides, the report says.
"Women who obtain restraining orders are at particularly high risk for partner violence, given that fear of violence (often created by threatened or actual violence) typically motivates the desire for a protective order," the report concludes. "These findings seem to demonstrate the value of identifying high-risk situations based on known episodes of past violence and removing firearms from such situations to prevent future violence."
Kim Gandy, president of the National Network to End Domestic Violence, said the findings align with what advocates have long seen on the ground.
"When domestic abusers are legally barred from owning guns, but aren't actually required by the law or the courts to relinquish them, it shouldn't surprise anyone that some of those guns are used to murder their victims," Gandy said. "The lack of this basic protection for victims violates common sense and common decency."
Support HuffPost
The Stakes Have Never Been Higher
Popular in the Community