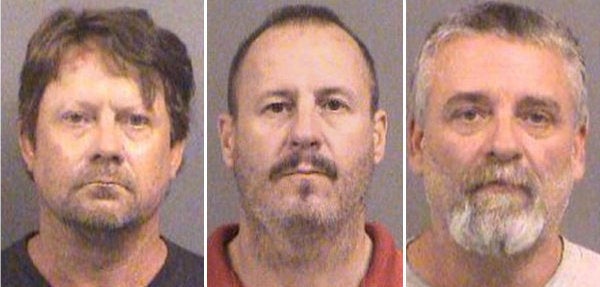 WICHITA, Kansas ― A trio of anti-Muslim Kansas militiamen who discussed plans to murder Somali refugees were hoodwinked by fake news on Facebook and unfairly exploited by a federal government targeting them for their conservative beliefs, their defense attorneys argued this week.
Curtis Allen, Patrick Stein and Gavin Wright were ensnared in a FBI sting that wrapped up just weeks before the 2016 presidential election. The government says the men plotted to bomb an apartment complex in Garden City, Kansas, that housed Somali refugees they called "cockroaches." The domestic terrorism investigation involved an informant who had infiltrated the so-called Crusaders militia group as well as undercover FBI agents, all of whom are expected to testify at the federal trial now unfolding in Wichita.
Rich Federico, a federal public defender who previously represented Guantanamo detainees as a JAG Corps officer, told the nearly all-white jury on Thursday that the government exploited Allen's beliefs and his need for companionship. He described Allen as a "very politically conservative man" who viewed the 2016 presidential campaign as critical to the country's future. Allen, his lawyer said, thought that President Barack Obama would declare martial law if Donald Trump captured the presidency.
"Hatred is not a crime in this country," Federico told jurors. He called the violent language used by the defendants ― and recorded by the FBI informant ― mere chatter and bluster.
"Locker room talk," Federico said, echoing the phrase then-candidate Trump used to describe the "Access Hollywood" tape in which he discussed how he could sexually assault women and get away with it because he was famous.
Building a bomb, Federico told the jury, requires money, material and knowledge. "Curtis Allen lacked all three," he said. "The FBI created and directed all of this. You will see no evidence in this case that was not planned and directed other than by the FBI."
James Pratt, the attorney representing Stein, said he wouldn't deny that his client had expressed great hatred for Muslims, especially when he was egged on or faced no pushback. He said Stein was a man who loved his country and his freedoms, which he feared he'd lose through terrorism and an "out of control" government.
But the government, Pratt said, saw Stein's extreme views as an "opportunity" to create "chargeable offenses," taking advantage of "chaos news" that had people like Stein believing a civil war was coming.
The country was sharply divided during the 2016 election, Pratt argued, and the media fed into the division by reporting on it non-stop. If you read conservative news, the lawyer said, you thought Hillary Clinton was a criminal, Obama was letting in hordes of Muslim immigrants, and the federal government was coming to get your guns. If you read liberal news, he said, you thought Trump was a racist unqualified to be president who planned to kick out Mexican immigrants and impose a Muslim ban.
"Hate ruled the day and the ratings. Left hating right, right hating left. And it was into this mix that we land," Pratt said.
"At the end of this trial, chances are that you will not like Patrick Stein," Pratt told jurors. But he said they would need more than dislike to find him guilty.
Kari Schmidt, the lawyer defending Wright, described him to jurors as a "very lonely man" who returned to southwest Kansas because his father had died and he was looking for new social circles. Wright often had to travel for business, she said, which made it difficult for him to connect with people.
"Gavin was having a hard time making friends," Schmidt told jurors. "He was very lonely."
At the beginning of their acquaintance, Wright didn't care very much for Stein and thought his rants were over the top, Schmidt said. He did like Dan Day, the FBI informant in the case. Wright hosted "bull sessions" at his business where the group would rant and rave and complain, Schmidt said, but it didn't amount to much.
His lawyer called Wright a bad judge of character. "He talked like them to try to fit in," Schmidt said.
The government, in their own opening statement, said the defendants did a lot more than talk.
"This wasn't just words. The defendants took action," said Risa Berkower, a prosecutor with the Justice Department's Civil Rights Division.
Berkower said that the group did extensive research and developed a specific plan, that they actually made explosives, and that they went to a bomb maker they thought could help them out.
"They wanted to slaughter Muslims" in order to send a message that such people were "not welcome in Garden City, not welcome in Kansas, not welcome in America," she said.
Berkower tried to head off criticisms of Day, the FBI's paid informant. She described him as a guy who was big on the Second Amendment and thought radical Islamic terrorism was a threat to America. But he wasn't totally comfortable with a lot of the extremist rhetoric coming from militiamen he encountered. And she said he couldn't stand the thought of walking away with "the blood of innocents on his hands" when he realized how much flat-out hatred of Muslims some of those he encountered had.
Working as an informant was the hardest, scariest thing Day had ever done, Berkower said, but he agreed to pretend to go along with the plan and record the defendants' conversations. The prosecutor called Day a "regular Joe" and said that being an informant wasn't like it looked in the movies. There were no agents waiting outside in a van. Often, she said, it was just Day with a recording device.
"Dan was on his own," she said.
The trial, expected to last six weeks, will be a test of the federal government's ability to prosecute people charged in a sting operation that targeted non-Muslim domestic extremists. The tactic has been successfully used against Islamic extremists, but they are easier to prosecute because federal law makes it illegal to give any kind of support to a designated foreign terrorist organization.
Prosecuting domestic terrorists is harder, as the First Amendment protects a wide range of hateful rhetoric, and judges and juries are often more open to constitutional arguments when the defendants aren't Muslim or otherwise viewed as somehow less than American. The government will have to prove that the defendants' speech went beyond any First Amendment protections.
The United States lacks a federal statute broadly criminalizing domestic terrorism. The FBI Agents Association has been pushing for a law that would make such cases easier to prosecute.
Ryan Reilly is HuffPost's senior justice reporter, covering the Justice Department, federal law enforcement, criminal justice and legal affairs. Have a tip? Reach him at ryan.reilly@huffpost.com or on Signal at 202-527-9261.