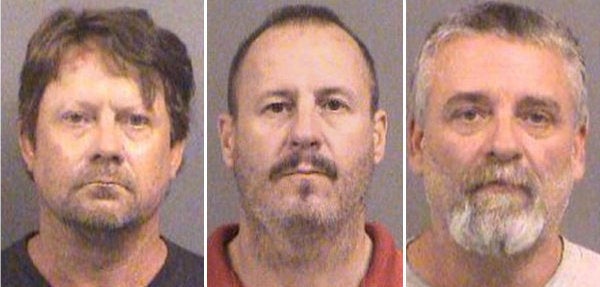 WICHITA, Kan. — The defense attorneys for three men from rural Kansas charged in a terrorist plot to murder Muslim refugees have begun building their defense against federal charges that could send the men to prison for life.
One key argument: They're idiots.
Patrick Stein, Curtis Allen and Gavin Wright are currently on trial in Wichita, charged in a plot to use bombs to kill Somali immigrants living in an apartment complex in Garden City around the time of the 2016 election. The prosecution rested on Monday following testimony from an FBI informant as well as an undercover officer who posed as an arms dealer and extensively interacted with Stein about his plot to blow up a Muslim community.
HuffPost was the sole media outlet in attendance last week during testimony from an undercover officer identified as "Brian." During cross-examination, Rich Federico, a federal public defender representing Allen, asked why the FBI didn't inform the local police department about the domestic terror plot, so that local officers could knock on the plotters' doors and, essentially, tell them to cut it out.
"Hey knucklehead," Federico suggested the police say. "We know what you're talking about. Knock it off."
The comment from Federico, who has represented detainees in Guantanamo, illustrates an ongoing theme ― that the three men, swindled by fake news about Muslims, had merely engaged in hateful locker room talk. Defense attorneys have argued that the plot never would have moved forward without the federal government's involvement.
Other defense attorneys representing clients arrested in FBI counterterrorism stings have tried similar tactics, suggesting that the federal government essentially entrapped them. But it's much easier for the government to convict those who claim an affiliation with a foreign terrorist organization than it is to convict domestic extremists. According to The Intercept's Trial and Terror project, 67 percent of terrorism defendants in FBI stings were charged with material support, a law not applicable to domestic extremists.
Additionally, most other terrorism sting defendants ― typically young Muslim men ― aren't as likely to convince a jury that they're incompetent fools rather than a national security threat.
The characterization of the militiamen charged in a domestic terrorism plot as "knuckleheads" popped up shortly after the FBI takedown. The arrests happened a few weeks before the 2016 election, when Muslim refugees were a hot topic on the campaign trail. The Kansas GOP sent out a mailer depicting a member of the Islamic State militant group and warning voters about "new neighbors," which they claimed was about the idea of Guantanamo detainees being transferred to Fort Leavenworth, not Muslim refugees moving into the state. Speaking to a reporter about the mailers, the executive director of the Kansas Republican Party referred to Stein, Allen and Wright as "knuckleheads."
During the trial last week, Risa Berkower, the Justice Department's Civil Rights Division prosecutor, shot down the idea that the police should have warned the trio not to attack Muslim refugees when she questioned the undercover agent known as Brian.
"Have you ever heard of law enforcement responding to a plot to commit mass murder by going to the person's house and knocking on the door and saying 'Hey knucklehead, knock it off'?" Berkower asked Brian. He hadn't.
"Have you ever heard of a law enforcement officer responding to a plot to blow up a building by saying 'Hey knucklehead, knock it off'?" He hadn't.
When Stein discussed plans to use a fertilizer bomb to level an apartment complex, did Brian consider him a mere knucklehead? He did not.
This week, after the prosecution rested, Wright's team moved for a judgment of acquittal, arguing that no rational jury could convict Wright because the prosecution had provided insufficient evidence.
Neither Wright nor Allen met with the undercover agent. Federal prosecutors have their strongest case against Stein, who had extensive interactions with the undercover officer he thought was a high-level weapons dealer. In encrypted texts, Stein said they were "dedicated patriots... willing to die for this country if that is what it takes to get it back." He refused, he wrote, to "go down in history as the generation who lost the best country on the planet."
Stein wrote that they would set off bombs on both sides of the building, "set them off at the same time and throw a fucking party! LOL." He wrote that the shock wave from the blast would make "jello out of their insides." He spoke of his hope that "people from miles and miles away will take note of the beautiful job we did!!" and be inspired to launch similar attacks.
Stein bought wholeheartedly into the idea that the undercover officer was a weapons dealer. He delivered fertilizer he believed would be used to make the bomb. Prosecutors played a video of him in a vehicle with the undercover officers as they scouted out the location of the planned attack.
"That apartment over here on the end... This is their fucking mosque... Just this one apartment on this one end... That's where they pray to fuckin' Allah," Stein told the undercover officers. He spoke of his desire to see the bomb go off himself.
"I'd give anything to have a fucking camera set up that would WiFi that shit to me so I could watch it live," he said.
HuffPost has been in Wichita, Kansas, to cover this domestic terrorism trial. Follow reporters Christopher Mathias and Ryan Reilly for updates. Here, and above, is HuffPost's coverage of this case:
Popular in the Community