 Hope is the thing with feathers, that perches in the soul, and sings the tune without the words, and never stops at all. ~ Emily Dickinson
As a survivor of domestic violence myself, I have learned the hard way quite a bit about the subject. Domestic violence is more prevalent than many are aware. In the U.S., it affects nearly one in every four women and one in every seven men in their lifetimes. And almost three of four people personally know someone who has been affected -- someone like me. This is why Domestic Violence Awareness Month, October, is so important.
To highlight this importance, Verizon has embarked on their second Journey of Hope Tour. I have long been a big fan of Verizon's HopeLine program, which uses donated phones to help domestic violence victims and survivors. Now in its second year, the tour is combining the idea behind Hopeline with supporting the National Domestic Violence Hotline (or, The Hotline: 800-799-SAFE), the National Dating Abuse Hotline (LoveIsRespect.org), and numerous local domestic violence agencies and shelters in the U.S.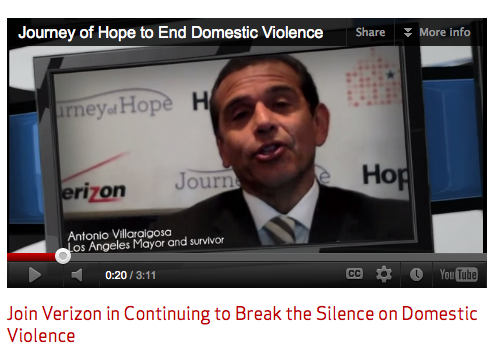 The Journey of Hope lets Domestic Violence survivors share their stories of hope, and helps raise money and awareness. Video courtesy of Verizon
To date, the Verizon Foundation has given more than $42 million, and Verizon Wireless -- through HopeLine -- has donated more than $14.2 million toward helping to end Domestic Violence. And over 123,000 phones with service have been put into the hands of victims and survivors.
I spoke with Cameka Crawford, Manager of Community Relations and Multicultural Communications for Verizon Wireless, who is currently on the tour, about ways people can help.
"One fun way to help is to organize a phone drive. Almost everyone has a lonely old cellphone in a drawer somewhere just taking up space. Just donating that old phone could help save a life," notes Crawford.
There's also a Facebook photo contest. People are invited to submit photos demonstrating Hope, and Verizon will donate $1 per photo up to $10,000 for NDAH. (There are prizes!)
Verizon has already reached their $50,000 donation to NDVH, with more than 8,000 employees walking nationwide to increase awareness.
Of the response to the tour so far, Crawford says, "When you see that sea of purple, so many people coming out in support, it brings tears to your eyes."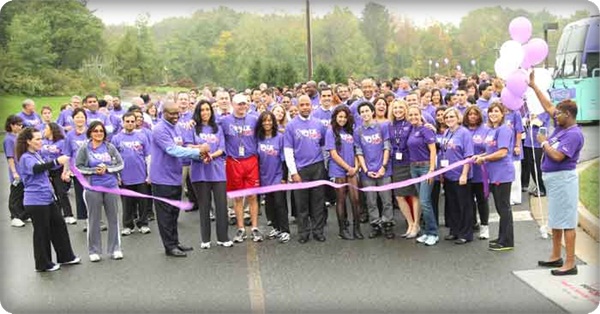 Crowds come out in purple to support National Domestic Violence Awareness Month at a Journey of Hope event. Photo courtesy of Verizon
* Donate an old cell phone (any carrier).
* Organize a phone drive through a community, school, church, or other group.
* Join in the remaining Journey of Hope tour stops (10/14, Gainesville, FL; 10/18, Columbia, MO; 10/21, San Diego, CA) and contests.
To stay involved real-time, follow @VZWCameka on Twitter or visit JourneyOfHopeTour.com for helpful information and tour stop details. To learn more about how you can help or receive help with donated phones, visit the Hopeline site.
Calling all HuffPost superfans!
Sign up for membership to become a founding member and help shape HuffPost's next chapter