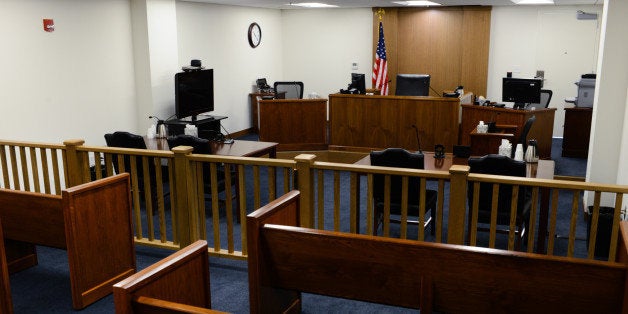 ARLINGTON, Va. -- An immigration judge granted asylum on Thursday to a Honduran woman and her children after the woman testified that she was beaten, threatened and raped at gunpoint by her husband before fleeing to the United States.
The woman, whose attorney asked be identified by her initials, D.M.L., to protect her identity from her abusive husband, watched the decision in Arlington via webcam from a room 1,800 miles away in Artesia, New Mexico, where she and her two daughters are being held at a makeshift family detention facility.
Holding her 8-month-old daughter, D.M.L. was present at the hearing -- the second in her family's case -- as an image on a television set up to the side of the small courtroom. D.M.L. and her 17-year-old daughter already testified at a previous hearing, so the mother sat silently with her infant daughter as an expert witness from Honduras talked about the lack of protections for women there. When Judge Quynh Vu Bain read her decision, D.M.L. began to cry.
Her family's case is one of tens of thousands in a recent influx of both unaccompanied minors and mothers with children who have crossed the border illegally over the past year. D.M.L. and her daughters are now a success story in an effort by attorneys to meet the need of those recent entrants, including many with similar stories of atrocious abuse in their native countries of Honduras, El Salvador and Guatemala.
Thursday's decision was the third instance of attorneys working with the American Immigration Lawyers Association's pro bono project to successfully argue for asylum for a family. The decision also reaffirmed another judge's recent ruling that similarly made domestic violence the basis of an asylum claim.
The government has 30 days to appeal the decision in D.M.L.'s case.
Women and children apprehended at the border over the past year have strained the government's detention and removal systems, and raised tension between those who want the undocumented immigrants out as quickly as possible and those who want to ensure they get a fair chance to make their case to stay.
On one side is the argument that people will continue coming to the U.S. if the government does not send a strong message that illegal entry will not be permitted. On the other side are those who would say D.M.L.'s story, and success in winning asylum, prove that children and mothers should be treated as refugees and given time and resources to argue for relief. After all, they may be fleeing for their lives.
D.M.L. and her daughters left Honduras for the U.S. earlier this summer, and were apprehended July 7 after crossing the border on a raft. They ended up with other families in the Artesia facility, where residents and attorneys who visited have complained of cold temperatures, undercooked food and mistreatment by guards. (Department of Homeland Security officials say those issues are being addressed.)
Attorneys with the American Immigration Lawyers Association traveled to Artesia to meet with the women there and help. Two of those who visited were attorney Lisa Laurel Weinberg and paralegal Karen Bobadilla of the Cambridge, Massachusetts, group Community Legal Services and Counseling Center. They spent eight days in Artesia earlier this month and took the case of D.M.L. and her daughters.
Weinberg and Bobadilla came to Arlington on Thursday for the final hearing, while the expert witness, Honduran lawyer Claudia Herrmannsdorfer, spoke by phone. There were technical difficulties -- the long-distance calling cards used to speak to Herrmannsdorfer ran out of money twice, and eventually the judge disconnected because it became too difficult to hear. But Herrmannsdorfer nevertheless delivered convincing testimony about the dangers faced by women in Honduras, where she works with victims and advocates for legal changes to protect sufferers of domestic violence.
Herrmannsdorfer said that while there are some resources available for women suffering domestic violence, the offices face strained budgets and are difficult to access for some victims, particularly those in rural areas. Many women report that the police are unsympathetic when they ask for help.
"The general response of police is not to protect women," Herrmannsdorfer told the judge. "It's not a priority for them."
"There is no security for life in our country," she said later.
D.M.L. testified earlier this month about severe abuse at the hands of her husband. The 33-year-old met him at the age of 15 and married him at 16. They had three children -- the two daughters who came to the U.S., and a son who remained with D.M.L.'s brother in Honduras. Although D.M.L. said her husband always had a violent personality, the abuse became worse in the past two years. He had an affair, and when she confronted him, he called her stupid, a bitch, and threatened to kill her, according to her testimony. He bought a gun and sometimes put it to her head and forced her to have sex with him, she said. She testified that she has scars from his beatings.
Although D.M.L. tried to leave once, her husband found her and their children. She decided that to get away from him, she would have to flee the country. She said she heard from family members that he is still looking for her.
D.M.L. said she never went to the police because she thought they wouldn't help, and she was unaware of other resources. Whether she had access to aid from the government was important to her bid for asylum. The attorney needed to prove that D.M.L. was part of a specific social group facing persecution -- in this case, married women unable to leave their husbands -- and that the government was either unable or unwilling to help her.
Judge Bain said that D.M.L. had testified to "numerous horrific acts of harm" that amounted to persecution, and ruled that she and her daughters should receive asylum. The judge told D.M.L. that if her asylum stands, she can apply for legal permanent residency in a year.
In the courtroom in Arlington, Weinberg and Bobadilla wiped away tears after the decision, then quickly set about their first post-hearing task: Checking plans to get D.M.L. and her daughters out of the Artesia facility. Family detention is expanding rapidly, and immigration advocates are extremely concerned. They say women and children in asylum proceedings should be released if they aren't determined a flight risk, rather than locked up where they're denied free movement and have difficulty accessing legal counsel.
"We're proving one by one that these women don't belong in detention," Weinberg said.
Before You Go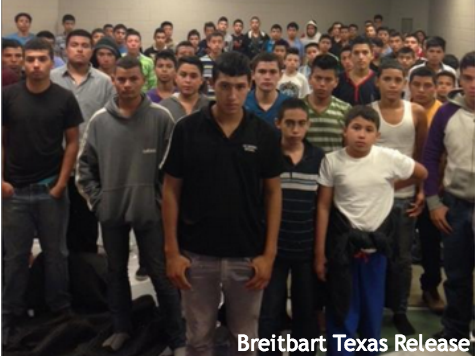 Overwhelmed Border Patrol
Popular in the Community