October is Domestic Violence Awareness and Action Month, a time for consciousness raising about the impact of domestic violence and taking steps to stop and prevent it. As an advocate for domestic violence survivors for over twenty years, it is both heartening to see the progress we've made as a community to reduce the harm of domestic violence across a wide spectrum of communities, and discouraging to see recent steps backwards undermining decades of progress.
The work of domestic violence victim services is centered on victim-centered advocacy, or helping domestic violence survivors think through how to mitigate the harms that abusers cause, as well as reduce other life and community-generated harms. Over the course of the last thirty years, our communities have developed numerous resources to try to address the harms that abusers inflict, including the development of domestic violence shelters, a criminal legal system response, and protection orders, to name a few. The Violence Against Women Act (VAWA), initially passed in 1994, alongside other important federal laws, have helped to strengthen the response to those abuser-imposed risks, including providing resources for victim advocacy programs, prosecutors, and law enforcement, as well as immigration law protections for victims.
Another critical element of safety-planning with survivors is working with them to address other life and community-generated risks, which abusers frequently exploit to further perpetrate abuse. Some examples of these risks facing victims include the lack of financial resources, homelessness, lack of access to healthcare, racial bias, gender bias, homophobia, religious bias and other factors. For Asian and Pacific Islander (API) and immigrant victims of domestic violence, abusers may exploit their victims' lack of English proficiency, isolation from their family and other helping systems, lack of understanding or familiarity with the American legal system, religious and cultural customs and unstable immigration status to further threaten, isolate and abuse.
"Approximately 40 to 60 percent of Asian and Pacific Islander women report experiencing domestic violence in their lifetime."
Approximately 40 to 60 percent of API women report experiencing domestic violence in their lifetime. API women may already underreport experiences of domestic violence due to cultural stigma, lack of culturally relevant advocacy and services and language barriers. For victims without stable immigration status, both within the API community and from other communities, fear of deportation is one of the primary reasons that few seek any help unless the violence against them has reached catastrophic proportions.
As understood when Congress passed VAWA in 1994, immigrant victims often face threats of deportation from their abusers if they try to leave or seek help. Abusers exploit victims' fears that any interaction with police may lead to deportation. Congress sought to address this vulnerability by enacting immigration protections in the first and subsequent inceptions of VAWA, providing legal status for victims that are not contingent on abusive spouses' sponsorship, and through provisions encouraging victims to work with law enforcement.
Recent developments resulting from federal Administrative actions, including the rescinding of the Deferred Action for Childhood Arrivals (DACA) Program, the issuance and implementation of several immigration-related Executive Orders, and increased immigration enforcement activity resulting in a 38 percent boost in immigration arrests, including against victims with pending immigration applications, have magnified the fear and risks that immigrant victims and their children face. If a victim fears that reporting abuse will result in deportation, especially in instances when the victim cannot communicate with police due to language barriers, she or he is much less likely to seek help from law enforcement. Unfortunately, victim advocates report that indeed, greater numbers of immigrant survivors are declining to contact law enforcement, seek protection orders, and participate in domestic violence related court proceedings as a consequence of the current Administration's heightened immigration enforcement activities, ultimately protecting perpetrators of violence.
In addition, the cumulative effect of the rescission of DACA, the fueling of anti-Muslim sentiment through the Refugee and Travel ban executive order, the announcement of the Administration's policy principles limiting legal immigration, and aggressive enforcement against immigrants without serious criminal histories, is to marginalize immigrant victims, especially those from refugee communities or who appear to be Muslim, and signal that they do not belong in our communities, and thus do not merit protection and assistance from community institutions.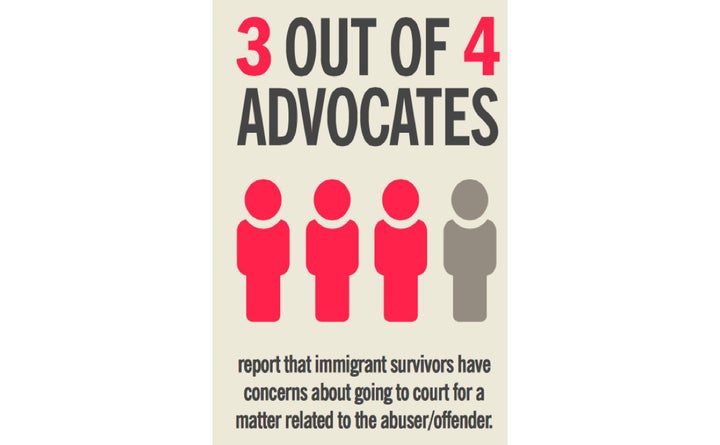 This Domestic Violence Awareness and Action Month is a time to strengthen our resolve to make sure that our community response to domestic violence is truly relevant to all survivors, including API and immigrant communities. Safeguarding DACA, exercising prosecutorial restraint in immigration enforcement against victims and witnesses, promoting welcoming communities, increasing resources for immigration and language assistance, strengthening culturally specific advocacy resources, and promptly processing immigration applications from victims so they have more resources to escape abuse are critical components of our community response to domestic violence.
Popular in the Community