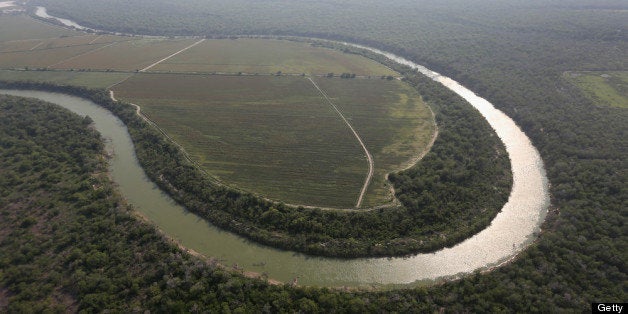 Laura S. knew almost immediately on that Texas evening in June 2009 what would happen if authorities deported her from U.S. soil.
After a state law enforcement officer stopped her, a relative and friends around midnight for a reported driving infraction, he demanded to see their immigration papers. Tears flowed from her eyes. For the young mother of three kids, who lacked those papers, deportation meant more than just a trip across a border.
What swirled in her mind finally came out in words to the officer: Her former boyfriend had attacked her. He had threatened to kill her. He had been "extremely violent" with her. She had protective orders in Texas against him. Now, back in Mexico, he was believed to have ties to a notorious drug cartel and would likely harm her on the spot, according to court documents.
In a case about whether "voluntary departure" involving an undocumented immigrant actually occurred, representatives for Laura's family have filed a civil lawsuit in the U.S. District Court for south Texas, assigning blame to U.S. Customs and Border Protection and U.S. Immigration and Customs Enforcement for what one attorney called a "coerced" return.
"The Constitution applies to all persons within our territorial limits," said Jennifer Harbury, a Texas RioGrande Legal Aid attorney handling the case.
Laura's detention and deportation lacked the right of due process, according to the court filing. That night and the following morning, Laura never went before an immigration judge. She never had the opportunity to contact an attorney.
The U.S. immigration agents who handled her case for about five to six hours essentially took matters into their own hands, court papers said. "The defendants intimidated and coerced Laura S. and insisted that she return to Mexico immediately," according to a copy of the lawsuit filed on June 5.
Harbury said she has seen government documents that say Laura "voluntarily returned" to Mexico. "'Voluntary departure' is not supposed to short cut rights or paperwork," she said.
The U.S. government has not yet publicly said what happened during those hours in June with Laura and the federal immigration agents who talked with her and handled her case.
"We are aware of the legal filing in regard to this matter. We are reviewing and will file the appropriate documents in due course with the court," Angela Dodge, a spokeswoman for the U.S. District Court in south Texas, said in an email.
Richard Pauza, a spokesman for U.S. Customs and Border Protection who handles cases in south Texas, echoed the same sentiment. "CBP is not at liberty to discuss matters that are under pending litigation," he wrote in an email.
The case comes with partial anonymity. Laura's children – ages 6, 7 and 12 – are only identified by initials. She and her mother do not have surnames listed in court papers, largely for safety reasons. The lawsuit does not state why Laura came to the United States.
The specific defendants, who at that time worked for U.S. Customs and Border Protection or U.S. Immigration and Customs Enforcement, are only identified as "John Doe," "Mark Moe," "Robert Moe" and "James Loe."
On that night in June 2009, the Texas law enforcement officer turned Laura and two of the passengers over to a federal agent, who drove them to a U.S. processing center in Harlingen. Since the 9/11 terrorist attacks, Harbury said, local law enforcement often cooperates more closely with their federal counterparts.
The weeping from Laura continued, according to the lawsuit. So did the pleas to be released. She trembled. She repeated her story to this U.S. immigration agent – that she feared for her life, given what her former boyfriend had done and told her.
She also was the mother of three children, she told the immigration agent, and one of them was scheduled for surgery. But the U.S. government vehicle continued making its way to an immigration office, where papers would be filled out and fingerprints taken.
The three other U.S. agents joined their colleague to process Laura and two other people. Laura shed more tears. She repeated her story. She trembled, as she spoke, according to the court filing, which says her former boyfriend used a knife to attack her in 2008.
"None of the defendants asked her any questions or attempted to verify or evaluate her risk of harm in any way," her family's attorneys wrote in the lawsuit. "None of the defendants explained any of her legal rights to her."
Harbury pointed out that, given Laura's circumstances, she could have been eligible for political asylum or a U-visa, which is often given to battered women and immigrant crime victims who work with authorities on investigations. The visa permits people to stay in the United States.
She also could have qualified to stay in the country, given the risk of serious and imminent harm.
Instead, she boarded a U.S. Customs and Border Protection van with two other people. A U.S. agent drove them to the Hidalgo International Bridge so they could walk to Mexico.
More pleas from Laura to the agent went nowhere, as the van approached the bridge. So, in the early hours of June 9, 2009, court papers say, she was "forced" to cross the bridge and return to Mexico.
Days later, in Mexico, her former boyfriend learned of her return. He found her and beat her. She bled profusely. At least one relative was there, Harbury said, and helped Laura.
Five days after Laura had walked back to Mexico, her former boyfriend abducted her and took her to a hotel, according to court papers. Later, her body was found in a burning car. She was 22.
While her former boyfriend served time in prison for her death, he later escaped, court papers indicate.
As Harbury, the attorney helping the family, pointed out, there is something fundamental at stake for those standing on U.S. soil. "Follow the law that is already there," she said.
"Apparently, they just didn't take her seriously. Couldn't they have kept her until 9 a.m. and let her call an attorney?"
Brad Wong is assistant news editor for Equal Voice News.
Calling all HuffPost superfans!
Sign up for membership to become a founding member and help shape HuffPost's next chapter
BEFORE YOU GO
PHOTO GALLERY
6 Misconceptions About The Border