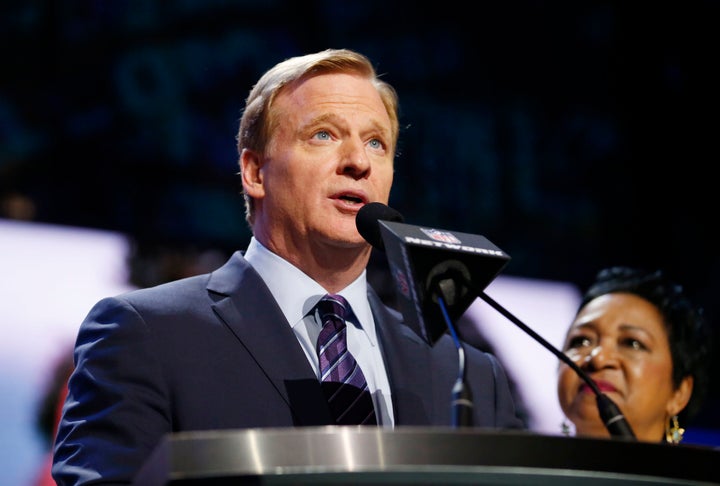 SAN FRANCISCO -- The NFL's problem with domestic violence was ignored at the league's inaugural Women's Summit, a two-day event this week ahead of Super Bowl 50. 
The summit, which featured Serena Williams, Billie Jean King, former Secretary of State Condoleezza Rice and other influential women in the sports world, was a clear attempt by the league at bolstering its outreach to women. The event focused on empowerment and inclusion, using the hashtag #InTheHuddle to symbolize the league's commitment to embracing female athletes and fans. 
"Our initiative here today is to say, 'How do we get more girls to play sports?'" NFL Commissioner Roger Goodell said at the start of the summit on Thursday. "How do we get them to develop the confidence that we believe is going to make them successful in life, whether they are professional athletes or not?" 
By some measures, the league's relationship with women has improved in recent years. Female viewership is growing -- one report found a 26 percent increase in women watching football from 2009 to 2013. The league has made historic hires over the past year, including two female coaches and one referee. And on Thursday, Goodell announced that the league will implement a "Rooney Rule" requiring at least one woman to be interviewed for every executive vacancy.
However, the shadows of Ray Rice, Greg Hardy and other players accused of assaulting their wives and girlfriends -- and the memory of the league's various disappointing responses to those cases  -- still loom large over the sport. The league updated its domestic violence policy in 2014 after video emerged of Rice, then a running back for the Baltimore Ravens, assaulting his then-fiancee Janay Palmer in an elevator. But advocates say the NFL is still falling short in punishing players who abuse women. 
Over roughly eight hours of panels, speeches and presentations Thursday and Friday, not one speaker mentioned the league's handling of players charged with committing domestic violence. Some speakers, such as King, did press the NFL to do better in hiring women on and off the field. But by and large, the panelists kept their message focused on why sports are important to them and how to boost girls' participation in athletics.
"When our policies haven't met the types of standards that we think should be upheld, we acknowledge that, [and] in the domestic violence and sexual assault area, we changed that," he said. "In this past 12-month cycle, we had the lowest amount of arrests in the history of the NFL."
In an email Friday, NFL spokeswoman Joanna Hunter told The Huffington Post that the Women's Summit and the issue of domestic violence "are really two entirely different topics."
"Domestic violence is a serious and complex issue across this country," Hunter said, "and the NFL is taking a comprehensive approach in addressing it, one that includes education and prevention efforts for all NFL employees as well as enhanced [investigations] and tough discipline for anyone who violates our conduct standards. We know we have even more work to do in this area, and we are doing it."
"The Women's Summit is separate and apart from those efforts," she continued. "The summit focused on the benefits of organized sports participation and the positive character and values learned on the field of play."
This story has been updated to include comments from the NFL.
Calling all HuffPost superfans!
Sign up for membership to become a founding member and help shape HuffPost's next chapter