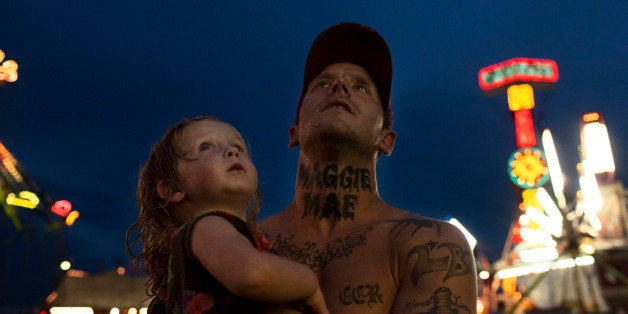 Sara Naomi Lewkowicz faced a myriad of challenges, both personally and professionally, while photographing the devastating toll of domestic violence on a family.
At the Sony World Photography Awards ceremony on April 30 in London, she was honored with the World Photography Organization's most distinguished prize, the L'iris d'Or, and also won best photo essay in the Contemporary Issues category for her controversial image series "Shane and Maggie." The heartbreaking photo essay follows an intimate examination of domestic violence and revolves around the tumultuous relationship between Shane, an ex-convict, and his girlfriend, Maggie.
During Lewkowicz's time with the family, Shane assaulted Maggie after spending a night out at a bar. Maggie had returned home earlier that night because she was jealous about another woman flirting with Shane. As Lewkowicz remembers the incident, "Upon arriving home, Shane flew into a rage, angry that Maggie had 'abandoned him' at the bar and driven home with his friend, whose house they were staying at for the week," she writes on her website. Lewkowicz documented Shane flinging Maggie across the room, choking her and grabbing her face in front of her daughter, Memphis, before police arrived and arrested Shane.
Lewkowicz says she struggled deeply with interfering in the incident, but ultimately felt she had to call 911. She later cooperated with police as a witness of the incident.
We spoke with Lewkowicz -- who is currently working toward her master's degree in visual communication at Ohio University -- via email about what it's like becoming a fly on the wall in the midst of a family's most heartbreaking moments. Here's what Lewkowicz had to say.
The Huffington Post: How did you find the subjects for your photo essay?

Sara Naomi Lewkowicz: I met Shane and Maggie at a fair in southeastern Ohio. I was wandering around shooting my first assignment for class and I noticed Shane because of his tattoos, and because he was holding a very cute little girl (Maggie's daughter, Memphis). I asked him if I could take his photograph, and that was the beginning of our working relationship.

HP: How did you gain such intimate access to this family?

SNL: I was just honest with them about what I wanted to do. I was honest with them and told them about myself, and over time I was just around enough and present enough in their lives that they got used to me being around with the camera. If you're around enough, you become another piece of furniture in the room.
(Story continues below.)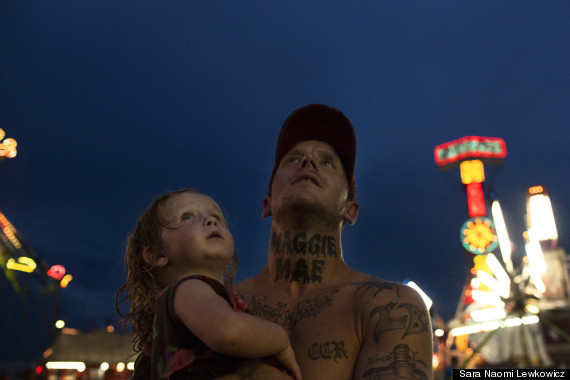 Shane holding Maggie's daughter, Memphis, at a local fair.

HP: What were some of the challenges you faced in documenting this story?
SNL: The challenges of this story began with simply covering a scenario as volatile as this one. I tried to find a way to walk the line between doing my job as a photographer and doing my job as a human being, which is the reason I decided to take my phone back and have someone call 911. ... [At the time,] Shane had possession of my phone, so I had to take it back from him by reaching into his pocket. I also had to deal with addressing a subpoena, and deciding whether to fight the subpoena or cooperate with law enforcement. I decided early on to cooperate with the subpoena, as I felt that Maggie and her family's safety hinged on Shane being kept away from them. Later on, I faced issues in publishing, as the first publication I approached shied away from the story for legal reasons. (Even though I had releases from Maggie, I didn't have one from Shane.) After the story was finally published, I received an onslaught of responses, some of them quite negative, to the story, my decision to publish it, and my actions that night.
HP: Describe the emotions in their house, following the incident.

SNL: I can only really speak for myself, but I was pretty numb until much later on, when I could process what happened. Maggie was obviously very upset, very conflicted about the fact that Shane had been arrested. Initially, she didn't want him to go to jail or get into trouble.
HP: What story were you hoping to tell through this photo essay?
SNL: My goal is to show domestic violence as a process, as opposed to a single incident. Most of the time, abuse begins long before a person is ever struck. It's an invisible crime, and many people are all too content to simply pretend it doesn't happen, and then they vote for politicians who defund battered women's shelters because it's not an issue that's present in their lives at all.
HP: What drew you to this particular subject and why did you choose to cover this family's story?
SNL: The story was originally conceived as a story about recidivism, which is the tendency of a person to return to prison over and over again. It only became a story on domestic violence after the incident that took place in front of me. Shane had been incarcerated for much of his life, and I was and still am interested in documenting the chronic imprisonment of Americans, particularly lower-income Americans. We make it so difficult for people to come out of jail and get back on their feet, we essentially set them up to fail and then clutch our pearls and feign surprise when they do.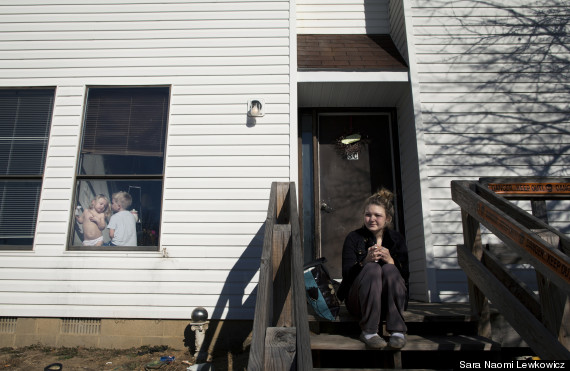 Maggie smoking in front of her friend Amy's house the morning after Shane assaulted her.

HP: What other projects are you currently working?
SNL: A few things, including a story for my internship at National Geographic this summer. That's kind of all I'm at liberty to say at the moment.
Popular in the Community