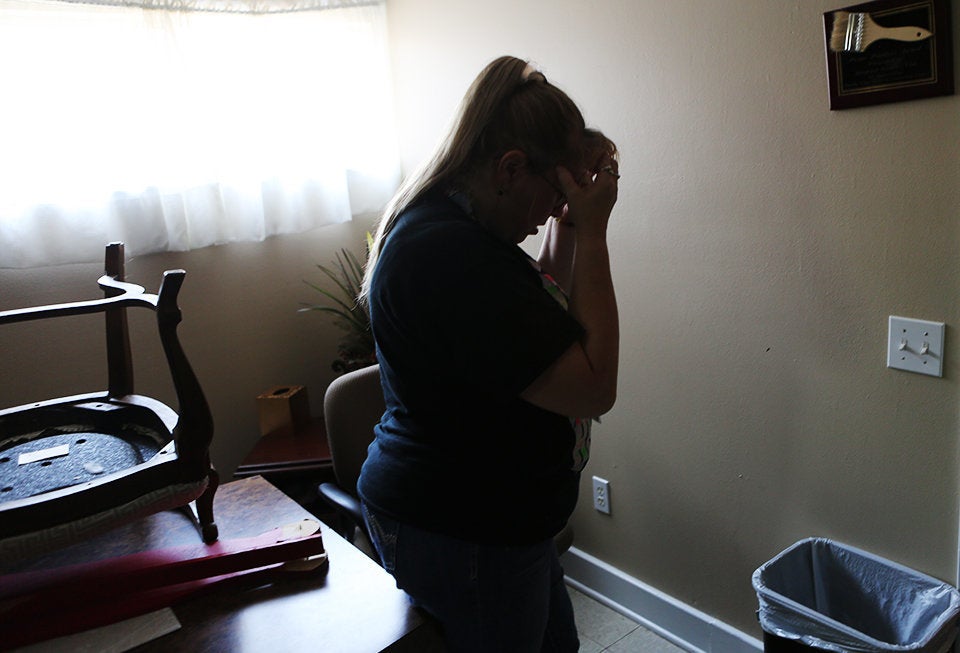 HUMBLE, Texas ― Mary Woods grew concerned when she took the last gallon of milk out of the fridge.
It was a week after Hurricane Harvey made landfall in Texas, slamming the eastern region of the state with torrential rains, and food supplies were running low at The Door, the only domestic violence shelter in the northern Houston area.
Woods, 52, is an advocate there. She quickly jotted down a list of highest-priority needs: eggs, bread, diapers, toilet paper, lunch meat and juice boxes.
The main roads surrounding The Door flooded during the storm, stranding about 40 women and children who live there. No one could arrive or leave. As the water started to recede and roads began to clear, many stores were still closed and the shelter was in dire need of donations.
Woods shared her list with the Texas Council on Family Violence, a statewide coalition on domestic violence, but it had been inundated with requests. More than one-quarter of the state's domestic violence programs were in Harvey's path of destruction, and virtually all of them had suffered effects of the storm.
The shelter in Beaumont was completely underwater and possibly gone for good. Another shelter lost its back fence, compromising security. Countless others were badly damaged. Some centers tried to evacuate before the storm, but they didn't have places to send their residents. It wasn't safe to stay with family, where abusers would most certainly look. Mass evacuation shelters, like those run by Red Cross, could also be a risk. Hotels were full, and relocating to other domestic violence shelters wasn't always feasible, as most were already at capacity.
"We wound up having to go further and further out [to find places to send residents]," said Gloria Terry, the executive director of the coalition, noting that some people were sent as far as six hours away to find a domestic violence shelter with free beds. Other shelters, like The Door, had decided not to evacuate, believing their clients were safest remaining where they were.
Terry received Woods' list of needs on Saturday, as she was busy frantically assessing the needs of the 32 programs affected by the storm. She sent Woods' list to several relief organizations, but most places required her to pick up the supplies herself, and she couldn't get to them. A few hours later, the request ended up in the hands of Colony Soto, a former professional wrestler who had set up a food bank at his company's training center in Katy, Texas.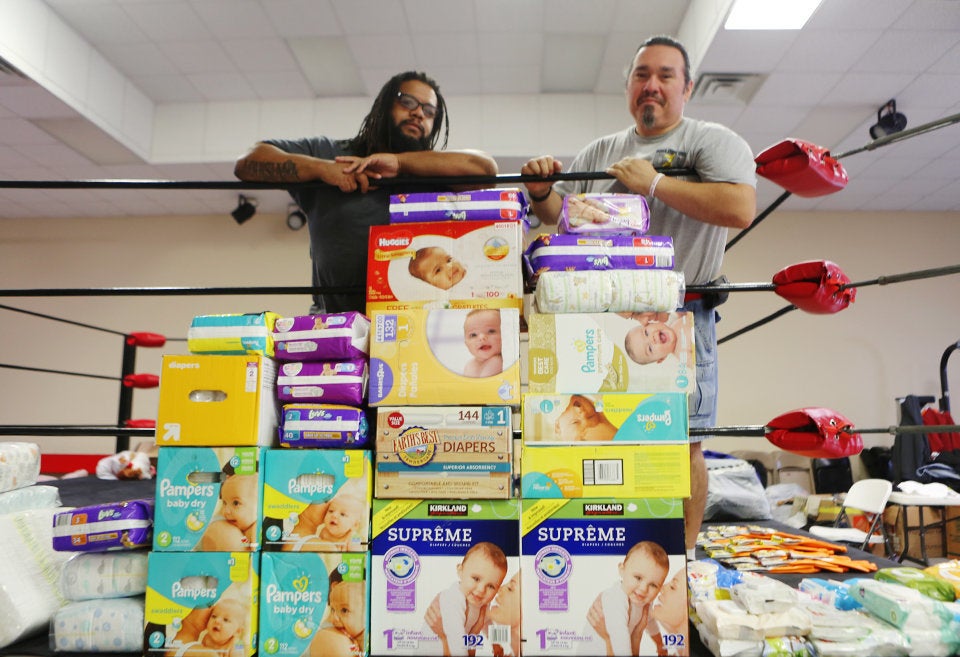 Domination Zone Wrestling usually hosts men and women looking to square off WWE-style. Last week, it acted as overflow storage for the food donated to a nearby Elk's Lodge ― its wrestling ring itself was surrounded by dry food, cleaning supplies and diapers. Soto told HuffPost that he'd wanted to help as soon as the hurricane hit.
He and his helpers methodically scoured the list to see what they had before racing around the room and tossing supplies into boxes. Tuna, check. Peanut butter, check. Bleach and latex gloves, check. An hour later, two HuffPost reporters transported the supplies to The Door.
There was already an inadequate amount of transitional housing, but when you go from scarce to none ― what do you do with that?

Gloria Terry, executive director of Texas Council on Family Violence
When the supplies arrived, Woods was still busy dealing with damage from the days of rain Harvey dumped on the city. The back room of the 21-year-old shelter had flooded and part of the ceiling had fallen down over the front desk. Someone taped up a bed pan liner to stop the flow. Woods had spent much of the storm trying to keep water from seeping into the shelter by rolling up sheets and pressing them into the seam where the wall met the floor. Once a sheet was soaked, she'd toss it in the washer and repeat. She didn't want the dirty water to make it out to the front part of the shelter, where families slept.
She prided herself on making The Door feel cozy and comfortable. It was once a residential home, but has been renovated to feature a maze of corridors that almost require a trail of breadcrumbs to navigate. It has a daycare and play room, as well as bedrooms that each house at least four women, with extra room for bassinets and baby beds. Residents are allowed to stay at least 30 days, but many remained as long as three months because it was so hard to find affordable housing. In 2016 alone, over 700 victims sought emergency shelter there.
Woods, who is also a domestic violence survivor, knew how much trauma her residents were dealing even without the added stress of the storm.
"As I told them, you have a safe place here," she said. "We may not be able to get out, but you're safe."
Woods worked at The Door through both Hurricane Rita, in 2005, and Hurricane Ike, in 2008. Shelter residents had evacuated before Rita hit, along with an estimated 2.5 million other Texans. Clients ended up spending more than 24 hours stuck in a massive traffic jam on the highway. During Ike, they'd decided to stay put, but the building lost power. That meant its front gate, which uses an electromagnetic lock and serves as one of the shelter's primary layers of protection, was open to anyone who wanted to walk in.
"I ran out there with a bicycle lock and wrapped it around the gate," Woods said.
Food and medicine are the most immediate and easily met needs for domestic violence victims who end up in shelters like The Door after fleeing abusive relationships ― often with just the clothes on their backs. They rely on the shelter to connect them to a range of services as they begin the complicated process of rebuilding their lives from scratch. Those resources will be harder to come by in the aftermath of Harvey, Terry said, as thousands of other Texans deal with losing their homes and belongings. (Donate here.) 
"There was already an inadequate amount of transitional housing, but when you go from scarce to none ― what do you do with that?" Terry said. She noted that Lone Star Legal Aid in Houston, which assists domestic violence victims with protective orders and other legal help, burned down during the storm. She also worried about the victims who may have been considering seeking help but are now scattered across the state ― likely alongside those who are abusing them.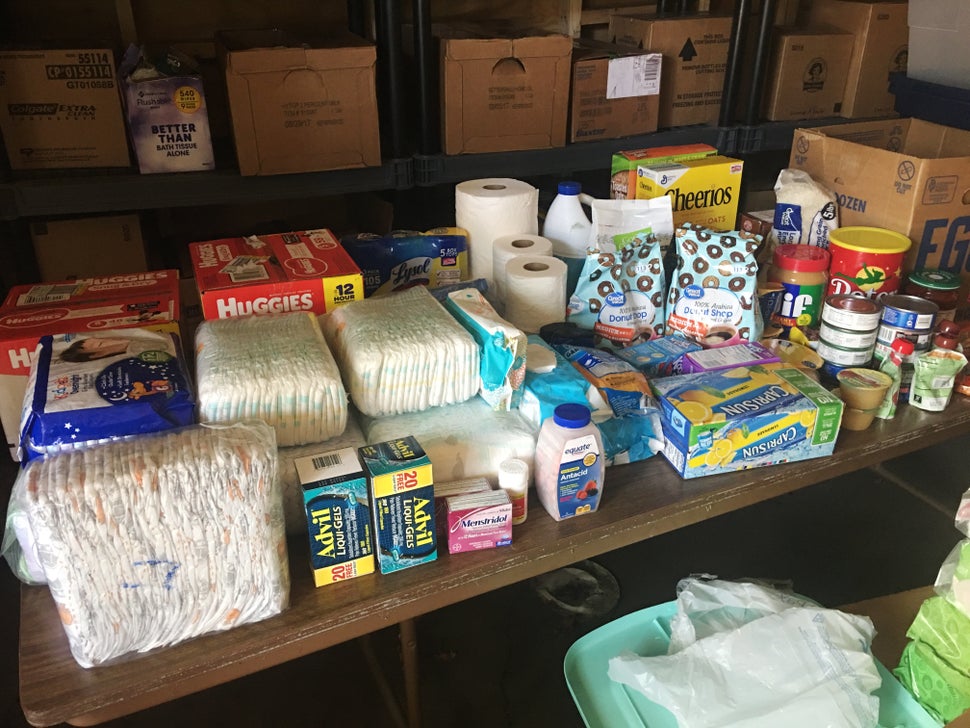 Judy Cox, executive director of the Family Time Crisis and Counseling Center, which runs The Door, said that a longtime client had recently lined up a furnished apartment for her and her five children ― and now it's been flooded, as has her car.  
"She lost it all," Cox said. "It's really devastating. I've been in many, many hurricanes, but oh my God, this is something else."
Woods, who was busy taking inventory of all the new food supplies, said that domestic violence victims are resilient.
"When they come in, they cry and cry," she said. "It's been 12 years for me, and there are still days when I cry. I think, I made it, but it's OK to cry, it's part of the healing process. It's important for me that the women understand they can make it too."
Andy Campbell contributed reporting.
REAL LIFE. REAL NEWS. REAL VOICES.
Help us tell more of the stories that matter from voices that too often remain unheard.
BEFORE YOU GO
PHOTO GALLERY
Post-Harvey Houston