Michigan attorney Jay Clothier is under fire for creating a T-shirt with the name and URL of his law firm on one side and a crude joke about domestic violence on the back.
"You say domestic violence I say spousal discipline," the lawyer's shirt proclaims.
"It is the marketing of violence, plain and simple," Pickell said.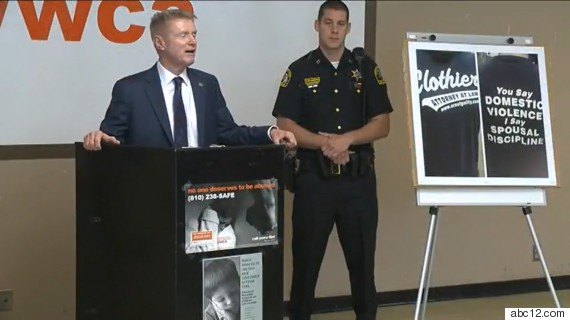 "This t-shirt is not in poor taste, it is down-right dangerous," Pickell said on Facebook. "It markets violence. It says it is OK to hit a woman and if you get arrested in the process ... this attorney has your back."
According to Abc12.com, the shirt has angered the YWCA and the Mid-Michigan women's advocacy group.
"It's not only an off-color bit of humor, but we see it as an attack on women and the pain that has been inflicted on them," YWCA Director Heidi McAra told the news station.
Pickell said he plans to lodge a complaint against Clothier with the Michigan Bar Association.
Clothier acknowledges designing the shirt, but said he did so years ago and never distributed it or used it for advertising purposes.
"A defendant of mine had made that comment," Clothier told The Huffington Post of the T-shirt's slogan. "Obviously, it was perverse and sick, but I figured it was his perspective and somewhat provocative, which could get people talking about the issue of domestic violence."
JAY CLOTHIER: (Story Continues Below)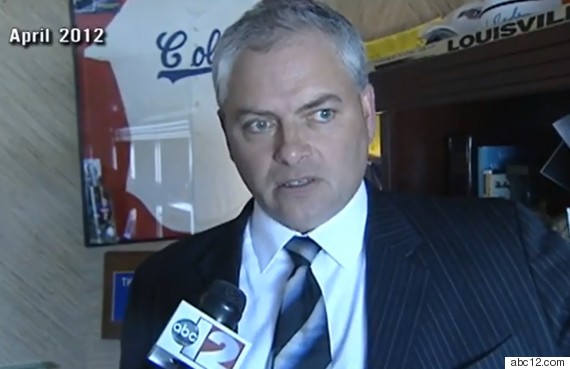 Clothier said he "never intended to hurt anyone" and ultimately decided not to distribute the shirt.
"I showed it to my friends and they said, 'Dude, you'll get crucified,'" he said. "So I opted against using it."
"I think it is retaliation," Clothier said.
Pickell, according to Mlive.com, held the press conference just days after a preliminary hearing in the case of former Genesee County Sheriff Deputy Gerald Parks, who Clothier represents.
Parks, according to the media outlet, is charged in connection with the 2012 assault of an inmate at the Genesee County Jail. The former deputy is also reportedly involved in a lawsuit against the sheriff's department, in which he alleges he was retaliated against for testimony he gave during a union collective bargaining-related arbitration hearing that was critical of the sheriff's department administrators.
"I believe the sheriff is attacking this shirt now because I am representing Parks," Clothier said. "He is retaliating and attempting to smear me and hurt me economically."
Pickell did not respond to a request for comment from HuffPost. In an interview with Minbcnews.com, he denied his actions are in retaliation.
ONE OF CLOTHIER'S OTHER SHIRTS: (Story Continues Below)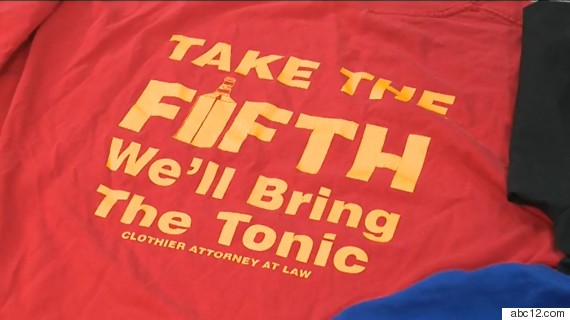 Clothier said he regrets making the shirt, which he calls a "stupid idea." He also said it is one of many he has made over the years. Others include:
"Take the fifth we'll bring the tonic."

"I went to court with Clothier and it was a riot." (Printed after a courtroom brawl)

"Reasonable doubt lives here." (Attributed to Casey Anthony's former attorney, Jose Baez)

"I make lawyers needles twitch." (Printed for a polygraph examiner)

"Steve worked on my hard drive." (Printed for a computer forensics specialist)
"If there are certain things that are happening in the law, I'll make one for social commentary -- to create dialog," Clothier said.
The attorney said he is considering a civil suit against the sheriff.
"My last name is Clothier," he said. "I used to work in retail and I'm now a lawyer. The sheriff wants to talk about shirts and I want to talk about suits. You can't make this stuff up."
REAL LIFE. REAL NEWS. REAL VOICES.
Help us tell more of the stories that matter from voices that too often remain unheard.
BEFORE YOU GO
PHOTO GALLERY
Dumb Criminals: Mugshot Gallery