She finally got her happily ever after.
In January 2012, Melissa Dohme Hill, then 20, met her ex-boyfriend in a park around 3 a.m. after he continually called and texted her, according to the Tampa Bay Times. In his calls, he was crying and said he missed her and that he was nearby and only needed two seconds of her time. When Dohme reluctantly showed up — with her cell phone and pepper spray in hand due to past encounters in which he hurt her — he asked for a hug. Dohme wrapped her arms around him. She was then brutally stabbed 32 times and left to die.
Cameron Hill, a Clearwater, Florida firefighter-paramedic, was among the first to respond to a 911 call placed by witnesses. He found Dohme unconscious and barely alive, but breathing. He told the Tampa Bay Times at the time that he had a feeling she would survive and that he would see her again.
Five years later, the two are married.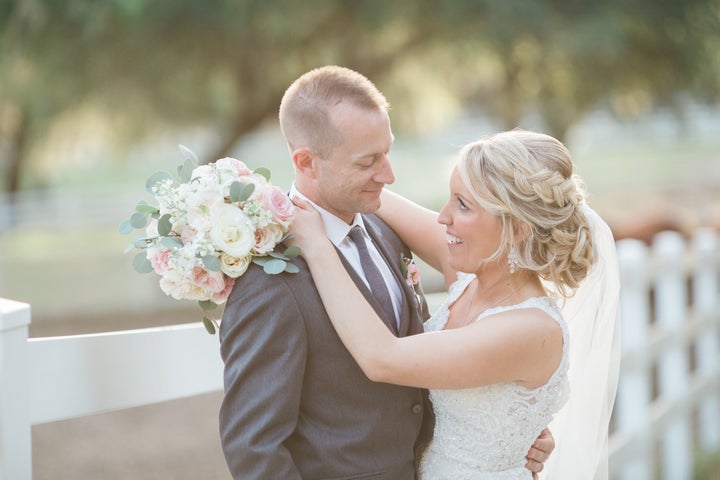 "I would never want to go through the horrific attack again, but with where I am today, I wouldn't change it," Melissa told the Huffington Post. "I feel that fate brought Cameron and I together when the timing was right."
A year after her attack, Melissa was invited to a luncheon to speak about raising awareness of domestic violence and it was there that she met Cameron.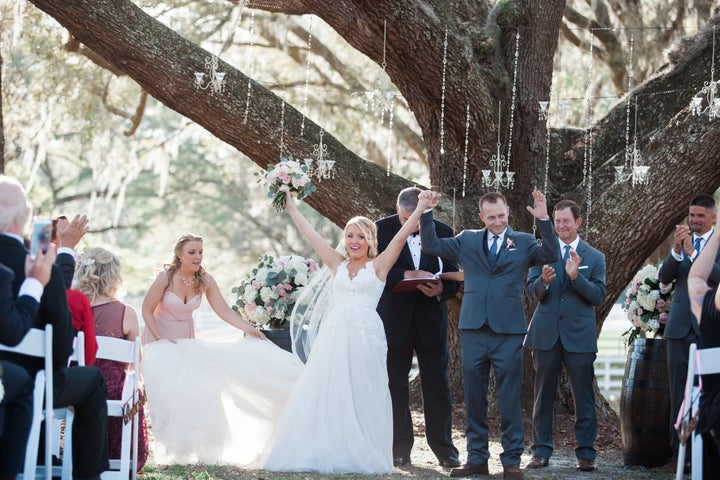 "Cameron invited my mom and I to dinner at the station so we could meet the whole crew who saved me and thank them all," Melissa told HuffPost. "He and I knew there were sparks between us."
She explains that the two began talking, though at first they both tried to ignore their feelings. They soon became friends and started dating. It didn't take long after that for the pair to realize they were meant to be.
"It was confusing at first, because it was so crazy and surreal!" Melissa said. "I felt I was living a real life fairy tale."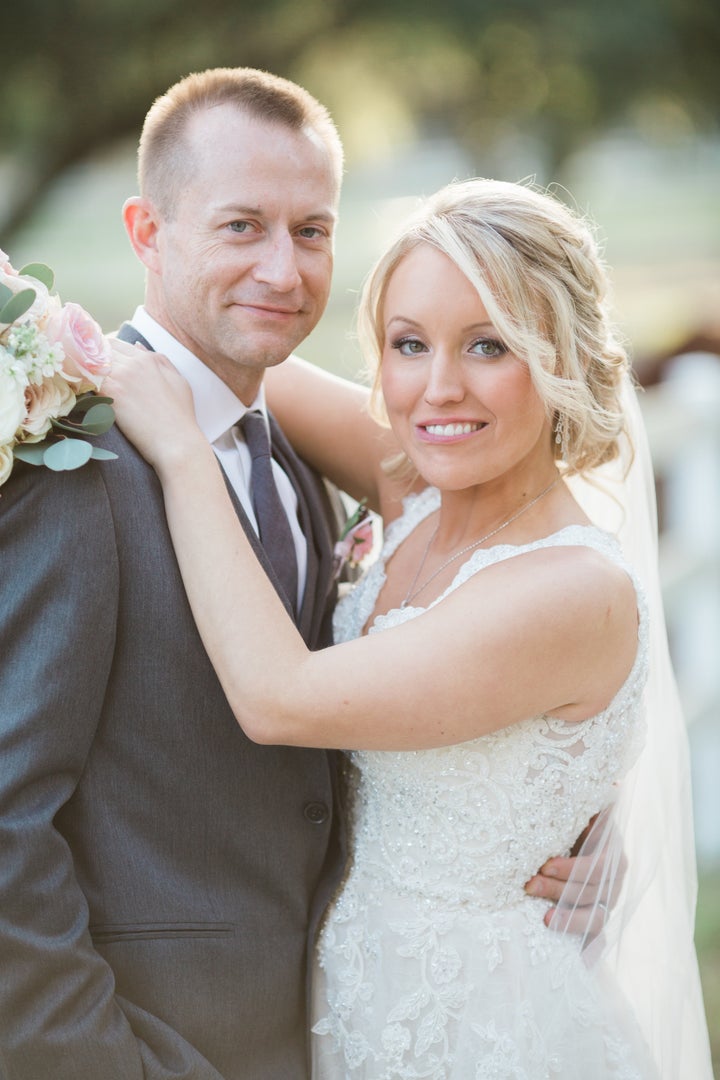 Cameron proposed in 2015 at a baseball game, and on March 4, the two married in Florida front of many of the doctors and first responders who had helped Melissa survive her attack.
"The police officer who was first on scene to save me, Melissa Harris, has become one of my best friends," the bride said. "She was one of my bridesmaids!"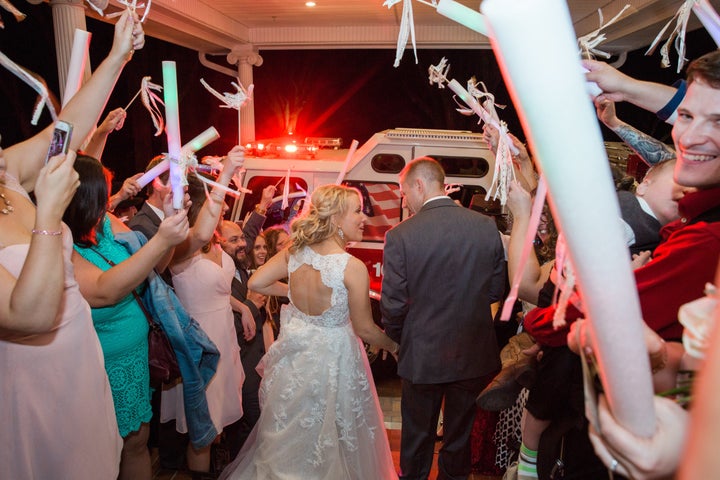 Fittingly, the bride and groom left their reception in a fire engine.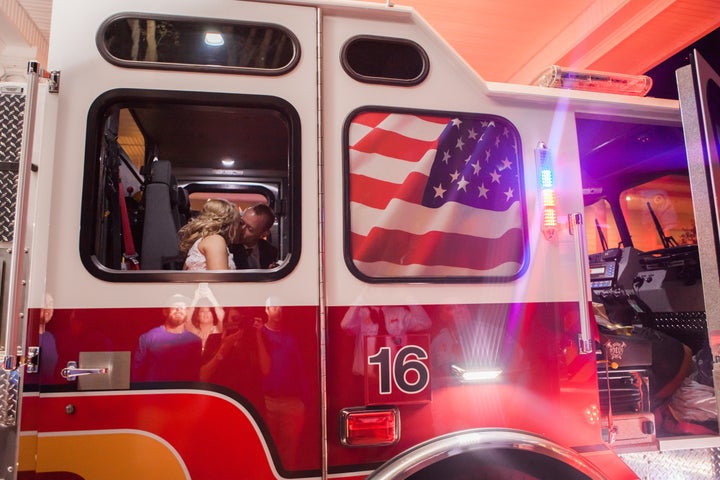 Melissa is now very active in speaking out against domestic violence and works with Hands Across the Bay, a Tampa-based nonprofit that advocates for and helps families in crisis.
"[The attack] turned me into the strong woman I am today and also led me to find my purpose," Melissa said. "I know God saved me that night to be able to speak out for women who are suffering in silence."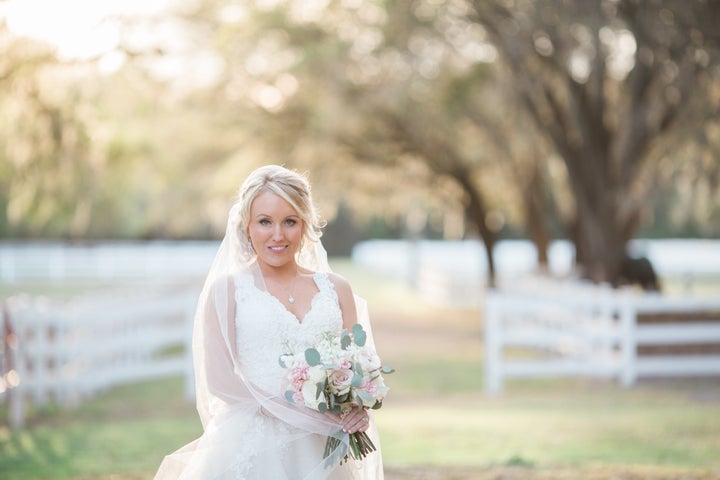 She added: "My message to anyone hiding in silence is that if you are currently being abused, know that you are not alone, and it is not your fault."
She urges those who are suffering to speak out and find help at a local domestic violence center.
"I promise you there is life and love after abuse, but you must first love yourself completely before you can be loved by someone else."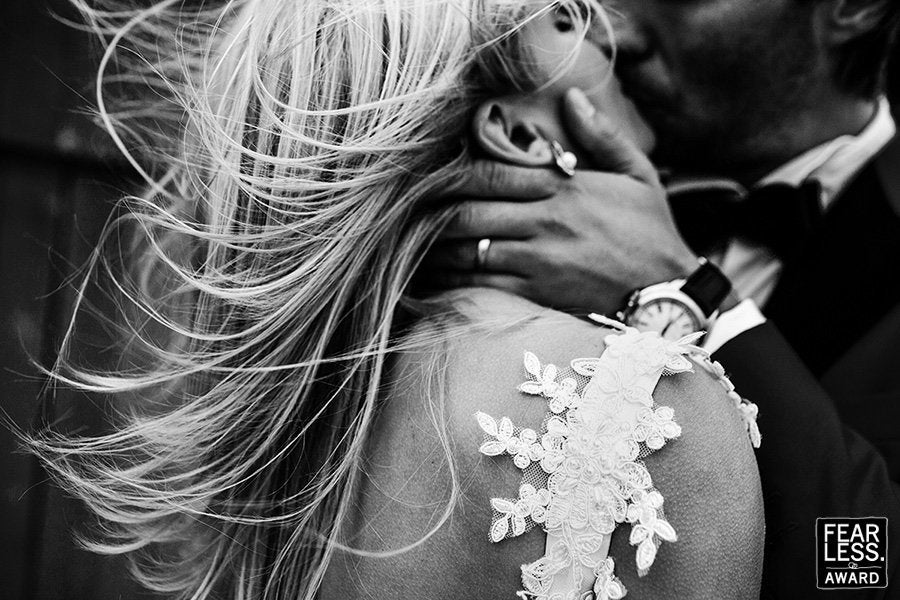 Award-Winning Wedding Images