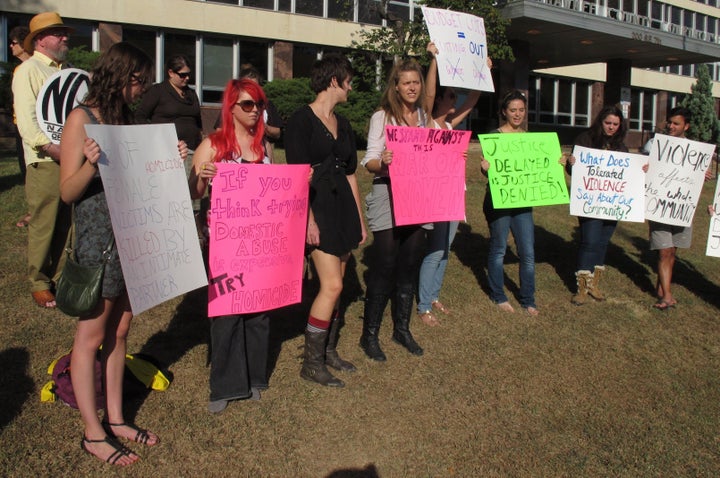 A monthlong dispute in Topeka, Kansas over who is financially responsible for handling domestic violence cases, which resulted in 18 suspects being released from jail, was resolved Wednesday when the local district attorney's office announced that it would resume prosecuting the cases.
Shawnee County District Attorney Chad Taylor announced on September 8 that since his budget had been cut by 10 percent, his office no longer had the means to prosecute any misdemeanors, including domestic violence cases. He began shuffling those cases over to the city of Topeka, which also claimed that it couldn't afford to handle the cases. The City Council responded by voting to repeal the local law that makes domestic violence a crime.
Following significant pressure from local domestic violence workers and the media, the Shawnee County District Attorney reluctantly announced that he has decided to resume prosecuting the cases as a result of the city's "unfortunate" decision to decriminalize the offense.
"My office now retains sole authority to prosecute domestic battery misdemeanors and will take on this responsibility so as to better protect and serve our community," Taylor said in a statement. "We will do so with less staff, less resources, and severe constraints on our ability to effectively seek justice."
Eighteen domestic violence suspects were released from a Topeka prison as a result of the month-long game of chicken that played out between city officials and Taylor's office. Suspects who were arrested and brought into jail for battery were released without being charged. The Topeka police department confirmed that one suspect was brought into jail for domestic abuse, released without consequence, and then immediately picked up again for committing the same crime.
"We have an entire county and city who could care less about domestic violence and are more interested in blame or games," Kari Ann Rinker, the state coordinator for Kansas NOW, told HuffPost. "Now we have dangerous multiple offenders that are failing to receive any adequate punishment or repercussion for their actions, and in fact, being picked up for the crime is angering them more, so they're showing up at the doorstep of people they have harmed to do it again."
Advocates against domestic violence said the spat was less about budget concerns and more about misplaced priorities. There is currently an item in the Shawnee County budget, for example, that doles out $200,000 for golf course irrigation, which is close to the entire amount that the district attorney is requesting to be able to continue to prosecute misdemeanors.
"Any time budgets get cut, you have to look around and say, what are our priorities here?" said Joyce Grover, executive director of the Kansas Coalition Against Sexual and Domestic Violence. "The fact that someone decided that domestic violence prosecution is not a priority is really concerning."
Related
Popular in the Community