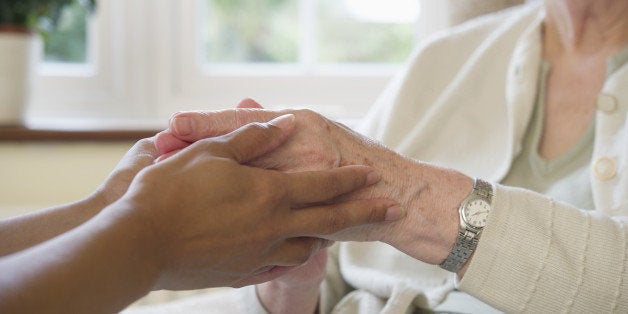 In recent times we have witnessed labor and organizers advocating for the dignity of housekeepers and in-home care workers. Home care workers assist others less capable, aging, or on a temporary basis are paid for through state and county funding. While they are not considered government workers, they are paid minimal wages for the heart and physical effort they put into caring for others. Over 180,000 workers are represented by SEIU ULTCW, a labor organization that has and continues to battle, county by county, for fair wages. In addition, Los Angeles City Council passed an ordinance increasing the minimum wage for hotel workers to $15.37 an hour; this through the tenacity and years of advocacy on behalf of UNITE HERE; the hotel worker union. This particular effort directly benefited the housekeeping staff, of which the majority are immigrant women or of immigrant decent. Yet, a faction of the housekeeping family is often left in oblivion -- the private residence domestic worker.
My mother has been a private residence domestic worker since she migrated to Los Angeles, by way of El Salvador, in 1972. She's worked for amazing families who have loved her as though she were one of their own, and also for those who have devalued, disrespected, and stripped her dignity as a person. There have been bonuses as well as wage theft, hugs as well as screams, but through those experiences the toughest has been falling from the second floor of the residence she cleaned for over 11 years.
When she advised her employer of the accident, she was dismissed with a simple "go home and rest." No medical attention, no sick days -- nothing. This is a woman who only two years prior had a triple bypass, returned to work within two months, and although promised assistance -- still worked over 12 hours a day. To add salt to wound, her employer asked if she could have the state pay for the injury. Really? A lawyer asking my mother to utilize state benefits for an injury that happened in his house? In reply and after months of discernment, we sued; Injures such as these should be covered by private homeowner insurances, insuring that the domestic worker is well compensated and health bills taken care of. After all, domestic workers are paid salary wages, with a few exceptions.
Since the accident in 2010, my mother has battled an insurance conglomerate, which shall not be named, to have her left shoulder and bicep reconstructed. It's been an uphill battle. Long days of agony, few days of relief, nights of aches and plenty of tears suffered through the crippling effect that no one, no entity, has echoed her grief. My mother's story is not an exception -- it is the norm of what thousands of private resident domestic workers go through year after year.
Unfortunately, state and city laws view private residence domestic workers as consultants. At will employees that agree to a certain wage for certain jobs. Thus, as individual consultants these domestic workers are not classified as a working unit. They do not all work in the same house, are not paid by the government, and are left to fend for themselves. In fact, in the City of Los Angeles domestic workers pay a small business tax in order to comply with local ordinances.
As my mother's case wraps up and she recovers from her recent surgery, we keep wondering why aren't domestic workers represented? Why aren't their voices heard throughout the halls of the state capitol? Is it because the vast majorities are women? Undocumented? Unrepresented? Or is it because they have the super power of being invisible to those around them? Whatever the case may be, no domestic worker should be left by herself in times of despair. Every worker, regardless of their immigration status, should be protected by the law in so much that her well-being, her dignity as a person seeking the American dream for her family, is never at risk.
Their plight is simple: include them in minimum wage ordinances and in representation. They are women, daughters, wives, and, most importantly to me, mothers.
REAL LIFE. REAL NEWS. REAL VOICES.
Help us tell more of the stories that matter from voices that too often remain unheard.