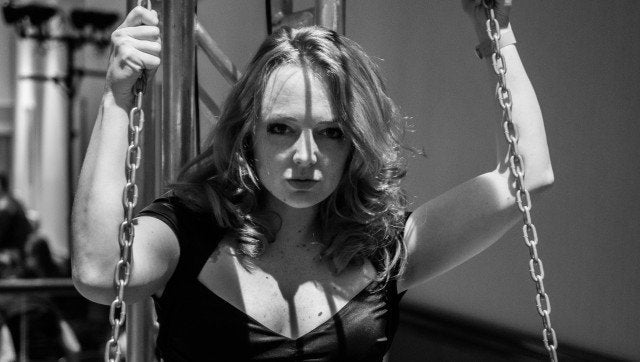 Domina Vontana, one of D.C.'s premiere dominatrixes, enjoys cycling, organic farming and the three M's of domination.
In a city of powerful and rich men, the sex industry caters to a high-end clientele. Like any other performer, Vontana practices her trade at varying levels of exposure. From speaking engagements at universities to one-on-one sessions with unnamed clients, Vontana is an expert in her trade.
We spoke with the "psychodramatist" about sexuality, power in domination and the perks of organic farming.
What brought you to D.C.? I first visited DC in high school for the National Youth Leadership Forum on Medicine, a summer program at the University of Maryland. I returned two years later to work as a live-in nanny while paying my way through college. 


What was originally appealing about becoming a dominatrix? I've always had an interest in helping people and my background in ministry and medicine gave me an advantage. I was also curious because the lifestyle made sense to me in a very natural way. Working with clients was a good way for me to explore that part of myself and grow as a person. 


What does a dominatrix do? A dominatrix is a performer. The IRS term for the job is 'Psychodramatist.' She doesn't pretend to be dominant. That part must be authentic for a successful scene. She has to want to be there or the client can tell.
In the role of a service top, which is how I identify, my job is to fulfill the fantasy of the bottom or submissive. As a professional as well as a lifestyle dominant, the longer I play the more particular I become, so now I only see clients who are experienced, submit easily and want the same type of scenes that I do.
Do you have a 'day job'? My day job at Lotus Blooms in Alexandria is an extension of my work with individual clients. Lotus Blooms is a women owned adult boutique founded by a registered nurse that specializes in body safe products, customized services and luxury adult goods.
I visit with customers that visit our shop and want to learn about pleasure, female sexuality and relationships. D.C. is fortunate to have a store like Lotus Blooms that has offered education and outreach since the doors opened. 


Is D.C. a good town for the domination business? It's very difficult to find a quality provider anywhere. The overhead is enormous because space, equipment and proper supplies are costly. Affordable commercial space in D.C. is already almost non-existent.
D.C. lacks a professional house of domination so all the service providers are independent operators, and there's no regulation. Most providers are forced to work from their home or do out call. Many professionals get into the business for the wrong reasons and burn out fast leaving a trail of damaged clients behind as they go. Those that remain are either exploiting the vulnerabilities of clients for financial gain, producing amateur porn or they are actual professional businesswomen providing an essential service in an often hostile environment.
How does working as a dominatrix in D.C. compare to other cities? Kink relies heavily on psychological play, and D.C. is one of the most educated, literate, intelligent cities in the country. The clients are more sophisticated and challenging and the kink that much hotter.
I wouldn't want to work anywhere else but if I did it wouldn't be New York, too cut throat, and it wouldn't be LA, too superficial. Chicago is a nice town with a good scene and several top notch professional houses of domination.


Is it ever difficult promoting an alternative lifestyle here? What has
 been your biggest challenge? My biggest challenge has been convincing clients that it is okay to want what they want. The spiral of sexual shame is an intense one and may occur two to three days after a session, a phenomenon often called 'subdrop.' I encourage my clients to give me a follow up call and let them know that the lines of communication are open and they should feel free to contact me with questions related to their experience.
My biggest difficulty in promoting or marketing my work has been the poor content of the websites where I am able to advertise. The quality of such sites attracts a type of client I'm not interested in working with. I stopped advertising altogether on these sites a few years ago and switched to social media and my own blog.


Tell us about your clients. My clients contact me online via email or through one of my websites. Most often they find me through a simple Google search with key words like 'Washington D.C., Dominatrix.'
There is no such thing as a typical client, although they are all male. The demographics of my clients reflect the type of Washington resident or visitor that has disposable income and leads a demanding career. 


You teach classes as well. Who is your typical audience? At Lotus Blooms we host several monthly workshops. Most of our participants are groups of friends such as office mates or couples. The classes are small, entertaining and informative. I also accept speaking invites from outside groups and have guest lectured at local universities, hosted fundraisers and presented at professional networking events, anywhere people are interested in learning about women's health and sexual well being.


Do you have a favorite local 'sex positive' organization? HIPS is an incredible D.C. based organization that is waging a high-minded, street level assault on HIV, human trafficking and the war against women. They are a nonpartisan program that gathers critical information from actual sex workers while providing survival based services like food, water, clothing and community referrals. At a time when D.C. is slashing its prevention funding, HIPS is still providing clean needles to those in need.
What do you wish people understood about your job? BDSM is a healthy, therapeutic choice that enhances over all well-being. It requires special skills and experience that are difficult to come by. For those who seek the services of a professional they do so because they have a very real and potent need. Good kink can't be duplicated or impersonated.
Do people age out of this business? If so, what comes next? Good skills are timeless and a serious submissive, the kind that will become a regular client, is the kind of submissive who recognizes good service and is willing to pay for it as long the Dominatrix is available, willing and able.
It is a physically, emotionally and spiritually demanding job that requires a strong mind and a health conscious lifestyle.
The joke among some professionals is: meditate, masturbate, massage. Good self care is essential when you are the product as well as the service provider.


When you aren't dominating, what do you like to do around town? I took up road cycling last year and now I'm getting to explore D.C. in a whole new way.
In the summer I spend time at my place in West Virginia. Along with my submissive of five years, I own a small farm where we raise small livestock and grown our own produce. By midsummer I'm eating an organic diet from my own land.
REAL LIFE. REAL NEWS. REAL VOICES.
Help us tell more of the stories that matter from voices that too often remain unheard.
BEFORE YOU GO
PHOTO GALLERY
Oddest Jobs Ever