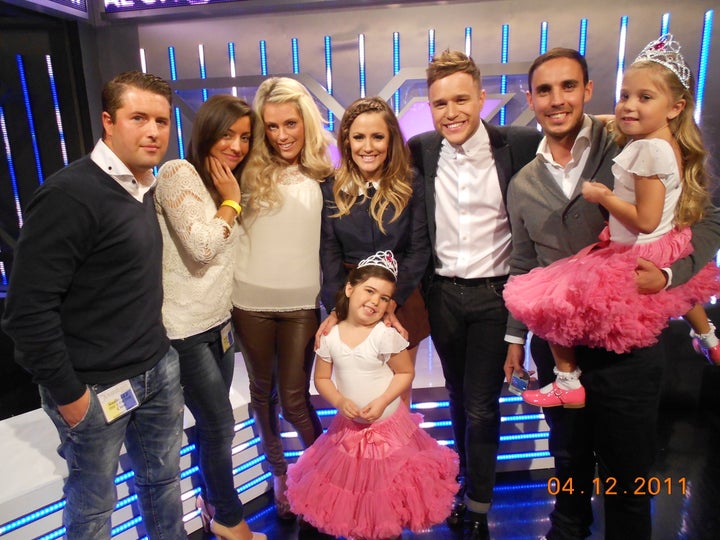 Sophia Grace Brownlee is shy.
Yes, THAT Sophia Grace -- the 9-year-old Internet sensation whose cover of Nicki Minaj's Super Bass went viral, who has become the darling of The Ellen Degeneres Show who interviewed Katy Perry and Rihanna (and sang on the red carpet with Maroon 5) at the Grammys, and who was the toast of Disneyland. That moppet you see on the screen, in a tiara and tulle skirt, a ball of charm and giggles and talent and innocence and shrieks and sass. According to her father, THAT Sophia Grace is nothing like the little girl who "is unbelievably quiet at school and not really confident around other children" her father, Dominic says.
If you have seen any of the videos of the on-camera-version with her five-year-old cousin, Rosie Grace McClelland, you might well have had the same reaction we did here at HuffPost Parents -- what does it take to raise a daughter like this one? Was she born oozing charisma? Did she sing before she could talk?
So I called her Dad and asked. It seems he has no clue how she got this way, either.
The word he uses most when describing her is "quiet." She had a quiet childhood in a quiet town in Essex, England, where she was quiet in the classroom -- though a few years ago she did start to come out of her shell and sing around the house, her father says. He's a former party MC, from a family that loves music, and it was he who introduced his daughter to rap in the first place. Soon she was belting for her parents, and eventually her aunt and uncle, the parents of her cousin Rosie.
Making a video was her Aunt Danielle's idea. So was pulling some tutus and tiaras out of the dress up box, creating the look that the girls are now known for. The addition of Rosie on-screen was a last minute thought. "They are both only children and they play together all the time," Dominic says. "So Rosie just joined in and danced" while her mother filmed that first video on her iPhone.
What happened next is a tale that is becoming increasingly familiar in the YouTube age -- although the plot has not gone exactly like this before. Aunt Danielle put the video on YouTube on September 19, 2011. Within hours the views started accumulating. In early October, the Ellen Show called. "When we got that invitation I thought 'there's no way that Sophia will walk out there and perform'," her father says. "But then they also asked for Rosie, and I knew that would make her more confident."
Even so, Dominic says, he and his wife, Carly, watched their daughter carefully up to the moment the taping began for any sign that she had changed her mind. "All along we said if we see that look in her face where she's not happy, it's over we will just pull out."
But Sophia Grace, it turns out, comes alive in front of a camera. "She's better at talking with adults than children her own age," Dominic says. "When she goes on these programs she seems to be able to talk to the adults as if she's an adult. When she's around kids she gets tongue tied."
But not around Rosie. And while it might look to others -- it did to me -- that Sophia is the leader of this duo and is being kind and tolerant to include her little cousin, what her father sees is an almost 9-year-old feeling secure and proud because her little cousin is there, too. Someday, Dominic says, "I'd like to see how she'd get on on her own. But not yet. I think what we've got going on right now has worked out quite well for all of us."
The extended family spent the last month in the U.S. -- their third trip here courtesy of Ellen. This time Sophia performed a couple of original rap songs -- written by her Dad. There were tutors, and first class airplane tickets, and fans recognizing the girls on the street (the tutus and tiaras helped). The families have signed on with a management company ("who does not believe in doing too much too soon, but rather in going nice and slow which is right for an eight-year-old-girl") and there are plans for future trips and deals and videos. But for now, they are all back home -- tweeting from Dominic's @dominicbrownlee account, and Sophia Grace's @princesssgb -- where Dominic swears that his little girl has turned into her quiet self once again.
Sophia Grace and Rosie attend the same school, about a ten minute drive from their homes, and when they returned there earlier this week there was "a bit of commotion," her father says. "A few people were screaming over them." His daughter, who has screamed delightedly upon meeting celebrities in her new life, didn't take well to the spotlight.
"I think she loves the attention on the stage," Dominic says. "I don't think she likes it as much at school."
Related