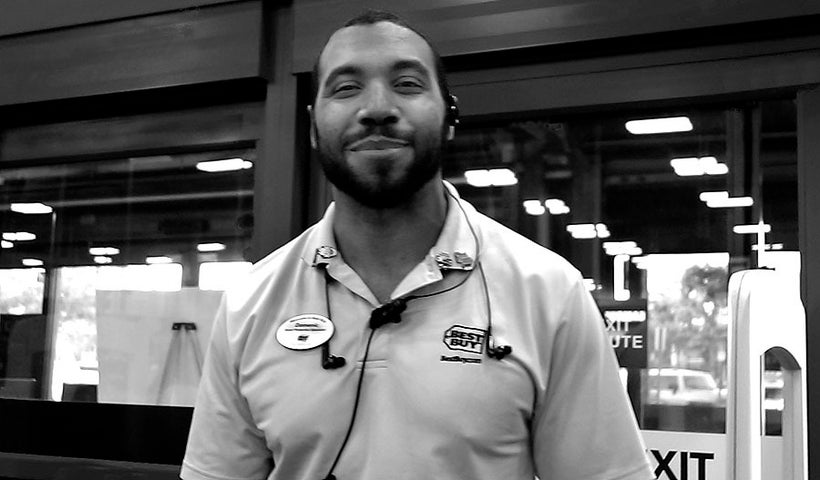 Whenever Dominic is at the door of the Best Buy as I enter, my energy is raised up. "Hey welcome, how are you today?" he beams, the spirit in his voice leaping out, unbound and contagious. On my last visit, as I was leaving, he smiled and said, "Stay blessed, not stressed!" These words were like some magic elixir that put a smile on my face and in my heart, where it stayed for hours. Today as I enter after a few weeks of not seeing him, he greets me with luminous spirit and I give him his own words, "Stay Blessed, Not Stressed!" "That's right!" he smiles. We talk briefly but he attends to his job of dealing with people entering and leaving. On the other side of his station a police officer exits and Dominic addresses him with his natural ebullience. I whisper to Dominic "Tell him to stay blessed...." and he doesn't miss a beat: "Stay Blessed, Not Stressed!" and the officer smiles big. "I love that!" he says, "Thank you, I may have to borrow it!" A stream of customers appears so I leave Dominic to his work and go into the store for a bit. I don't really need anything, I just like looking and all the tech toys. After a bit, I head to the exit and Dominic is now alone. We talk a bit. He tells me his heritage is Italian and Jamaican. "Wow, you must have had some great food in your life!" "Oh yes!" I ask him if we can make a picture and he assents. As I start to head out the door I say "OK, let's have it please!" "STAY BLESSED, NOT STRESSED!" And I roll on, flying without wings.
robert@robertzuckerman.com
REAL LIFE. REAL NEWS. REAL VOICES.
Help us tell more of the stories that matter from voices that too often remain unheard.
This post was published on the now-closed HuffPost Contributor platform. Contributors control their own work and posted freely to our site. If you need to flag this entry as abusive,
send us an email
.