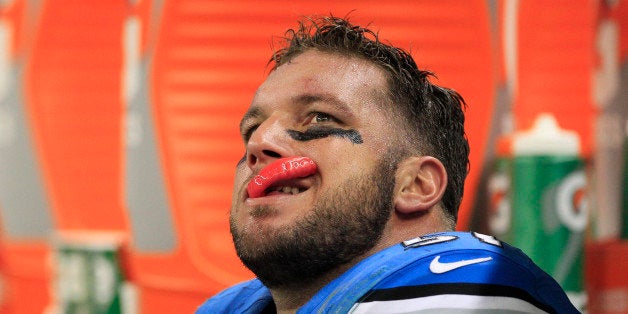 According to Tom Melton of TomMeltonScouting.com, several band members said Raiola called some tuba players "fat mother f***ers" before the game. After the band's halftime performance, other members of the band told Melton that Raiola made fun of a trombone player's weight and called a female band member "the c-word."
Dominic Raiola is literally the worst person I have ever had the fortune to encounter. After marching down the field awaiting the national anthem, He went off on a verbal tirade, among other things, questioning my sexuality (as a band member) and then continued on to bring my sister and my recently deceased mother into the conversation. After I refused to give him the satisfaction of turning to look at him, he switched targets to a trombone ranting at him calling him overweight and saying he can't play a real sport. After our halftime show, the same fine gentleman called a female member of the band the "c" word.
In a statement issued on Monday, the Lions have indicated they are investigating the incident.
"We are aware of the reports involving Dominic Raiola and the University of Wisconsin Marching Band," the Lions said in the statement published at the team's website. "Those reports are extremely inconsistent with the standard of behavior we expect from our players and from every member of our organization."
UPDATE Dominic Raiola issued a statement apologizing for his actions on Tuesday, per The Detroit Free Press. Lions president Tom Lewand said "there will be no additional disciplinary action by the team."
"My interaction with the Wisconsin marching band was inappropriate. I apologize to those I offended, along with all of the members of Wisconsin's marching band," Raiola's statement read. "I also apologize to the Lions organization and my teammates. I understand the standards to which we should conduct ourselves, and my actions Sunday fell dramatically short of those standards."