I recently had the pleasure of spending four months in the Commonwealth of Dominica, one of the most beautiful countries on earth. In between listening to local politicians´ fibs (keep tuned to this blog) and having to earn a living, I managed to squeeze in a couple of weeks´ worth of hiking. Below an overview of the best hikes in Dominica.
THE FIVE BEST HIKES IN DOMINICA
If you only have time to do one hike in Dominica, do this one. Starting from Titou Gorge above the capital city of Roseau, this hike takes you through beautiful rainforest up to a spectacular mountaintop viewpoint, down the Valley of Desolation with its bubbling mud pools and hissing volcanic vents, and finally onto a ledge overlooking a crater containing a lake so hot that it is literally boiling.
There´s plenty of info on this trail online so I won´t go into details, except to note that just after you reach the highest point there´s a shelter hidden down a tiny footpath on the right where you can spend the night if you bring along a sleeping bag and water.
Note: It´s not really necessary to hire a guide, but doing so will help to generate badly needed local employment. It could also save you money. A friend of mine strayed off the path and his foot sank into some boiling mud: serious burns, carnival in hospital, medical evacuation to France, skin graft, weeks on crutches. A guide would have been far cheaper.
2. Waitukubuli National Trail Segment 4
Hiking Waitukubuli National Trail Segment Four is probably the best way to dive into Dominica´s rainforest. Winding through Morne Trois Pitons National Park, it´s a neverending feast of towering trees, dangling dripping epiphytes, and twisted buttress roots. One of the the island´s most spectacular waterfalls, Middleham Falls, lies along the way. I walked various bits of this segment dozens of times and always discovered something new.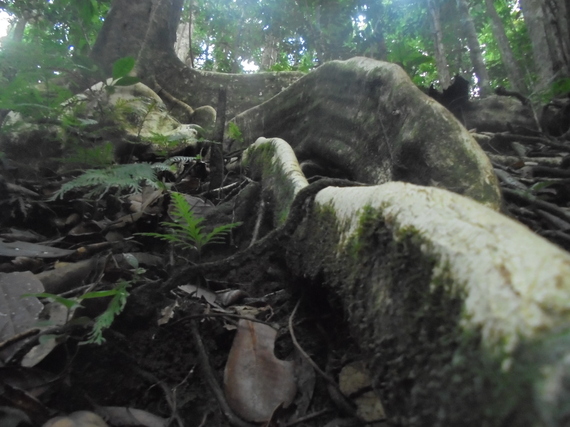 This is a long and pretty hands-on segment of the national trail. If you get fed up with being drenched by torrential rain, stumbling over branches, sloshing through mud or slipping and sliding down steep slopes, you can get off the trail prematurely at Middleham Falls (continuing down to Hope Estate village) or at Sylvania village - both are signposted. If you walk all the way to Pond Casse, you can spend the night at D-Smart Farm (see further below).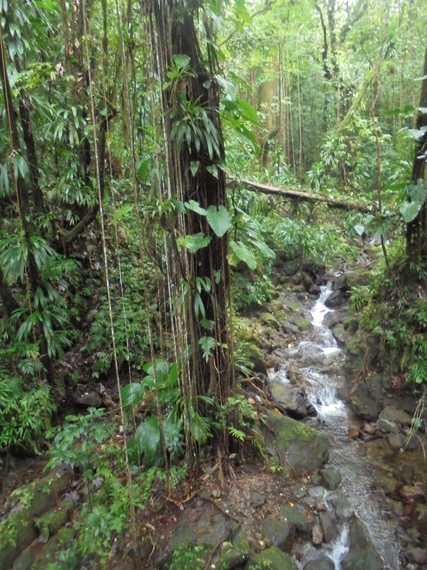 3. Rosalie to Freshwater Lake
Starting from above the village of Guele Lion near Rosalie, this rarely trodden path winds its way up a mountainside to Freshwater Lake in the heart of the island. It´s a climb of several hundred vertical metres, but as it´s all uphill, the footing is easy. Unusually for Dominica, where hikers are usually enclosed by vegetation on all sides, this trail affords sweeping views across the adjoining valley and back down to the sea. Freshwater Lake itself is great for bird watching, and you can hire kayaks to paddle around, or briefly detour to nearby Boeri Lake.
If you arrive well before dark, you can easily hitch a ride back to town from the lake with other visitors, else you´ll have to wander down the paved track to Laudat village. If you bring a sleeping bag, you can sleep on one of the tables in the national park building next to the lake, but be prepared for a cold and windy night!
4. Waitukubuli National Trail Segment 9
If you enjoyed Segment 4, you´ll love Waitukubuli National Trail Segment Nine. The trees are absolutely immense, and the path mostly consists of steep uphill scrambles and even steeper downhill slides through the tangled vegetation of the rainforest floor. Multiple recent landslides along the way can make the path difficult to follow at times, so start out early and keep up a good pace. (If it rained hard during the preceding night, consider postponing your hike for a day or two.)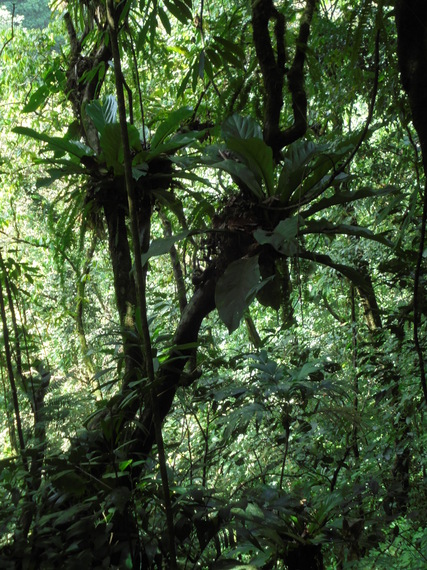 If you manage to get as far as Syndicate Estate, there´s a national park building where you can sleep on the tables until the parrots wake you up in the morning. Otherwise, there are some open-sided packing sheds along the rural access roads leading down to the coast.

5. Waitukubuli National Trail Segment 13
Dominica has a wide variety of climates and vegetation zones, and the national trail traverses all of them. Waitukubuli National Trail Segment Thirteen in the far north of the island is very different from the other segments discussed in this blog. It connects the villages of Pennville and Capuchin via a coastal path that leads through dry woodlands and plots of farmland, with beautiful views of the neighbouring islands of Guadeloupe and Marie Galante across the deep blue Caribbean sea. This is an easy and quite short hike, and the ground is firm rather than soggy, so it´s relaxation and pure joy all the way. Families in the villages at both ends of the trail offer rooms for rent with dinner included.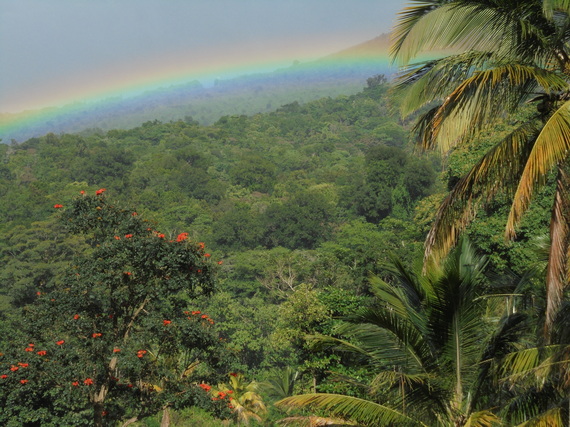 KNOWN UNKNOWNS: OTHER POTENTIALLY GREAT HIKES

The following are hikes that I didn´t do myself, but that may interest other avid hikers. If you have done any of those hikes, please share your experiences in the comments section at the end of this blog.

Waitukubuli National Trail Segment 8 crosses the island from East to West in a day. It looks great on the map, but I didn´t want to risk breaking my ankle far out in the bush on this long, very remote and rarely traversed segment. However, it´s reportedly somewhat easier than Segment 9, so it´s not particularly challenging per se.
Grand Bay to Delices. This hike, via Perdu Temps, is marked on the map but locals told me that multiple landslides caused by Tropical Storm Erika have made the path nearly impossible to follow. I started off along it but turned back when I kept losing my way and time began running short. Start extremely early, hire a local as a guide, or do both.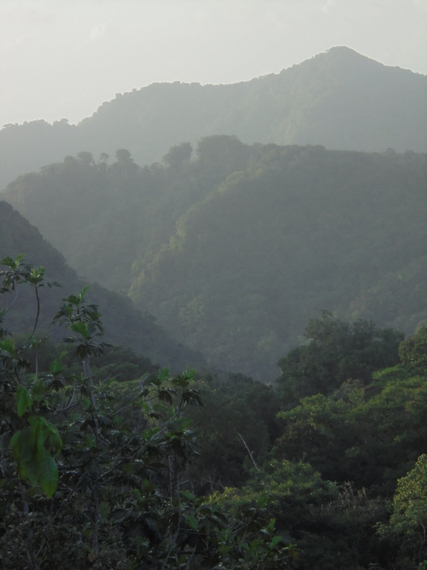 Freshwater Lake to Boiling Lake. This hike is also marked on the map, but a national park employee told me that the last person who attempted it, two years ago, nearly died even though he was a very competent hiker and fully equipped. The path is completely overgrown and traverses some of the most challenging topography that I have seen anywhere in the world. Try to link up with a local hunter who knows the area and do it as a team.
GENERAL DOMINICA HIKING TIPS
Shelter. The only place in Dominica that doesn´t seem to have any decent affordable accommodation is Roseau. In almost every village, there is at least one family that rents rooms at a reasonable price, just ask around when you get there. If you want to explore Morne Trois Pitons National Park and the rainforest trails in the centre of the island, the organic D-Smart Farm near Pond Casse provides the perfect starting point. They have a small chalet, some basic A-Frame shelters in the middle of the forest, and also permit camping. It´s the nicest place I have ever stayed in, as well as being one of the cheapest on the island. Alongside rural access roads, there are often open-sided huts and shelters where you can spread out a sleeping bag for the night. It´s safe to sleep out in the bush as there are no dangerous plants or animals in Dominica, but flat spaces to pitch a tent on can be very hard to find.
Water and food. You can drink water straight out of rivers if there are no settlements upstream, and Dominica has 365 rivers, so there is usually no need to carry a bottle. Locally grown food (as opposed to imports) is good and cheap. Most villages have shops that sell basic foodstuffs, boiled eggs and greasy takeaways.
Maps. There is a decent 1:50,000 map of Dominica covering the entire Waitukubuli National Trail (WNT) and all farm access roads. Beware: district boundaries look nearly the same as footpaths on this map. Bizarrely, the map is not on sale in the tourist office or in downtown shops, but must be picked up from the Lands and Surveys Division of the Ministry of Lands and Housing, located on the corner of Goodwill Road and Charles Avenue. It costs a reasonable 40 EC$ (about 15 USD).
Transport. Hitchhiking is extremely easy. Farmers usually head out to their fields around dawn and return home in the early afternoon. Even on the main roads, public and private transport grind to a halt soon after dark.
Dangers. Fatal road accidents are frequent in Dominica; beware of accepting lifts from drivers who are completely drunk and/or stoned. If you come across a marijuana plantation, turn back immediately and don´t tell anyone what you have seen. Darkness descends in a flash when you are in the rainforest so get out well before sunset. Sleeping on the beach or in any place where people may pass at night is very risky.
People. Most Dominicans are friendly, welcoming, and have a lot to say for themselves. Take the time to listen to the people you encounter along the way and you will learn a lot.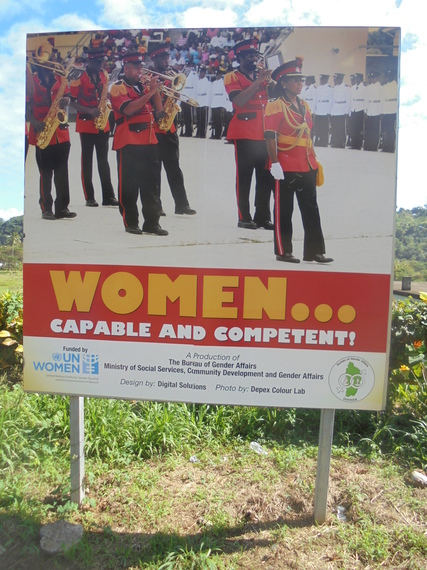 The author would like to thank the Discover Dominica Authority (DDA) for providing stock photos of Boiling Lake and Freshwater Lake at short notice. All photos not credited to DDA were taken by the author himself.